alex_aldo - Fotolia
What hyper-converged network details should I consider?
No longer a second-class citizen to compute and storage, networking is now integral to most HCIs. Keep in mind certain networking facts when adopting hyper-convergence, however.
Early iterations of hyper-converged infrastructure were simple beasts. They combined storage, compute and a hypervisor to provide to a simple method by which to deploy enterprise virtual machines. These offerings succeeded spectacularly, leading to an explosion in the number of hyper-converged systems vendors. Those earliest versions of hyper-convergence mostly left out the network, however.
Those initial hyper-converged infrastructure (HCI) systems consumed the network and supported it insofar as they connected to switches. They limited networking consumption to creating tightly knit clusters, but that was often the extent of network support. Hyper-converged network concerns generally revolved around the potential for a network-induced bottleneck arising as more nodes were added to a cluster.
Frankly, that's still something of a concern. But more troubling is the fact that vendors continued to treat the hyper-converged network as something to be consumed. Thankfully, modern iterations of HCI platforms treat the network as a first-class citizen, thereby bringing the hyper-converged network fully into the hyper-convergence fold.
HCI vendors and the hyper-converged network
Take Hewlett-Packard Enterprise (HPE), for instance. Thanks to HPE's acquisition of Plexxi, SimpliVity is being imbued with comprehensive software-defined networking (SDN) capabilities that will help scale SimpliVity HCI deployments well beyond the rack, while enabling high-availability mesh networks and the flexibility often associated with SDN.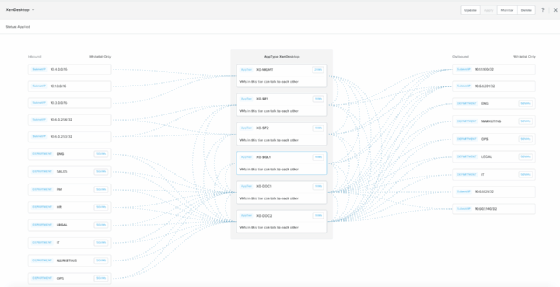 Others are in the networking game as well.
In Nutanix's quest for hyper-converged platform dominance, the company has extended its core hyper-converged system with tools such as its Flow SDN monitoring for HCIs. Flow brings to the Nutanix AHV hypervisor platform microsegmentation and comprehensive hyper-converged network visibility into data flows that can help organizations understand how applications in their environment really operate. Nutanix is also using the networking capabilities of its partners, including Arista, Big Switch, Cumulus and Juniper.
Meanwhile, as a part of its hybrid cloud offering, Scale Computing's Cloud Unity uses SDN to provide disaster-recovery-as-a-service capabilities. And VMware's vSAN can work nicely with VMware's NSX, which also provides comprehensive SDN capabilities not found in all HCI platforms.
Of course, these tools are just some of what's available on the HCI market for hyper-converged networking. When you're looking at HCI vendors, consider your networking needs, too. You might be able to find an HCI that can simplify data recovery, enhance security through microsegmentation or bring a full SDN stack for your hyper-converged environment.
A recent hyper-converged network test
The Toll Group recently tested 10 Gigabit Ethernet (GbE) networking against 25 GbE network connectivity for a hyper-converged infrastructure. The latter has a theoretical bandwidth 2.5 times faster than the former. They compared hyper-converged network performance using the HCIBench testing tool in a four-node VMware vSAN. The results clearly showed 10 GbE quickly becoming a bottleneck for bigger data blocks.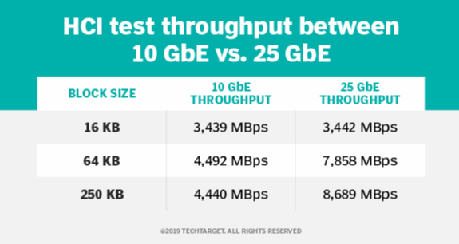 Dig Deeper on Converged infrastructure management
There are advantages and disadvantages to using NAS or object storage for unstructured data. Find out what to consider when it comes to scalability, ... Continue Reading
Storage for IoT devices and applications requires new strategies and approaches. Find out how three approaches are being used to facilitate storage ... Continue Reading
Cloud database services, object storage services and application memory cache are among the options available for storage in serverless environments. Continue Reading