ktsdesign - Fotolia
HPE to acquire hyper-converged networking company Plexxi
Plexxi bolstered its hyper-converged networking fabric to further support VMware vSAN and NSX amid the news of HPE's acquisition intent.
Hewlett Packard Enterprise this morning announced its intent to acquire hyper-converged networking company Plexxi Inc. HPE said it expects to complete the acquisition in its third fiscal quarter, which ends July 31, 2018. No financial details were disclosed for the transaction.
HPE said it plans to merge Plexxi's fabric capabilities with its existing software-defined infrastructure -- built from SimpliVity technology HPE acquired last year.
"Building on last year's SimpliVity acquisition, Plexxi will enable us to deliver the industry's only hyper-converged offering that incorporates compute, storage and data fabric networking into a single solution, with a single management interface and support," said Ric Lewis, senior vice president and general manager of HPE's software-defined and cloud group, in a blog post.
While HPE has offered data center networking products, it hasn't set the world on fire with them, according to Lee Doyle, principal analyst at Doyle Research. By purchasing Plexxi, HPE gains a more stable hyper-converged product to bolster an area where HPE could use some help.
"It doesn't change the competitive landscape dramatically -- HPE will still go against Cisco, Dell, Nutanix and Arista -- but it presumably makes HPE's portfolio more competitive," Doyle said.
The HPE acquisition comes as Plexxi beefs up its hyper-converged networking fabric platform with additional support for VMware environments, including VMware vSAN and NSX components.
Plexxi's HCN software enables an SDN-based hyper-converged networking fabric that runs on Broadcom-powered white box switches. The Plexxi upgrade, available now, allows customers to get deeper access to Plexxi hyper-converged networking through a VMware vCenter dashboard plug-in, according to Denis Vilfort, vice president of marketing at Plexxi. Plexxi Connect acts as the bridge between the Plexxi controller -- which runs on a dedicated virtual machine -- and the VMware environment that orchestrates VMs across server, switch and storage resources.
With the update, Plexxi's hyper-converged networking software can now automatically detect and monitor VMware NSX components attached to the fabric, Vilfort said. Additionally, Plexxi upped its capabilities to discover VMware vSAN traffic. So, when it discovers a vSAN workload, Plexxi software creates an isolated topology for it and dedicates bandwidth for the storage traffic, he said.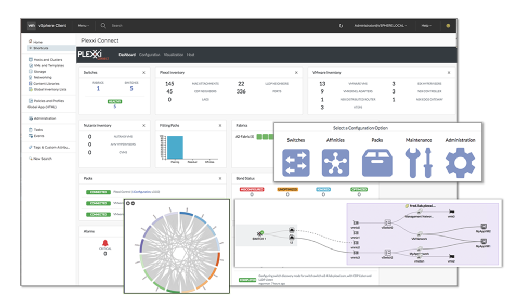 Tightening the integration between VMware and HCN was a likely progression for Plexxi, Doyle said. VMware vSAN has grown more popular, and Plexxi has successfully navigated hyper-converged networking integration with other hyper-converged infrastructure (HCI) companies like Nutanix, as well as the open source Kubernetes container platform. The upgrade, he said, is a move to expand its compatibility with other vendors that work with converged and hyper-converged infrastructure.
While Plexxi's fabric is lauded as innovative, many customers were leery of committing to the fabric and the associated hardware, according to Doyle.
"Plexxi's been in business for a while and has always had an innovative product," Doyle said. "But some customers were reluctant to bet on the small player, on the startup." A potential HPE acquisition would add the reliability of a staple company, he added.
Plexxi, headquartered in Nashua, N.H., has almost 80 customers, many of which are large public and private cloud providers. Doyle said he believes the majority of customers will primarily be those that want to innovate their data centers. By adding VMware support, Plexxi made a way to expand its customer targets, he added.
Out with leaf-spine, in with single-tier design
Those multipurpose switches can talk to switches and to nodes, which collapses the spine functionality into the leaf.

Denis VilfortPlexxi's vice president of marketing
Plexxi is also using the HCN upgrade to lay the groundwork for a new, single-tier networking design to replace existing leaf-spine topologies. The new approach, which Plexxi has dubbed the I/O backplane, lets every device communicate to any other device, without constraints, according to Vilfort.
"A backplane is really a world where no matter which node I am, I can talk to any other node, and I don't get impinged in terms of lack of bandwidth or routing delays," Vilfort said. "I get a straight shot to anybody."
Those nodes could contain storage or container information, for example, and communicate with the necessary devices. Plexxi achieves this flexibility by loading its switches with software engineered to allow them to exchange information with any device along the network.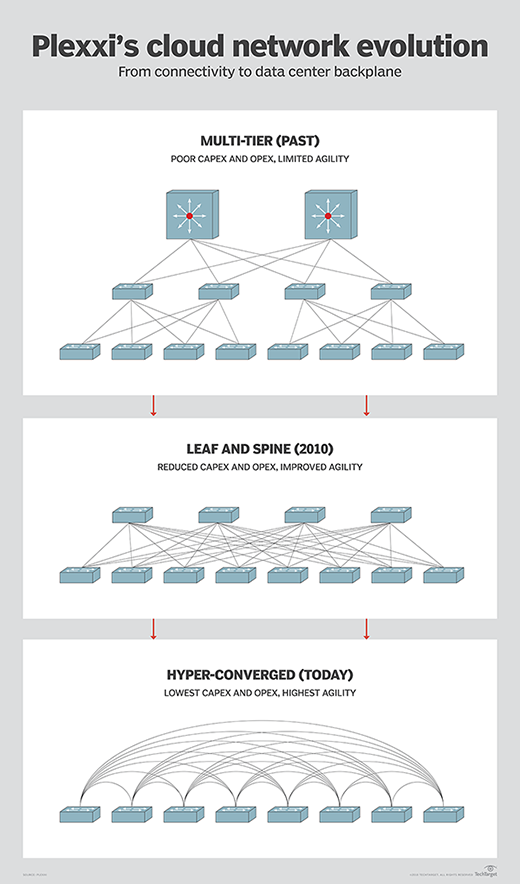 "Those multipurpose switches can talk to switches and to nodes, which collapses the spine functionality into the leaf," he said.
Although Plexxi is pushing this single-tier network design with HCN, Vilfort said the software can support any type of topology its customers need. For now, it's about spreading awareness of what a single-tier network can accomplish, as well as overcoming the industry's attachment to leaf-spine.
"This single-tier design that combines the HCI components is completely possible. It's just a matter of customers choosing to go with Plexxi," Doyle said. "Everybody's been in love with leaf-spine, and most customers want to stick with that. Plexxi can work with that, but it's really trying to educate the market and say, 'That's not the most efficient way.'"
Plexxi uses an appliance-consumption model, which has the Plexxi HCN software preloaded on the white box, Vilfort said. Plexxi's hyper-converged networking platform is available as a free software update to existing customers with valid licenses and is currently shipping out.