Andrea Danti - Fotolia
Work-from-home infrastructure HCI tips for VDI, remote desktops
Best practices, tips for designing a hyper-converged infrastructure to support virtual desktops for remote workers in today's coronavirus-accentuated, work-from-home environment.
HCI and VDI have historically gotten along well together. In fact, one of the first and still popular use cases for hyper-converged technology is as a work-from-home infrastructure platform for serving virtual desktops to remote users, the need for which is -- perhaps -- now greater than ever due to the new coronavirus pandemic.
When considering a hyper-converged infrastructure to cope with this uptick in work-from-home (WFH) employees, several pertinent factors should be considered. It is important to know, for example, the various ways remote workers access company data and applications. This will help you determine the HCI and VDI hardware, software and tools required to enable that access.
HCI hardware architecture and requirements depend on the type of workers the platform will support. It is therefore important to properly categorize WFH employees when building out your HCI work-from-home infrastructure for VDI systems.
Read on to learn about HCI VDI considerations such as the type and method of access, categories of remote workers, and hardware and software requirements. Additionally, explore best practices for designing hyper-converged systems to support virtual desktops, as well as HCI design recommendations for specific VDI scenarios.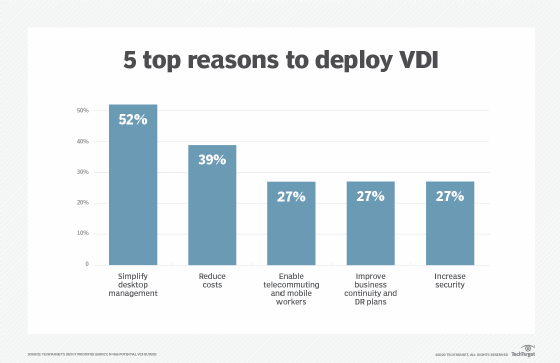 DaaS vs. VDI: Two implementations of the same use case
Remote workers can access company data and applications in two main ways.
Via local applications on remote PCs or phones that use client-server protocols to access email, collaboration and file servers.
Using remote desktop services that 'project' a PC desktop running on an external server onto their remote client, enabling users to interact with a remote PC as if it were local. This technique uses VDI hardware and software or a desktop as a service (DaaS) product.
While enterprise IT typically operates the first technique above from a private data center, the second method used is cloud-based software as a service. Despite the differences in the deployment mechanism, the infrastructure required for both is quite similar.
A bank of x86 servers capable of running virtual Windows desktops that include:

A large amount of system RAM, typically at least 192 GB, but up to 768 GB or more.
Optional GPU cards that replace the graphics units built into x86 processors and provide 4K virtual monitor support while also accelerating graphically-intensive applications like CAD, video editing and machine learning model development.

A large storage pool for OS and desktop images and home directories.
Multi-tenant virtual desktop software that enables a single multi-socket, multicore server to host many remote sessions simultaneously.
As a virtual service, desktop as a service insulates the user and buyer from knowing or caring about the underlying hardware used to deliver desktops. In contrast, VDI requires IT organizations to specify, operate and maintain the supporting infrastructure. In either case, the operator has similar requirements for high-density hardware that can both scale up and scale out.
Scale up by adding CPU cores, system memory, network throughput and storage.
Scale out by horizontally distributing virtual desktop workloads across multiple systems.
On both counts, HCI systems are a good match, and a primary reason why VDI was the initial impetus for many organizations to deploy HCI hardware.
Remote desktop HCI hardware architecture and requirements
While all VDI implementations provide a virtual Windows desktop -- few organizations use Macs as their remote desktop -- the server's configuration depends upon the type of job and applications users will run.
Cisco recommends a tripartite work-from-home employee categorization.
Task workers who primarily use a single application at a time.
Knowledge workers who use the full Microsoft Office Suite and video conferencing software and have multiple applications and web tabs open simultaneously.
Power users who have the same requirements as knowledge workers, but also use high-resolution graphics and video editing software.
Other factors that go into a VDI design include the following.
Scalability to rapidly add users and resource capacity such as handling seasonally heavy workloads.
Geographic distribution and redundancy to host infrastructure in multiple data centers and regions.
Flexibility to handle different job types and user requirements as listed above.
Central manageability to enable IT admins to remotely configure, update, debug and support infrastructure in multiple locations.
Example of HCI VDI system design
HCI systems excel at the four factors identified above, making them an ideal platform for VDI work-from-home infrastructure support.
Realizing the market potential, many vendors provide VDI-ready product SKUs and VDI design guidelines to help IT engineers plan, procure and deploy VDI systems. Dell and VMware, for example, have a guide called "Dell EMC Ready Architectures for VDI, Designs for VMware Horizon on VxRail and vSAN Ready Nodes."
Realizing the market potential, many vendors provide VDI-ready product SKUs and VDI design guidelines to help IT engineers plan, procure and deploy VDI systems.
Although Dell designed its guidelines for VMware's Horizon VDI software, they are consistent with published best practices by Citrix and others. We will treat them as representative of a modern VDI implementation using HCI product bundles and general sizing recommendations.
Here are the recommended specifications for compute sizing for different types of workers, GPU sizing, storage sizing and networking when implementing a hyper-converged infrastructure to support a VDI for work-from-home employees.
Compute sizing
Knowledge workers. Four users per CPU core or 128 users per 2S, 16C server.
Power users. Three users per CPU core or 96 users per 2S, 16C server; 48 users per 2S, 8C server.
Compute sizing assumes servers using Cascade Lake processors, Intel's second-generation Xeon Scalable Processor family.
GPU sizing
Two GB video buffer per single- or dual-4K display. A server with six Nvidia T4 (Turning) GPUs with 96 GB of video buffer could support 48 users with 4K displays.
Storage sizing
RAID 1 assuming 50 GB VM with a spare and 30% slack capacity would be 100 GB per user.
RAID 5 with same assumptions as above would be 66.5 GB per user.
Networking
48-port (downlink) 10 Gigabit Ethernet (GbE) top-of-rack switches -- with dual configuration for redundancy -- with 6x40 GbE uplink ports.
48-port (downlink) 25 GbE top-of-rack switches (dual) with 4x100 GbE uplinks.
The table below shows Dell EMC sizing guidelines determined when putting together its HCI VDI system design recommendations and testing various configurations to keep CPU utilization below 85% and maintain 70% slack space storage capacity.
| | | |
| --- | --- | --- |
| Server configuration | Workload | User density |
| Density optimized+ | Knowledge worker | 160 |
| Density optimized | Power user | 120 |
| Density optimized+ 6 x T4 GPU | Multimedia | 48 |
| Density optimized+ 6 x T4 GPU | Power user | 80 to 96++ |
Source: "Dell EMC Ready Architectures for VDI, Designs for VMware Horizon on VxRail and vSAN Ready Nodes"
+ Density optimized VxRail system includes 2S, 20C 2.5 GHz Xeon Gold 6248 with 768 GB RAM and 6 PCIe slots
++ 96 users resulted in 95% CPU utilization. Reducing to 85% can be achieved by cutting the number of users by about 10% or using processors with more cores.
HCI servers are an ideal platform for VDI implementations because they offer high-density designs with multiple nodes per chassis, ample built-in storage and network interfaces, and broad support for popular VDI software.
Their modularity, distributed architecture and central management features enable organizations to start small with 3- or 4-node clusters that can quickly scale out to dozens or hundreds of nodes spanning multiple racks. In addition, by using standard components, those still evaluating VDI software can simultaneously test HCI platform contenders head-to-head before finalizing a purchase decision.
How you design your hyper-converged work-from-home infrastructure -- and the resources that go into your HCI systems -- will depend on the type and number of remote employees to be supported. These design guidelines and best practices can help you get started on your HCI VDI journey. But they are only a starting point from which you can further tailor your internal infrastructure to best support your specific virtual desktop needs.
Dig Deeper on Converged infrastructure management