alex_aldo - Fotolia
HCI hardware or hyper-converged software: Which is better for me?
Appliance-based hyper-convergence integrates software with hardware, while software-only HCI enables you to use the hardware of your choice. Each type has pluses and minuses.
If an organization decides to deploy a hyper-converged infrastructure platform, it must decide whether to purchase an HCI hardware appliance or implement its HCI deployment through software. There are advantages and disadvantages to both approaches.
HCI hardware advantages and disadvantages
An HCI appliance usually consists of a chassis that's filled with individual nodes. Individual vendors have their own way of doing things, but each node usually provides compute, network and storage resources and comes preloaded with any required software.
Simplicity is the main advantage of this approach. All the HCI hardware and software have been rigorously tested and certified to work together. Furthermore, the vendor sells the hardware and software as a package, so there's no guesswork involved in figuring out what to buy. And, because the unit is sold as a package, there's usually one point of contact for technical support. This eliminates the problem of vendor finger-pointing when things go wrong.
There are two main disadvantages to this approach. The first is an HCI appliance can be pricey. The second is you might only be able to add capacity by installing extra nodes. This means you could end up having to pay to add network and compute resources, even if all you really need is storage.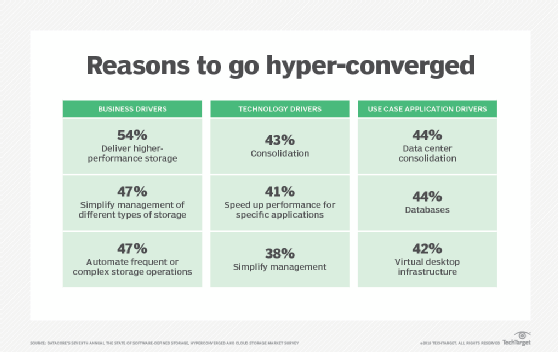 Software HCI advantages and disadvantages
Software HCI isn't quite as cut and dry as hardware HCI. One approach is to use a reference architecture, which is essentially a listing of hardware and software components that are guaranteed to work together as an HCI deployment when configured in a specific way.
A reference architecture can provide the same assurances as an HCI appliance, but it can be more complicated to deploy. The main benefit to this approach, however, is that it may give you more options with regard to hardware selection.
There are also hardware-agnostic HCI options. Windows Server 2019, for example, can be configured to provide HCI-like functionality through its Storage Spaces Direct feature. This approach is far more flexible than traditional HCI, but it lacks the simplicity and convenience of an HCI appliance.
Dig Deeper on Converged infrastructure management
Without a Windows 11 registry backup, IT risks breaking the OS by making edits. Find out how easy it is to back up the Windows 11 registry. Continue Reading
While Google Cloud Storage has several limitations, these three are among the most prevalent -- but users have straightforward ways to get around ... Continue Reading
Unpredictable user behavior and boot storms can cause VDI resource usage fluctuations throughout the day. IT can take steps to identify and curtail ... Continue Reading