Compare hyper-converged, converged infrastructure monitoring tools
Better monitor your hyper-converged infrastructure systems with tools from Zenoss, Uila, eG Innovations and ManageEngine than with the proprietary tools of hyper-converged vendors.
Hyper-converged infrastructure technology virtualizes standardized server hardware components into a software-defined IT infrastructure. By pooling resources, vendors make their systems more scalable and easier to manage. However, somewhat counterintuitively, the same abstraction layer that is meant to make a hyper-converged platform easy to manage also makes it difficult to monitor.
While hyper-converged infrastructure (HCI) vendors typically include converged infrastructure monitoring tools with their products, they usually design these tools to monitor systems at the service level. This can make it difficult to perform granular, hardware-level monitoring, as hyper-converged systems are, by definition, software-defined, which commonly obscures the actual hardware layer.
Another pain point associated with monitoring hyper-convergence platforms is that monitoring tools from hyper-converged infrastructure vendors tend to be proprietary. This means the tools organizations use to keep tabs on its other servers will usually not work for monitoring hyper-converged systems. This, of course, creates management siloes in which an administrator must use different tools to monitor different groups of servers.
Fortunately, there are third-party products available that offer more comprehensive monitoring capabilities with hyper-converged environments in mind. Let's take a look at few of these tools: Zenoss, Uila, eG Innovations eG Enterprise and ManageEngine OpManager.
Zenoss unified monitoring
Zenoss offers a unified monitoring product that is designed to monitor a wide variety of both physical and virtual IT resources, including clouds, physical and virtual machines, containers and microservices. It can also monitor hyper-converged infrastructures -- among many other things, such as unified communications -- as well.
Somewhat counterintuitively, the same abstraction layer that is meant to make a hyper-converged platform easy to manage also makes it difficult to monitor.
On the hyper-convergence front, Zenoss takes a holistic approach to monitoring by delivering visibility into compute, network and storage resources. In addition to its ability to monitor hyper-converged resources, Zenoss supports standard converged infrastructure monitoring and provides insight into the dependencies and relationships between physical and virtual components and the workloads running on systems.
Uila hyper-converged monitoring
Another vendor that offers hyper-converged monitoring is Uila. Rather than serving as a unified monitor like Zenoss, Uila focuses on full-stack monitoring for hyper-converged infrastructures. Uila designed its monitoring product to provide application performance information and can automatically identify more than 3,000 applications. Additionally, Uila has network and storage monitoring to detect performance bottlenecks, as well as provide root-cause analytics and forensics when things go wrong.
Uila also maps out the complex web of interdependencies in hyper-converged environments. This mapping is useful in migration scenarios and shows admins how the changes they make to their hyper-converged infrastructures affect application performance.
EG Enterprise from eG Innovations
Yet another tool that can help with monitoring hyper-converged infrastructure environments is eG Enterprise from eG Innovations. Like Zenoss, eG Innovations designed eG Enterprise to act as a unified monitoring tool. The product supports Nutanix HCI, Nutanix Acropolis, VMware, Hyper-V and XenServer environments.
EG Enterprise automatically discovers the Nutanix stack and then maps applications, VMs and infrastructure components. This approach enables admins to perform root-cause analysis for virtual machine and application performance issues.
In addition to monitoring application health -- with deep performance and analytical insights for more than 180 applications -- eG Enterprise assists with capacity planning, resource consumption monitoring and VM right-sizing.
Survey says
Simplifying data center monitoring and management is a requirement for 20% of hyper-converged infrastructure projects and 13% of converged infrastructure projects.
Source: TechTarget Research
ManageEngine OpManager monitoring
One more hyper-converged infrastructure monitoring tool is OpManager from ManageEngine. OpManager uses the Simple Network Management Protocol to monitor Nutanix hyper-converged infrastructure environments. It monitors hyper-converged performance metrics such as bandwidth, CPU usage and latency.
ManageEngine also designed the software to assist with root-cause analytics when performance problems occur, and it features an alert mechanism to warn administrators when bottlenecks occur. In addition, OpManager can track hyper-converged infrastructure performance over time, which can be handy for performing long-term capacity planning.
More unified or hyper-converged specific?
As you can see, there are a variety of tools available for monitoring hyper-converged infrastructures. Some, like Zenoss and eG Enterprise, offer comprehensive unified infrastructure monitoring across the whole data center environment. Others, like Uila and ManageEngine OpManager, zero in on the hyper-converged systems, but provide monitoring capabilities beyond what hyper-convergence vendors deliver.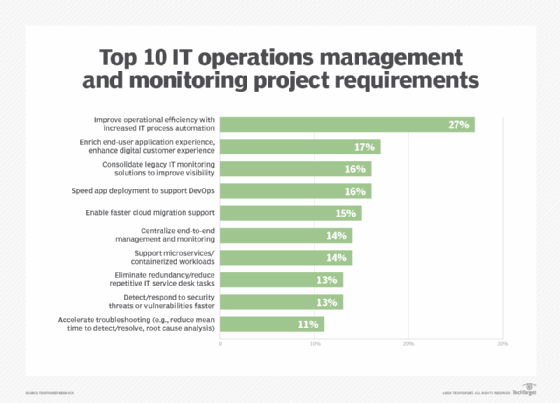 Not every tool supports every hyper-convergence platform. When selecting a hyper-converged, converged infrastructure monitoring tool, it is important to make sure the one you choose is compatible with your hyper-convergence platform, that it recognizes the applications running in your environment and -- most importantly -- will help you to meet your business objectives.
Dig Deeper on Converged infrastructure management