Zabbix is an open source monitoring software tool for diverse IT components, including networks, servers, virtual machines (VMs) and cloud services. Zabbix provides monitoring metrics, such as network utilization, CPU load and disk space consumption. The software monitors operations on Linux, Hewlett Packard Unix (HP-UX), Mac OS X, Solaris and other operating systems (OSes); however, Windows monitoring is only possible through agents.
Zabbix can be deployed for agent-based and agentless monitoring. Agents are installed on IT components to check performance and collect data. The agent then reports back to a centralized Zabbix management server. That information is included in reports or presented visually in the Zabbix graphical user interface (GUI). If there are any issues regarding what is being monitored, Zabbix will send a notification or alert to the user. Agentless monitoring accomplishes the same type of monitoring by using existing resources in a system or device to emulate an agent.
The Zabbix web-based GUI enables users to view their IT environment via customizable dashboards based on widgets, graphs, network maps, slideshows and reports. For example, a user can customize a report to show metrics associated with both service-level agreements (SLAs) and key performance indicators (KPIs) on CPU loads.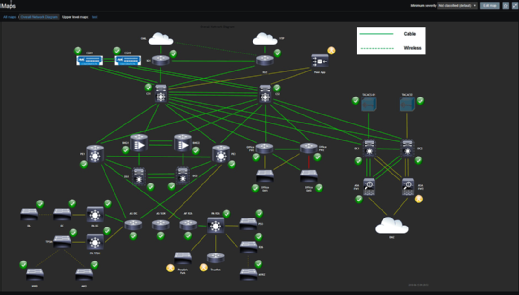 Zabbix works via three discovery mode options:
Network discovery periodically scans an IT environment and records a device's type, IP address, status, uptimes and downtimes.
Low-level discovery automatically creates items, triggers and graphs based on the discovered device. Low-level discovery can create metrics from Simple Network Management Protocol (SNMP) object identifiers, Windows services, Open Database Connectivity (ODBC) Structured Query Language (SQL) queries, network interfaces and more.
Auto-discovery automatically starts monitoring any discovered device using a Zabbix agent.
With Zabbix distributed monitoring, remotely run scripts collect data from multiple devices in distributed locations and combine that data in one dashboard or report, such as server availability across the country.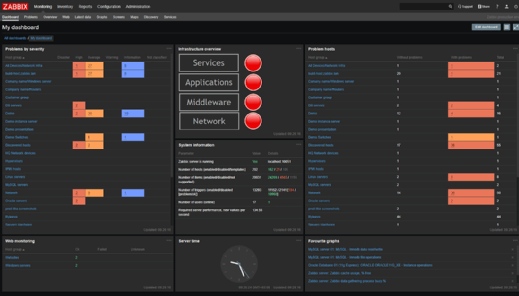 Zabbix can send email notifications based on predefined events in a user's IT environment. Another way for Zabbix users to stay up to date with their IT environment is through mobile applications from suppliers such as M7 Monitoring or of their own creation.
This was last updated in
June 2018
Continue Reading About Zabbix
Dig Deeper on IT systems management and monitoring