ra2 studio - Fotolia
Infrastructure modernization via hyper-convergence can equal success
How hyper-convergence can help modernize IT infrastructures to better meet challenges like the digital transformation of the business and the adoption of edge computing.
Ted Williams, perhaps the greatest hitter of all time, told The New York Times in 1982 that "hitting a baseball is the hardest thing to do in sports … a round ball, round bat, curves, sliders, knuckleballs, upside down and a ball coming in at 90 miles to 100 miles an hour." Like baseball, IT organizations must contend with -- often -- unpredictable moving targets to stay competitive.
Some of these targets, like a fastball, have a level of predictability. A fastball is going to come toward the batter straight and fast, while other pitches -- like the curveball, knuckleball and changeup -- can change course and/or speed at any point.
Like a good hitter, enterprise IT teams should step up to bat with a strategy tailored to the pitcher they're facing. That strategy could involve infrastructure modernization and a plan that could entail adopting a hyper-converged infrastructure.
Some moving targets possibly speeding your way include the digital transformation of business and the growing awareness of the benefit of and, in many cases, critical need for edge computing. While some IT challenges often seem to pop up out of nowhere -- say, coping with a specific security breach -- others result from the fluctuating demands placed on infrastructures due to changing business requirements, as with the case of digital transformation. Others are the byproduct of technological evolution, such as needs for more compute, storage and data processing power at the edge of the network, which itself could be part of a digital transformation strategy.
While some IT challenges often seem to pop up out of nowhere -- say, coping with a specific security breach -- others result from the fluctuating demands placed on infrastructures due to changing business requirements.
How digital transformation works
With digital transformation, data is no longer simply necessary for doing business (databases, email, file directories, etc.) or optimizing business (using analytics to drive product development and gain insight into customers, for example). The transformation becomes the business itself. It involves situations where data and revenue correlate directly, and where delays or miscues in infrastructure deployment, scaling and management obstruct crucial business plans and earning potential.
Here, in what's often referred to as the new digital economy, the business-side of the organization is the IT department's customer -- perhaps more so than ever. No longer is IT there to help support the business. It now undertakes tasks directly related to product design and development, not just implementation. As Enterprise Strategy Group analyst Scott Sinclair, pointed out in Storage magazine, "IT changes from a department that implements best practices for general-purpose applications to one that defines or enables new custom practices and workflows that serve to differentiate your digital organization."
Sinclair laid out four high-level goals for how to make over your data storage infrastructure to better meet the requirements of a digital transformation. These included shifting the performance bottleneck away from storage, enabling a multigenerational architecture through the hardware abstraction of software-defined storage, the ability to deploy infrastructure resources immediately or near-immediately, and the need for hybrid or multi-cloud data management.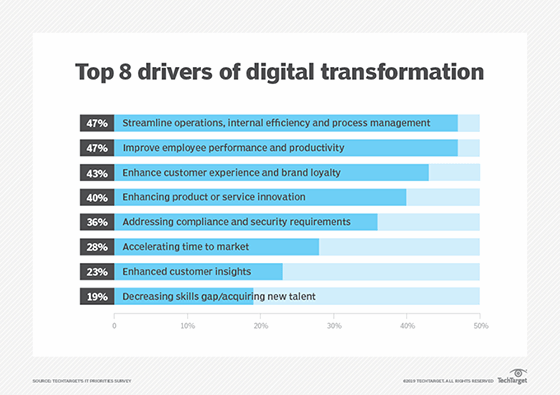 Hyper-converged infrastructure can help achieve all those goals. Infrastructure modernization using fledgling composable disaggregated infrastructure that turns server resources into programmable services is another option for organizations looking to meet the business needs of the new digital economy.
How edge computing works
Edge computing lets you run applications and process data at or near the network's edge. It's a technology responding to the mounting processing, analytics and bandwidth requirements from IoT devices, smart sensors, remote offices and branch offices, and mobile users.
According to a joint report by Cisco and Gartner, three-fourths of enterprise-generated data will be processed remotely by 2025 -- many times more than today. Furthermore, Gartner found in a survey of IT professionals that slightly more than a quarter of respondents had edge computing technologies deployed, while more than half were interested in doing so. Meanwhile, MarketsandMarkets predicted revenue generated by the edge computing market would grow from $2.8 billion in 2019 to $9 billion by 2024.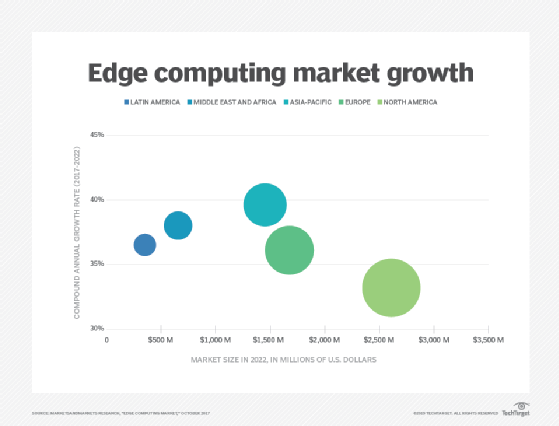 Why so much interest in edge computing? Because processing and transmitting tremendous -- and exponentially increasing -- amounts of raw data strains networks. It's often far more efficient to do most of the heavily lifting at or near the data source and away from the central on-premises data center or cloud. That way only the most important and pertinent information is sent back and forth to and from the edge of the network.
Self-contained, yet highly expandable and remotely manageable, hyper-converged systems could provide an efficient and cost-effective way to deploy edge computing as part of your infrastructure network. Infrastructure modernization through hyper-convergence is a simple and convenient way to deploy the necessary compute and storage resources required at the network's edge.
Hyper-converged and composable infrastructure are gaining more attention in the enterprise. For many organizations, they're good ways to hit a home run when dealing with the challenges of digital transformation, edge computing and infrastructure modernization.