Share this item with your network:
Managing and protecting all enterprise data

Petya Petrova - Fotolia
IT infrastructure transformation: Backbone of the digital revolution
Maximizing the value of incoming and outgoing data as a core business strategy demands transforming your IT infrastructure into a more agile and flexible entity.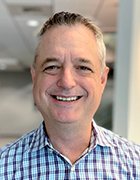 By
One of the prevailing trends in IT is digital transformation and the IT infrastructure transformation that accompanies it. Sounds relatively straightforward, right? Well, becoming a more digital-enabled business is about a lot more than simply building a mobile app.
Digital transformation enables you to better engage customers, run your core business more efficiently and enter new markets through new processes and products as well as data analytics. The final implementation and outcome will vary based on your industry and business, of course, but the central idea remains the same: Leveraging data becomes a central element to your business's core strategy.
And while you may offload services to Office 365 or Salesforce, the workloads that remain on premises will likely be more strategic, such as for introducing digital products. So IT changes from a department that implements best practices for general-purpose applications to one that defines or enables new custom practices and workflows that serve to differentiate your digital organization.
Digital business transformation, meanwhile, necessitates an IT infrastructure transformation. The resulting infrastructure not only needs to manage the increased scope and scale of incoming and outgoing data, it must also become more agile and flexible. The more innovative a business becomes at using data, the greater the likelihood new products, services and initiatives will need to pivot quickly.
The IT infrastructure transformation
So how do we adequately transform IT Infrastructure? Let's start with what IT infrastructure transformation is not. It isn't simply buying the latest and greatest hardware and software. We've had decades of technological innovation in the data center, each delivering superior capability compared with the previous generation. This trend will continue and isn't transformative; it's business as usual. Contrary to prevailing wisdom, cloud isn't transformative either. Leveraging a public cloud provider, such as Amazon Web Services or Microsoft Azure, provides benefits and may feel transformative, but it isn't enough.
At a high level, IT infrastructure transformation is all about becoming better and more efficient at allocating budget and resources to new projects and markets, and making the cost of managing day-to-day infrastructure easier and cheaper. And while it addresses the full range of infrastructure components, this article predominately focuses on data storage technologies.
The following list provides some high-level goals for a transformational storage infrastructure. Some of these capabilities are available today, some are more aspirational. Together, they make up a framework of what to look for to revamp your storage infrastructure for the age of digital transformation.
Shifting the performance bottleneck away from storage: Your storage infrastructure should deliver enough performance to ensure you can leverage the right data at the right time. It also must be capable of sufficiently and incrementally increasing that performance so you can layer on new workloads without impacting existing business processes. This is critical for business intelligence or analytics workloads. Developers need access to data sets in a timely fashion. They can't wait for the deployment of new infrastructure.
Multigenerational architecture: As infrastructure demands scale, new deployments increase in frequency. You can't afford to lose data availability each time you transition to a new hardware generation. As demands change, data access must remain predictable, available and online. And data access must remain constant as infrastructure evolves around it. The hardware abstraction provided by software-defined storage (SDS) is one way to meet this challenge by enabling the addition of new hardware generations in the same storage pool without impacting data access.
Immediate, or near-immediate, deployment: When new requirements arise, access to storage capacity can't take months to get approvals and another couple of months to install. There are multiple technologies that can speed up storage infrastructure deployment, such as SDS-based converged and hyper-converged infrastructures. Another one of the fastest means of accessing new infrastructure is the adoption of public cloud resources. While the cloud isn't always an option for every data type, it can dramatically speed up time to provision new storage.
Multicloud data management: Managing this new infrastructure must be automatic. Storage vendors use the term simple too often. I've never heard of a product referred to by its manufacturer as difficult to use. But management must not only save time, it should dramatically free up resources for other tasks while covering the scope of the resulting hybrid or, more likely, multicloud architecture. According to Enterprise Strategy Group's research, 75% of public cloud infrastructure-as-a-service customers use multiple cloud IaaS providers. To manage this new multicloud ecosystem, you would ideally need the following:
a single architecture that can consolidate multiple disparate clouds;
the ability to automatically select and quickly employ a specific cloud service;
the capacity to understand and manage the colocation of compute and data as a means to reduce latency; and
the capability to spin up new workloads in the cloud or on premises through universal data accessibility.
These multicloud data management capabilities trend toward the aspirational. But they present an idea of what will be required to effectively manage multicloud infrastructures.
This list presents a high-level idea of what IT infrastructure will soon entail, and it will likely grow with new innovations. Now your IT team's time is divided between keeping everything in the data center and cloud running and keeping an eye on new opportunities as they arise. If a business is going to transform itself digitally, it must dramatically reduce the time it wastes on everyday IT maintenance. That will entail an IT infrastructure transformation.
Next Steps
Plan out the framework for your organization's digital transformation
Don't let legacy IT infrastructure get in the way of digital transformation
Find out how to build an IT digital transformation roadmap
Find out how wide-area-Ethernet can fuel digital transformation
Dig Deeper on Storage management and analytics