Fotolia
What exactly is a digital business transformation strategy?
What do you need for a digital business transformation strategy that will actually work to boost business value and change the enterprise operations model?
A digital business transformation strategy includes four key attributes, as illustrated in the figure below. So,...
Continue Reading This Article
Enjoy this article as well as all of our content, including E-Guides, news, tips and more.
what makes a successful strategy?
Requires innovative application of technology. This could be the application of existing technologies or entirely new ones. The key is the organization is using technology in an innovative way.
Improves or creates a process, product or experience. Partly because of that technology implementation, something changes and, indeed, improves. For example, a healthcare organization may apply wireless sensors, an internet-of-things platform and analytics tools to a heart monitor to deliver key data to a nurse-staffed contact center.
Drives measureable business value. Organizations expect to deliver multiple, measurable values to the business. In the healthcare example, the initial value may be the improved customer experience. In this case, patients may get calls from the nurses, who give advice on some of the test figures that could improve quality of life -- or, indeed, save lives. Another business value that may be affected is increased revenue through patients visiting the doctor more often or buying new supplies.
Digital transformation initiatives can literally save lives.
Requires quick strategy implementation. A digital business transformation strategy must happen quickly -- within six months, based on our research. This doesn't mean the entire transformation project must be complete within six months; it means there must be a checkpoint with measureable changes. Without this firm deadline, competitors may come out with something faster, stakeholders may lose interest or budgets may dry up.
Digital business transformation strategies can literally save lives, with patient diagnostics in healthcare, or drive efficiency -- using video conferencing to speed or add visuals to decision-making, for example. Most importantly, they can be innovative. Consider the development of an artificial intelligence app that translates the voice of a colleague who is stuck in traffic into a text posted on a team collaboration channel that states, "Jim will be 15 minutes late to the meeting -- stuck in traffic."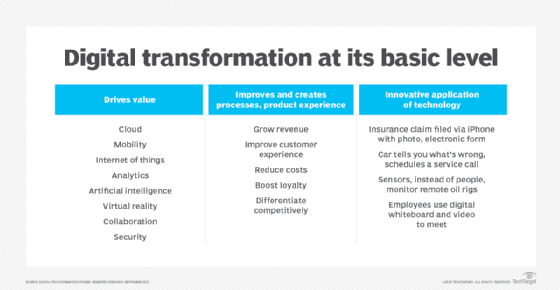 Behind any of these initiatives, though, is a well-engineered network that supports applications -- many of them real-time -- securely and affordably. Many organizations start their transformation initiative evaluating their baseline technologies, such as network, security and communications. If the foundation is weak, the innovative applications may not perform as efficiently as possible, resulting in, for example, poor video images for remote diagnostics in healthcare.
This was last published in
March 2018
Dig Deeper on Network management and monitoring
With automated customer surveys, organizations can get data in real time to improve their marketing, sales and customer service strategies. And AI's ... Continue Reading
Loyalty programs can help organizations retain their most valuable customers with special offers. Additionally, they can gather useful marketing data... Continue Reading