Kit Wai Chan - Fotolia
HPE brings InfoSight AI to SimpliVity HCI
HPE brings technologies from two 2017 acquisitions -- predictive analytics and hyper-convergences -- together with InfoSight on SimpliVity in hopes of giving SimpliVity a sales jolt.
Hewlett Packard Enterprise has made its InfoSight predictive analytics resource management capabilities available on its HPE SimpliVity hyper-converged infrastructure platform.
InfoSight provides capacity utilization reports and forecasts, and sends alerts of possible problems before users run out of capacity. HPE acquired InfoSight when it bought Nimble Storage in March 2017, two months after it acquired early hyper-converged infrastructure (HCI) startup SimpliVity. HPE ported Nimble's InfoSight to its flagship 3 PAR arrays and it is used in its new Primera storage, as well as the ProLiant servers that SimpliVity runs on.
HPE is also connecting SimpliVity to its StoreOnce backup appliances, allowing customers to move data from SimpliVity nodes to the StoreOnce deduplication back boxes.
HPE disclosed plans to bring InfoSight to SimpliVity in June, and it is now generally available as part of the SimpliVity service agreement. StoreOnce integration with SimpliVity HCI is planned for the first half of 2020.
SimpliVity HCI trails Dell, Nutanix, Cisco
HPE has lagged its major server rivals in HCI sales, particularly Dell. IDC listed SimpliVity as fourth in branded HCI revenue in the second quarter with $83 million, only 2.3% of the market. No. 1 Dell ($533 million) and No. 2 Nutanix ($259 million) combined for nearly half of the total market share, with Cisco third at $114 million and 6.2 % share according to IDC.
HPE's commitment to SimpliVity has also been questioned by its hedging on HCI products. HPE makes Nutanix technology available as part of its GreenLake as-a-service program, and Nutanix sells its software bundled on HPE ProLiant hardware. HPE customers can also use its servers with VMware vSAN HCI software. And HPE this year launched Nimble Storage dHCI, a disaggregated platform that is not true HCI but competes with HCI products while allowing a greater degree of independent scaling of compute and storage resources. Nimble dHCI is also generally available this week.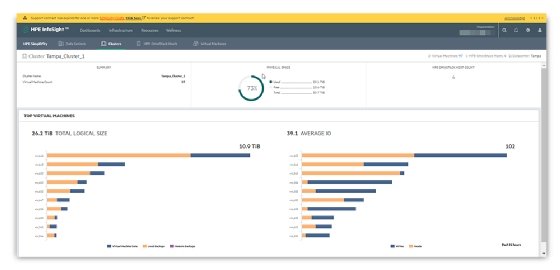 HCI 'comes down to data'
Pittsburgh-based trucking company Pitt Ohio has been a SimpliVity customer since before HPE acquired the HCI pioneer. Systems engineer Justin Brooks said he was familiar with InfoSight as a previous Nimble Storage customer, so he signed up for the beta program on SimpliVity. Brooks said he has used InfoSight since June, and finds it significantly aids him in managing capacity on his 19 HCI nodes used for primary storage and disaster recovery.
"Most of it comes down to data – how much you're replicating, and how much data is on there versus what the hypervisor supports," Brooks said. "The InfoSight intelligence and prediction capabilities are great for SimpliVity, because on any hyper-convergence platform it's all about scalability. You need to know when to scale out or move things around, so you can plan accordingly. Hyper-converged is not dirt cheap either, especially when it's all-flash. It's important to make sure you're getting your money's worth out of the resources."
Brooks said he previously employed "guesstimates and fuzzy math" to predict SimpliVity HCI growth, but InfoSight does those predictions for him now. InfoSight data growth patterns over the past 30-, 60- and 90-day periods.
"You're always worried how big your data sets are growing, especially on the SQL Server side," he said. "You don't get as high efficiency with dedupe and compression on SQL data as with file data. With SimpliVity you have to dig into the CLI and get deep in there, or see what was sent over from the production side or the DR side. InfoSight shows you that data more granularly."
Brooks said he was concerned about HPE's plans for SimpliVity when it made the acquisition in 2017, but he's happy with its commitment. Pitt Ohio took advantage of an HPE buyback program to convert its SimpliVity OmniCubes that used Dell hardware into ProLiant-based SimpliVity nodes. Pitt Ohio had nine SimpliVity nodes before the HPE acquisition, and is up to 19 now. Brooks estimates 98% of his applications run on SimpliVity HCI. The trucking company is a VMware shop and first got into SimpliVity HCI for virtual desktop infrastructure. It has since switched from Cisco UCS servers and a variety of storage, including Dell EMC VMAX and Data Domain and Nimble arrays.
"We had a Frankenblock infrastructure," Brooks said. "When we needed to refresh hardware, our options were to forklift everything in the data center or get on the hyper-converged route."
Pitt Ohio now has one SimpliVity cluster for Microsoft SQL Server, another cluster for all other production workloads and a third for QA.
Brooks said he uses SimpliVity for data protection, but is considering adding a Cohesity backup appliance. That is so he can move file data to cheaper storage, and HPE sells Cohesity software on HPE Apollo servers. "We want to get some files off of SimpliVity because I'd rather not use all that flash disk for files," Brooks said.