Fotolia
Cohesity-Cisco partnership deepens into reseller deal
The partnership between vendors Cohesity and Cisco has blossomed into a reseller deal. Customers can now buy Cohesity software with Cisco HyperFlex hardware and architecture.
The Cohesity-Cisco relationship is getting more serious, with Cisco adding Cohesity software to its global price list.
Cohesity joined Cisco's SolutionsPlus program this week, which means Cohesity software is sold with Cisco HyperFlex and Unified Computing System (UCS). Cisco added Cohesity DataPlatform to its global price list, and customers will get service and support for Cohesity products through Cisco. The Cohesity-Cisco reseller deal is an extension of their previous channel partnership where service providers would package their technologies.
HyperFlex is Cisco's hyper-converged platform based on UCS servers, and Cohesity bills itself as hyper-converged secondary storage.
"We are seeing increasing customer demand for doing hyper-converged primary and secondary," said Vijay Venugopal, Cisco's senior director of product management.
The Cohesity-Cisco partnership also allows the Cohesity DataProtect backup application to take snapshots directly from HyperFlex.
The partnership is not exclusive for either vendor. Cisco has partnerships with Cohesity rivals, including Veritas, Veeam Software, Commvault and Rubrik. And Cohesity has an OEM deal with Hewlett Packard Enterprise, which sells Cohesity software on ProLiant and Apollo servers.
Cohesity also sells DataPlatform on its own branded appliances. Sanjeev Desai, senior director of solutions marketing at Cohesity, said the pricing model for Cohesity software is the same if customers buy from Cohesity or Cisco. Cohesity typically charges by the number of TBs that land in the Cohesity cluster, after DataPlatform's dedupe and compression kick in.
Steven Hill, senior analyst at 451 Research, said the deepening Cohesity-Cisco partnership was a logical progression.
A lot of companies are more interested in buying complete appliances than they are in building it themselves.

Steven Hillsenior analyst, 451 Research
"A lot of companies are more interested in buying complete appliances than they are in building it themselves," Hill said. "So the idea of buying a preinstalled, preconfigured software-defined storage from Cisco, on hardware you already know and love, and software that's being certified and supported by both companies -- it's a pretty big step."
The reseller deal gives Cohesity access to Cisco's customers, which span the globe and include large enterprises.
Cisco contributed to Cohesity's Series C and Series D funding rounds as a strategic investor. The two vendors said they will "align roadmaps," making Cisco's influence in Cohesity's development more than just financial.
When a large vendor forges a strong relationship with a smaller newcomer, the arrangement sometimes leads to an acquisition. But Cisco prefers to partner with storage vendors rather than acquire them. It got burned after acquiring all-flash array vendor Whiptail and discontinued sales of Whiptail systems after poor results.
"Cisco has been cautious about wanting to become a storage vendor," Hill said.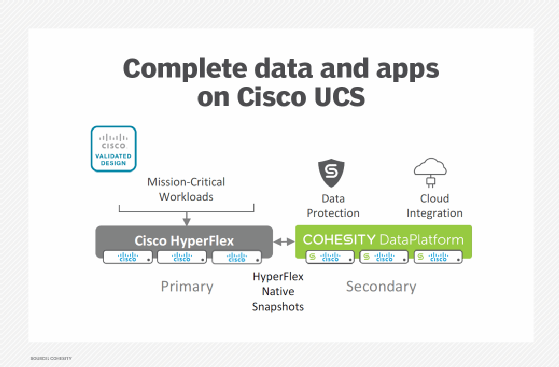 Cohesity DataPlatform went through an extensive series of testing exercises and gained the Cisco Validated Design (CVD) seal of approval. Venugopal explained that this is the process by which third parties are qualified to run with Cisco products, and typically takes two or three months to complete. The CVD mark shows a third-party product is certified to work with Cisco.