michelangelus - Fotolia
Pivot3, Scale Computing HCI appliances zoom in on AI, edge
Pivot3 Acuity automates data protection for self-healing node rebuilds. New Scale Computing HE150 HCI systems combine M.2 NVMe SSD, Scale networking software and Intel mini-PCs.
Hyper-converged vendors Pivot3 and Scale Computing this week expanded their use cases with product launches.
Scale formally unveiled HE150 all-flash NVMe hyper-converged infrastructure (HCI) appliances for space-constrained edge environments. Scale sells the compute device as a three-node cluster, but it does not require a server rack.
The new device is a tiny version of the Scale HE500 HCI appliances that launched this year. HE150 measures 4.6 inches wide, 1.7 inches high and 4.4 inches deep. Scale said select customers have deployed proofs of concept.
Pivot3 rolled out AI-enabled data protection in its Acuity HCI operating software. The vendor said Pivot3 appliances can stream telemetry data from customer deployments to the vendor's support cloud for historical analysis and troubleshooting.
HCI use cases evolve
Hyper-converged infrastructure vendors package the disparate elements of converged infrastructure in a single piece of hardware, including compute, hypervisor software, networking and storage.
Dell is the HCI market leader, in large measure to VMware vSAN, while HCI pioneer Nutanix holds the No. 2 spot. But competition is heating up. Server vendors Cisco and Hewlett Packard Enterprise have HCI products, as does NetApp with a product using its SolidFire all-flash technology. Ctera Networks, DataCore and startup Datrium are also trying to elbow into the crowded space.
Pivot3 storage is used mostly for video surveillance, although the Austin, Texas-based vendor has focused on increasing its deal size for its Acuity systems.
Scale Computing, based in Indianapolis, sells the HC3 virtualization platform for use in edge and remote office deployments. The company has customers in education, financial services, government, healthcare and retail.
Hyper-converged infrastructure has expanded beyond its origins in virtual desktop infrastructure to support cloud analytics of primary and secondary storage, said Eric Sheppard, a research vice president in IDC's infrastructure systems, platforms and technologies group.
"The most common use of HCI is virtualized applications, but the percentage of [hosted] apps that are mission-critical has increased considerably," Sheppard said.
Scale HE150: Small gear for the edge
Scale's HC3 system is designed for Linux-based KVM. Unlike most HCI appliances, Scale HC3 does not support VMware. Scale designed HyperCore to run Linux-based KVM.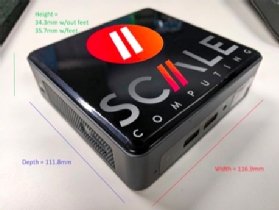 The HE150 includes a full version of HyperCore operating system, including rolling updates, replication and snapshots. The device comes with up to six cores and up to 64 GB of RAM. Intel's Frost Canyon Next Unit of Computing (NUC) mini-PC provides the compute. Storage per nodes is up to 2 TB with one M.2 NVMe SSD.
Traditional HCI appliances require a dedicated backplane switch to route network traffic, including Scale's larger HC3 appliances. HE150 features new HC3 Edge Fabric software-based tunneling for communication between HC3 nodes. The tunneling is needed to accommodate the tiny form factor, said Dave Demlow, Scale's VP of product management.
Scale recommends a three-node HE150 cluster. Data is mirrored twice between the nodes for redundancy. Demlow said the cluster takes up the space of three smart phones stacked together.
Eric Slack, a senior analyst at Evaluator Group, said Scale's operating system enables it to sell an HCI appliance the size of Scale HE150.
"This new small device runs the full Scale HyperCore OS, which is an important feature. Scale stack is pretty thin. They don't run VMware or a separate software-defined storage layer, so HyperCore can run with limited memory and a limited number of CPU cores," Slack said.
Pivot3 HCI appliances
Pivot3 did not make hardware upgrades with this release. The features in Acuity center on AI-driven analytics for more automated management.
Pivot3 enhanced its Intelligence Engine policy manager with AI tools for backup and disaster recovery in multi-petabyte storage. The move comes amid research by IDC that indicates more enterprises expect HCI vendors to provide autonomous management via the cloud.
The IDC survey of 252 data centers found that 89% rely on cloud-based predictive analytics to manage IT infrastructure, but only 72% had enterprise storage systems that bundle analytics tools as part of the base price.
"The entirety of the data center infrastructure market is increasing the degree to which tasks can be automated. All roads lead toward autonomous operations, and cloud-based predictive analytics is the fastest way to get there," Sheppard said.
Pivot3 said it added self-healing to identify failed nodes and automatically returns repaired nodes to the cluster. The vendor also added delta differencing to its erasure coding for faster rebuilds.
Dig Deeper on Converged infrastructure management