iconimage - Fotolia
Edge AI brings new uses to IoT devices
A Lenovo executive describes AI at the edge, highlighting how this rapidly advancing technology unlocks new automations and capabilities within IoT devices.
AI at the edge brings intelligence to IoT equipment, unlocking new automations and capabilities within devices such as ATMs, cameras and machine sensors.
During a session at Microsoft Ignite 2021 on March 3, Charles Ferland, vice president and general manager of edge computing and communication services providers at Lenovo, and Oscar Pallarols, global commercial director at Cellnex, discussed their latest applications of edge AI. Cellnex, a Spain-based operator of wireless infrastructure, uses Lenovo technology to help power its devices.
The simplest definition of edge computing is that it's "computing capabilities outside of the data center, closer to where the data is actually created, closer to where the users are actually using that data," Ferland said.
For enterprises, edge computing reduces requirements on network infrastructure, enables IoT devices to make faster insights based the data they collect, and optimizes end-user experiences, he said.
Use case
Cellnex, which operates more than 60,000 mobile network sites across Europe and is building a 5G ecosystem, developed an edge computing architecture with Lenovo, explained Pallarols.
In one application, Cellnex deployed a tower at a private racetrack in Barcelona that tests commercial vehicles for automotive companies. The tower, fitted with an edge server, collects data from cameras and sensors positioned around the track, as well as from the cars themselves.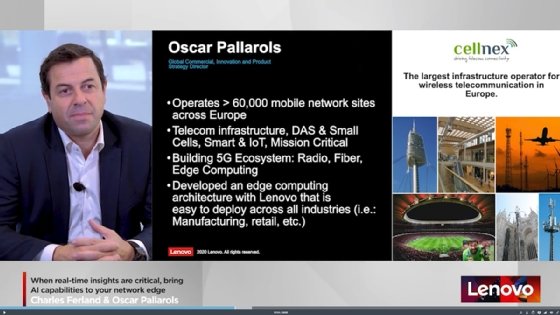 Those inputs, combined with machine learning, can detect if cars are on the track. If not, equipment will automatically turn off to save power.
The cameras and sensors can detect specific vehicles as well. If an ambulance approaches in a rescue service, for example, the system can detect it is an emergency, and will automatically send an alert to cars on the road.
Technological advances
Advances in hardware and AI and cloud computing technologies have made edge computing cheaper and more useful than ever before.
[Edge computing is] computing capabilities outside of the data center, closer to where the data is actually created, closer to where the users are actually using that data.

Charles FerlandVP and GM of edge computing and communication services providers, Lenovo
By embedding AI in edge devices, enterprises can infuse once "dumb" electronics with smart capabilities. Live-feed cameras can now identify human faces or scan license plates, for example, and vehicles can move autonomously.
Gartner recently predicted that by 2025, enterprises will create and process about 75% of their data at the edge.
Technology vendors appear to be moving quickly in that direction.
During Ignite, Microsoft introduced the public preview of Azure Percept, a hardware-software platform for bringing Azure services to the edge.
In December, AWS released a host of cloud and edge AI products specifically for industrial clients. The products included machine learning-powered sensors to detect machine temperature and vibration data, as well as services to enable factory cameras to detect physical machine abnormalities using computer vision.
Meanwhile, on March 1, Lenovo unveiled two new embedded edge computers, ThinkEdge SE30 and ThinkEdge SE50.
Built on Lenovo's existing edge portfolio, the devices are powered by Intel processors and 4G and 5G connectivity, although ThinkEdge SE30, the smaller of the two devices, won't receive 5G support until later this year.
Embedded applications for ThinkEdge SE30 include automated production lines in manufacturing, kiosks and ATMs for smart retail, and medical device monitors in healthcare, according to Lenovo. ThinkEdge, meanwhile, is meant for applications that require more data analytics and processing at the edge.
Lenovo's edge portfolio includes tablets, laptops, edge servers, data centers and storage.
Microsoft Ignite 2021 was held virtually March 2-4.