silvano audisio - stock.adobe.co
AWS releases machine learning services for industrial clients
AWS released a mix of hardware, software and cloud-based services to help manufacturing clients better manage workplace safety and machine health.
AWS unveiled five new machine learning services designed specifically for industrial and manufacturing clients.
The tech giant introduced the services on Dec. 1 on the opening day of AWS re:Invent, its three-week-long virtual conference.
Amazon Monitron, Amazon Lookout for Equipment, the AWS Panorama Appliance, the AWS Panorama SDK, and Amazon Lookout for Vision all use automation and AI for predictive maintenance, quality control and workplace safety.
While AWS has steadily added to its industrial offerings over the past few years, it is "clearly putting its foot on the accelerator in the race to become the best cloud for industrial workloads and the transition to Industry 4.0," said Nick McQuire, head of enterprise and AI research at CCS Insight.
Machine health
Amazon Monitron and Amazon Lookout for Equipment enable users to better monitor their industrial machines' health and predict when they will need maintenance.
Launched in beta, Amazon Lookout for Equipment became generally available on April 8, 2021.
Meant for customers who don't already have an existing sensor network, Amazon Monitron consists of IoT sensors to collect machine vibration and temperature data, a gateway to aggregate and transfer that data to AWS, and a machine learning service to detect abnormal patterns within the data, which would indicate a potential problem with a user's machine. Users can also check in on the health of their machines in real time.
According to AWS, Amazon Monitron can work on various rotating equipment, including motors, pumps, conveyor belts and bearings.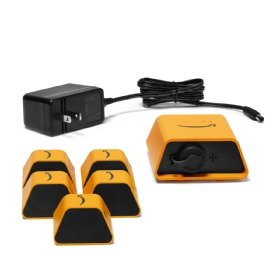 Meanwhile, Amazon Lookout for Equipment provides a way for customers with existing sensors to send their data to AWS and use pre-built machine learning models to detect abnormal machine behavior.
Computer vision
The AWS Panorama Appliance includes a new piece of hardware users can connect to their networks to add computer vision to existing on-premises cameras. The device automatically identifies camera streams and can run computer vision models on multiple streams locally through built-in AWS machine learning services and IoT services.
The device can also connect to AWS and can work with third-party, pre-trained computer vision models. With the system, customers could run computer vision models that, for example, automatically flag whether a forklift is outside its designated work zone or employees are adhering to social distancing rules.
Similarly, the AWS Panorama SDK enables hardware developers to build cameras using Nvidia and AI vision vendor Ambarella's chips that can run these types of computer vision models at the edge. Developers could also use the SDK to build models that run on low-cost devices on Ethernet. Users can train their own models in Amazon SageMaker or use pre-built models.
[AWS is] clearly putting its foot on the accelerator in the race to become the best cloud for industrial workloads.

Nick McQuireHead of enterprise and AI research at CCS Insight
Amazon Lookout for Vision also uses computer vision and machine learning to detect abnormalities, but the focus is on anomalies in machinery, such as a dent in a panel or an irregular shape. Customers can send image data from their cameras in batch or real time to Amazon Look for Vision, which then identifies machinery images that vary from the initial baseline images users send to set up the service.
Amazon is being more aggressive in putting technology from its retail business to use in other industries, McQuire said.
Many of Amazon's new grocery stores, for example, use a mix of applications, computer vision and sensors. Some stores can use this technology to automatically charge users for items they place into their carts.
"If there's one technology firm held as the gold star for industrial operational efficiency with new technologies, it's Amazon," McQuire said.
Dig Deeper on Machine learning platforms