New Amazon grocery stores run on computer vision, apps
Amazon dives deeper into the grocery business with its first 'new concept' grocery store, driven by automation, computer vision and sensors.
When faced with a decision to go big or go home in a new market, Amazon never goes home.
So, when the e-commerce giant decided to compete in the $900 billion U.S. grocery industry three years ago, there was little surprise Amazon elected to go big in purchasing Whole Foods Market for $13.7 billion. Now, with a mix of QR codes, apps, computer vision algorithms and sensors, Amazon is going bigger still with Fresh, its new concept grocery store in Woodland Hills, Calif. The store is the first of several planned that promise a seamless experience for customers whether they are shopping in-store or online.
While Amazon's major competitors in the retail grocery market, most notably Walmart, Target and Kroger, have made moves to improve their last-mile delivery of groceries or formed strategic partnerships, none of the three has introduced a new-age, automated grocery store to compete directly against Fresh.
Walmart, for instance, expanded its partnership with Instacart into the U.S. market and recently launched a competitor to Amazon Prime called Walmart Plus. It also introduced a new technology platform earlier this year called Alphabot, a robot that enables stores to pick, pack and deliver online orders faster. Last month, Kroger launched an e-commerce platform open to third-party merchants that works in concert with its Kroger Ship service for non-perishable grocery items. The two offerings aim to wrest e-commerce grocery sales away from Amazon.
"When you take a step back, [Jeff] Bezos bought Kiva robotics because he knew that automation was coming to the warehouses," said Guy Courtin, head of global alliances for 6 River Systems. "So now he wants to get a head start on the competition in automating grocery stores."
[Jeff] Bezos bought Kiva robotics because he knew that automation was coming to the warehouses. So now he wants to get a head start on the competition in automating grocery stores.

Guy CourtinHead of global alliances, 6 River Systems
One of the sexier automation technologies being used in Woodland Hills store is the Dash Cart. The new cart features a display that detects items shoppers put into the cart, which then automatically charge the shopper's Amazon account when they leave the store.
The current version of the Dash Cart only holds one to two bags of groceries, which may be intentional. Some analysts believe Amazon is limiting the cart's capacity because the new stores are meant to appeal to younger shoppers who stop by to pick up just a few items on the way home from work.
Courtin fully expects Amazon to evolve the Dash Cart's capabilities by further improving its communication with the cloud. A likely scenario is to have mobile device holders on carts for easier viewing of shopping lists stored on the Amazon app. The cart then guides shoppers through the store to the items on their shopping list.
The Dash Cart also incorporates Amazon's digital assistant Alexa to help customers navigate aisles to find their items more quickly. Scattered throughout the store are Amazon Echo devices shoppers can use to get guidance on where to find items on their shopping list. When they are ready to leave the store, customers exit through a dedicated Dash Cart lane where their payment is completed automatically.
"As you make your way down the aisles, they can send you promotional emails to make you aware of things on sale, 10% off coupons or something that can be nicely paired with an item already in your cart," Courtin said. "It can help facilitate the grocery process, but they could also use it to leverage it to upsell you and to capture more data."
Amazon confirmed it plans to open stores in six other locations, including Oak Lawn, Schaumburg and Naperville in Illinois, and Irvine, Northridge and North Hollywood in California. A company spokesperson declined to say when these stores will open.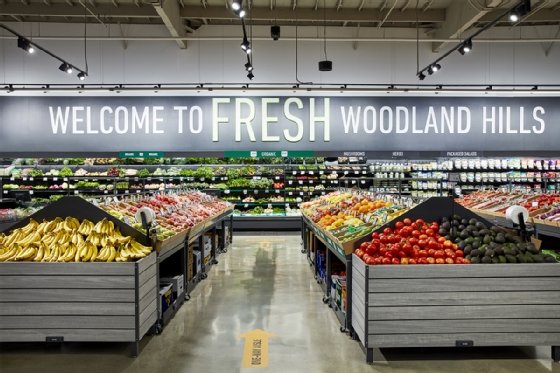 The competitive positioning of the new technology-driven stores relative to Whole Foods is a work in progress. The performance of the Woodland Hills store and handful of similar stores planned over the next year will determine how they will be competitively positioned against Whole Foods as well as the cashier-less Amazon Go.
Some market observers however think it would be wise to position Whole Foods as the high-end option given their generally higher prices and the reputation and branding many franchises have established in their respective neighborhoods. Many of those shoppers are middle-aged with families who typically place large orders. The new Amazon Fresh stores, some say, might be better positioned as the lower-end alternative for younger, single professionals.
"The reality is, Whole Foods is more of a premium retailer," said Thomas O'Connor, senior director and analyst with Gartner's supply chain industries and programs team. "They do have private label brands which are slightly lower in price, but they are still a premium brand. But this allows the [new concept stores and Go stores] to innovate in terms of technology, which they said they are looking to license out."
The advent of the new tech-centric grocery stores doesn't mean Whole Foods is "a dead duck by any stretch," O'Connor said. The $13.7 billion purchase of the food retailer has already proved to be a valuable asset in that it has educated Amazon about the competitive dynamics of the grocery business.
"Without that acquisition, Amazon's insights into integrating physical grocery with online grocery would not be at the same level," O'Connor said. "They wouldn't be able to keep up with the likes of Walmart, Target and Kroger in that space."
Amazon doesn't anticipate much competitive overlap between the two stores and expects them to move along parallel lines.
"Amazon Fresh stores will operate alongside Whole Foods Market and we plan to continue to invest in and grow both businesses," a company spokesperson said.
Amazon may experiment with selected technologies used in the new concept stores in Whole Food franchises. But finding the right balance of technology in Whole Foods stores could prove to be a tricky proposition.
"Amazon wants to open four or five more [Fresh] stores, but will the competition with Whole Foods limit that number if too much technology is infused in Whole Foods stores?" Courtin said. "It's a tough decision."
The Fresh stores will offer same-day delivery and pick-up for Amazon Prime members. The stores, which on average will be 30,000 square feet, or about half the size of average supermarkets, according to analysts, will carry a variety of national brands for meat and seafood, as well as prepared foods made in-store.
How long the Fresh stores can hold their technology advantage over competitors is difficult to determine in such a rapidly changing market, not to mention Amazon's penchant for evolving even recently introduced ventures like Fresh.
"There is an awful lot of testing and development going on among multiple competitors," said one analyst familiar with a number of projects underway among major grocery chains. "What looks like a strategy set in stone today with one store could look radically different just a month or two later when these companies open another store in a different city."