sdecoret - stock.adobe.com
Edge AI server market grows
Rapid data growth and the need to process it at the edge is expanding opportunities in the server market, with new entries from Unigen and Lenovo.
The potential for AI workloads at the edge is growing, with two vendors introducing new servers this month.
Custom storage vendor Unigen released a ruggedized, compact edge AI server known as Cupcake, and Lenovo released its ThinkEdge SE455 V3 server. Both products aim to achieve a similar goal: making trained AI models actionable at the edge. Cupcake is a turnkey solution, while ThinkEdge SE455 V3 is part of Lenovo's AI and IoT portfolio.
Processing data where it is generated is more likely to bring actionable insights in a faster manner than moving it back to the data center, according to Jennifer Cooke, an analyst at IDC.
"We have a lot of data outside the data center, and it's going to be expensive to move it," she said.
Customer interest in adopting edge AI is accelerating, Cooke said. This is especially true in financial services and retail.
Lenovo living at the edge
The latest addition to Lenovo's edge portfolio, ThinkEdge SE455 V3, brings more computing power than the earlier entries. The SE455 AMD EPYC 8004 CPUs, AMD's fourth generation processors, bring 64 cores in a small footprint that uses less energy, according to AMD. The new server can support up to six GPUs at an edge location.
The new server is part of Lenovo's TruScale, its infrastructure-as-a-service Opex model. The Opex model lets customers purchase hardware as needed. Along with the new server, Lenovo rolled out TruScale for Edge and AI, letting customers take advantage of Lenovo's machine learning and AI models as well as hardware and software for the edge.
Lenovo took a comprehensive approach to the edge with its new product, according to Steven Dickens, an analyst at Futurum Group.
The hardware checks off the typical physical requirements for the edge -- small form factor, energy efficiency, capable of withstanding wide temperature ranges and tolerating high vibrations, according to Dickens. However, he noted, Lenovo also added security features to detect whether the server was tampered with and quieted the noise level to half of what a comparable server emits.
Dickens also noted the importance of TruScale as customers are still figuring out requirements farther away from the data center.
"The ability to start [with a single server] and move up, moving away from a Capex model, will matter to customers," Dickens said.
Customers can use ThinkEdge SE455 V3 for computer vision, a type of AI that underpins autonomous vehicles and is trained to analyze and operate in images and objects. The server could be used to improve the quality on a production line, making suggestions for improvements without having to push the data back to the data center, according to Dickens.
Unigen's Cupcake
Unigen's newly released turnkey server is also a contender for computer vision use cases, according to the vendor. Cupcake is designed to be low power, low latency and high performance, using an Intel Elkhart Lake 4-core Atom processor that is matched to AI modules from partners including Blaize, Hailo, Degirum and MemryX. The modules connect to the server through an E1.S interface.
Cupcake can help conduct near real-time inferencing that can be used in security and safety use cases, such as shutting down manufacturing equipment that malfunctions, according to the vendor.
While improving safety is important, specific uses have a limited return, according to Baron Fung, an analyst at Dell'Oro Group, an IT market research firm headquartered in Silicon Valley. A limited return wouldn't prompt investment as much as broader use cases.
"Users will need the same platform that can be utilized across different applications [of the technology] that are similar," Fung said.
Companies are looking for application options from vendors rather than developing their own, he said. But as the market matures, there will be more demand for edge AI devices such as Unigen's.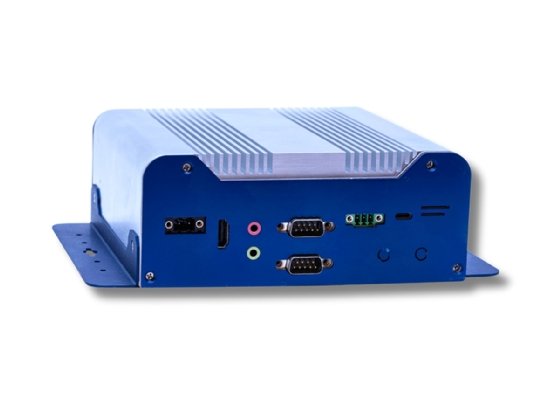 Hardware's role in edge AI
While smaller edge devices, particularly for IoT, have been common at the edge, Dickens sees more complex hardware coming soon. "I think we're going to start to see this become the norm from the major hardware vendors."
Private 5G and Wi-Fi 6 are developed enough to support these types of devices. Along with better connectivity, Kubernetes allows for improved application delivery and management, Dickens said.
Edge AI use cases are not yet as advanced as data centers, he said. As customers build their own deployment mechanism for AI, they may need pre-configured systems and software.
"It seems that everyone is throwing hardware at the problem," Dickens said.
Edge servers for AI and IoT that use machine learning aren't new, Fung said. Supermicro, for example, has been in the IoT business for years. There are more products being launched, but this may be ahead of the demand.
"There are more product introductions, but actual adoption and deployments have been limited," Fung said.
Customers are excited, but cautious
The influx of edge AI hardware is a combination of technological evolution and emerging customer demand, according to Vance Tran, former software engineer and co-founder of Pointer Clicker, a how-to consumer tech site. Edge AI hardware is filling in where cloud AI infrastructure has failed, he said.
"While cloud-based AI infrastructures are transformative entities, their Achilles' heel has been an overdependence on stable network connectivity," Tran said.
Edge hardware offers low latency as it processes the data close to origin, Tran said. But it must also handle the environment it resides in as well as be energy efficient, secure and scalable depending on what it is used for.
The environment where edge AI servers reside presents challenges beyond their often-harsh conditions, according to Oliver Dale, founder of Beanstalk -- a gaming and technology site -- and former computer engineer. The hardware may not be easily accessible in the event of equipment malfunction.
"The frontier of edge computing should ideally encompass self-sustaining mechanisms -- hardware not merely sophisticated but capable of self-repair, mitigating minor discrepancies without human involvement," Dale said.
Adam Armstrong is a TechTarget Editorial news writer covering file and block storage hardware, and private clouds. He previously worked at StorageReview.com.