sdecoret - stock.adobe.com
What is Pivot3 Acuity Intelligence Engine for AI and automation?
The Acuity Intelligence Engine delivers advanced data and performance management to simplify data protection and system administration for Pivot3 hyper-convergence.
Pivot3 incorporated AI and automation to its Acuity hyper-converged infrastructure software platform with the goal to better address the challenges that come with large-scale deployments. The new features promise to deliver hyper-convergence that is more secure and resilient with greater availability, while overcoming the performance and scalability limitations of conventional hyper-converged systems.
The Pivot3 Acuity platform provides a multi-tier storage infrastructure that incorporates NVMe technologies to support latency-sensitive applications. The platform uses a distributed, scale-out architecture that aggregates system resources into highly available resource pools to maximize storage performance. In addition, users can scale storage and compute resources independently to better accommodate varying workloads.
Pivot3 calls the Acuity AI and automation functionality the Pivot3 intelligence Engine. But what is the Intelligence Engine and how does it work?
Introducing the Pivot3 Intelligence Engine
The Pivot3 Intelligence Engine adds advanced data and performance management capabilities that simplify data protection and system administration. The Intelligence Engine supports a business policy management feature for policy-based management and administration. The policies include quality of service (QoS) capabilities for consolidating workloads, reducing costs and ensuring that mission-critical applications meet their service-level agreements (SLAs).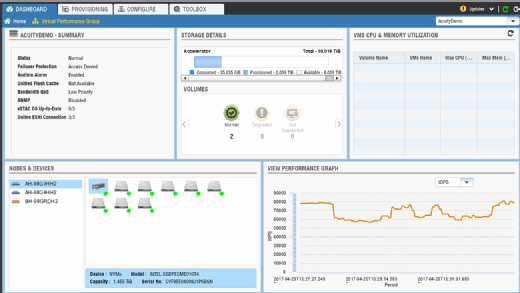 The Intelligence Engine also delivers a high degree of resilience, even in multi-petabyte environments. If a catastrophic hardware failure occurs, customers can quickly recover their systems with the auto-healing and quick node rebuild features, as well as intelligent monitoring and analytics.
For example, the quick rebuild feature eliminates the need for a full node rebuild, significantly reducing repair times -- by as much as 90%, according to Pivot3. In addition, Acuity includes a patented erasure coding mechanism that uses intelligent data layout capabilities to ensure reliable and efficient storage.
The Pivot3 Acuity Intelligence Engine also builds in extensive monitoring capabilities, which play a key role in delivering effective automation.
The Intelligence Engine employs AI and machine learning to analyze application performance and data protection, as well as implement real-time system changes to ensure SLAs are being met and QoS levels are maintained. If the infrastructure goes out of compliance with best practices, the Intelligence Engine alerts customers and provides them with options to correct the situation.
The AI/machine learning mechanisms work hand-in-hand with the engine's intelligent automation features. For example, the AI/machine learning analytics orchestrate and automate data placement and data path management, as well as workload prioritization.
The Pivot3 Acuity Intelligence Engine also builds in extensive monitoring capabilities, which play a key role in delivering effective automation. The engine tracks system health in real time and then automatically performs predictive maintenance and other administrative tasks. It also flags critical events and generates regular status reports.
In addition, the Intelligence Engine includes auto-healing features that add a node back into a cluster automatically after it recovers from failure. The engine can also rebalance existing volumes to take advantage of a new node, and it can prioritize resources to support mission-critical workloads if resource contention or degraded conditions occur.
The hyper-converged intelligence movement
By incorporating the Intelligence Engine into Acuity, Pivot3 joins a larger movement toward hyper-converged infrastructure products that deliver more intelligence and automation. Intelligent hyper-convergence promises to lower downtime and reduce mundane administrative tasks, building on the advantages already inherent in hyper-converged infrastructure.
Hewlett Packard Enterprise has been at the forefront of this effort with InfoSight, an AI-based cloud service that supports multiple HPE products, including SimpliVity, HPE's enterprise-grade hyper-converged infrastructure platform. InfoSight continuously collects and analyzes data from millions of sensors on HPE systems to help customers proactively solve problems and get more value from its products. InfoSight has analyzed more than 1.2 quadrillion data points since 2010, according to HPE, avoiding the loss of more than 1.5 million hours of productivity.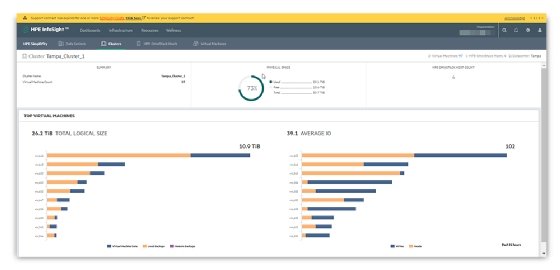 InfoSight uses machine learning and predictive analytics to gain insights into server, storage and virtual resources to predict and prevent problems across the SimpliVity infrastructure stack, as well as determine how to optimize performance and plan resources. InfoSight learns from the collected data to better recognize underlying patterns in each system, leading to more effective automation and automated recommendations.
More recently, VMware has been working on its own intelligence platform, dubbed Project Magna, an adaptive optimization and self-tuning engine. VMware considers Project Magna to be an important step toward its vision of the self-driving data center. The Project Magna engine incorporates AI, machine learning and deep learning to correlate outcomes and recommend the best actions to address potential issues.
Project Magna is currently in tech preview, with an initial focus on hyper-converged infrastructure systems based on VMware vSAN.
Today's complex workloads require systems that are easy to deploy and manage. An intelligent hyper-converged infrastructure represents a significant step in this direction. It's only a matter of time before more vendors integrate intelligence into their hyper-convergence platforms for a more resilient infrastructure.