Joshua Resnick - Fotolia
New NEC hyper-converged infrastructure appliance targets SMBs
NEC partners with Scale Computing to launch its first hyper-converged infrastructure appliance tailored to SMBs and remote offices in the U.S. and Europe.
NEC Corp.'s first hyper-converged infrastructure appliance, which is preintegrated with Scale Computing's HC3 software, gives small and midsize companies a lighter-weight and lower-priced HCI option.
Scale Computing's focus on SMBs and ease of use was a good fit, because NEC plans to target customers that could use hyper-converged infrastructure (HCI) or even virtualization for the first time, according to Yehuda Hyman, a product manager at NEC. HCI packages compute, virtualization, storage and networking resources in the same box.
But Tokyo-headquartered NEC could face an uphill climb in a growing hyper-converged infrastructure market that already has well-established leaders in Dell EMC, with its VMware HCI software; Hewlett Packard Enterprise, with SimpliVity; and Nutanix.
"NEC has not really shown how serious they are about the IT infrastructure market in a long time," said Ashish Nadkarni, a group vice president in IDC's worldwide infrastructure practice. "NEC servers are unknown. NEC storage is unknown. NEC purpose-built backup appliances, at some point, had some level of recognition, but that slowly withered away."
The NEC HCI appliance could be successful with SMBs if it comes in at a price point lower than products from the larger HCI players, said Paul Delory, a research director at Gartner. He noted NEC's network of 1,000 channel partners and VARs in the U.S. and Europe will sell the NEC HCI product.
"NEC has a pretty big presence in retail in particular. So, I can see this being attractive for people that want to put a lightweight infrastructure footprint in a retail store, for example," Delory said.
HCI with open source KVM
The new NEC HCI appliance, due in mid-June, includes an open source kernel-based virtual machine (KVM) hypervisor as part of Scale Computing's HC3 software package. The product will ship with two SSDs and four spinning HDDs per node for storage and 10 Gigabit Ethernet SFP+ modules for network connectivity.
The default configuration is three nodes in NEC's 2U Express5800/D120h server enclosure. Customers will also have the option to add a fourth node and a second D120h enclosure for a maximum of eight nodes in the cluster.
Scale Computing offers an option for a single-node deployment, but the minimum configuration for NEC's D120h server is two nodes. So, NEC settled on three nodes as the default to ensure customers would have sufficient redundancy for maintenance and high availability, Hyman said.
The three-node NEC HCI Base model lists at $54,000 and includes 64 GB of RAM, two 480 GB SSDs and four 600 GB SAS-based 10,000 rpm HDDs in each node. The Mid-Range option ships with 128 GB of RAM, two 960 GB SSDs and four 1.2 TB SAS HDDs per node. The Power configuration has 256 GB of RAM, two 1.92 TB SSDs and four 1.8 TB SAS HDDs in each node.
"For some of our customers, all-flash is overkill. But we also didn't want to just go all spinning disk, because occasionally you need that little bump in performance," Hyman said. "During our evaluation process of what to include, we felt hybrid was the best way to go."
Hyman said the NEC HCI product supports up to 12 levels of storage tiering, and customers could set the storage to be hybrid, all-flash or all-HDD. He said NEC would consider adding a single-node option and certifying additional servers to run the Scale Computing software in the future.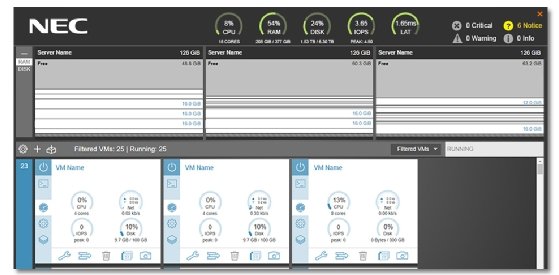 NEC's hyper-converged infrastructure pros and cons
Uses for the NEC HCI appliance include primary storage, backup, archiving or disaster recovery, with a multisite deployment. Hyman said target customers include SMBs that use server-based storage, older NAS arrays or unified communications products. He said he envisions larger customers considering HCI for development and quality assurance or for remote and branch offices.
NEC could face challenges pitching HCI for primary storage, IDC's Nadkarni said, because customers tend to get nervous about entrusting their data to lesser-known providers.
"One of the big challenges for vendors has been proving that they are stable and they are able to be that solid foundation on which companies can run their businesses," Nadkarni said. "Even though Scale Computing has an established brand and an established reputation, NEC doesn't."
Scale Computing sells branded hyper-converged infrastructure appliances on white box hardware and also makes its HC3 software available through partnerships with server vendor Lenovo and video surveillance specialist BCDVideo. HC3's features include built-in browser-based management, thin storage provisioning, virtual machine-level snapshots, instant thin VM clones, continuous replication and support for nondisruptive software updates.
Scale's HC3 software is mature, and the HCI appliance is simple to operate, but one noteworthy weakness is the lack of support for VMware's popular virtualization software, according to Eric Slack, a senior analyst at Evaluator Group in Boulder, Colo.
NEC counters that Scale's use of open source KVM means there are no additional third-party costs or licensing fees for the hypervisor.
"When customers that are unfamiliar with KVM see how easy [Scale Computing has] made the console, it will be an eye-opener for them," Hyman said.
Delory cautioned potential customers to be aware of NEC HCI product limitations in the areas of software-defined networking and hybrid cloud management. He said the NEC HCI would not be well-suited to core hyper-converged infrastructure use cases, such as virtual desktop infrastructure or internet of things.
Dig Deeper on Converged infrastructure management