Petya Petrova - Fotolia
New Dell EMC cloud offerings bolt Isilon onto VMware for AI
Dell EMC cloud reference architecture includes all-flash Isilon storage with Dell PowerEdge Servers and switching. VMware integrates Bitfusion GPU as a service for deep analysis.
Since consolidating its ownership of VMware, Dell EMC has used the virtualization giant as the linchpin of its hybrid cloud storage services. The vendor took another step in that direction this week with Dell EMC Ready Solutions reference architecture based on Dell servers, networking and scale-out file storage.
The Dell EMC validated reference hardware is powered by VMware Cloud Foundation. VMware integrated Bitfusion technology in vSphere 7.0 to virtualize GPU compute for sharing across networked servers.
Dell EMC Ready Solutions for AI allows customers to consume graphics processing units (GPUs) as a service on premises or in a private cloud. Compute options include Dell PowerEdge R740X/XD or PowerEdge C4140 nodes outfitted with Nvidia accelerator cards and Dell PowerSwitch networking.
Dell EMC Ready Solutions for vHPC extends virtualization to high-performance computing (HPC) infrastructure. The vHPC SKUs use PowerEdge nodes for compute, management and acceleration.
Both validated reference designs support Dell EMC Isilon F800 all-flash NAS. Customers buying HPC SKUs can opt for Dell EMC Ready Solutions nodes using either Red Hat Enterprise Linux NFS or Gluster file storage.
Dell said its AI Ready Solutions target enterprise IT shops, while the vHPC configuration is aimed at traditional scale-out HPC environments. Dell said the products are similar but have nuanced use cases.
"We believe data analytics [in] AI and HPC is converging," said Ravi Pendekanti, a Dell vice president of server solutions marketing.
Ready Solutions nodes can be integrated systems or customized for a customer.
"Many customers want to modify our solution to standardize on a specific platform [with] their in-house expertise to build and scale it out," Pendekanti said.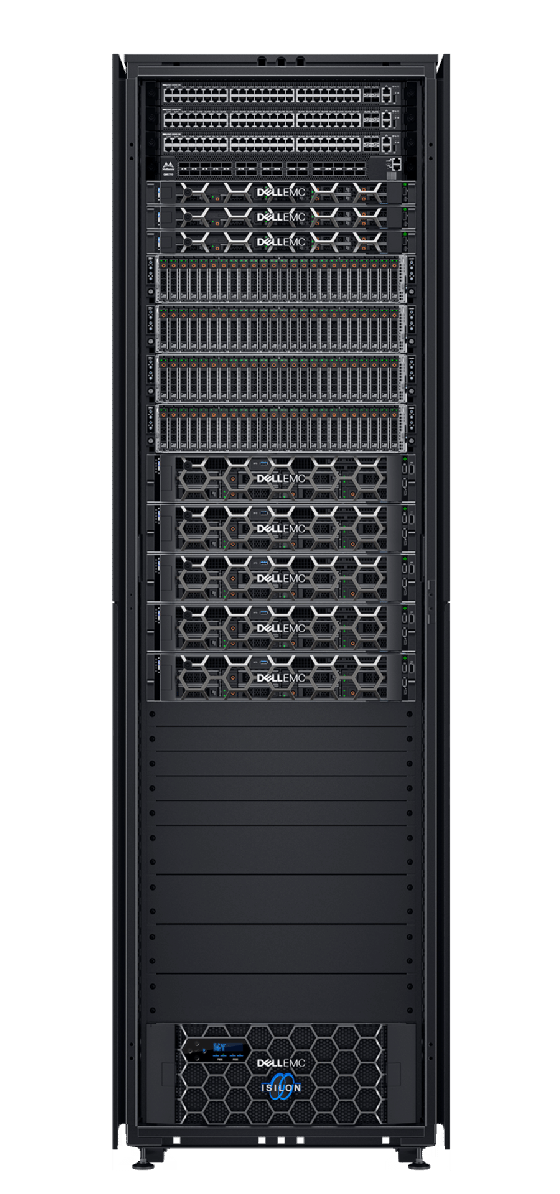 VMware tailored for AI
AI and high-performance computing workloads are starting to blur, said Mike Leone, a senior analyst at Enterprise Strategy Group. Leone said Dell is turning VMware into a data fabric that supports containers and newer forms of flash storage media.
"AI is a tricky type of workload [to support] because there's such a high level of customization. Customers are crying out for help with rightsizing their infrastructure," Leone said.
VMware acquired Bitfusion in 2019. The software pools unused GPUs as shared capacity that can be allocated dynamically across a network.
"We're networking GPU-based servers in the same way that NAS allows networking of storage devices," said Paul Turner, a VMware vice president of vSphere product management.
Turner said customers can access and test the new VMware Ready Solutions stacks remotely through Dell Customer Solution Centers at no charge. Pricing is based on the configuration set and the user's VMware licensing agreement.
Dell taps VMware to make it cloudy
Dell became a publicly traded company in 2019 following an unusual corporate maneuver that gave it greater control over VMware. Dell picked up VMware as part of its megamerger with storage stalwart EMC in 2015. Although a Dell subsidiary, VMware remains an independent publicly traded company. Its technology is integrated across Dell's platforms, however.
Dell has been engineering VMware to support containers, along with newer forms of flash storage media. VMware Cloud on Dell EMC is a software-defined option for building privately managed enterprise clouds with Dell EMC VxRail hyper-converged infrastructure (HCI), which includes VMware vSAN software.
A similar configuration, Dell Technologies Cloud Platform, provides leased capacity to Dell EMC VxRail HCI or VxRack converged infrastructure to support Dell EMC PowerMax SAN or Dell EMC Unity midrange block storage.