carloscastilla - Fotolia
New Dell EPYC servers embrace AMD Rome chips
Dell EMC goes from Naples to Rome with a new line of EPYC servers, including Ready Solutions for high-performance computing and Ready Nodes for vSAN hyper-converged infrastructure.
Dell today launched a series of servers based on the latest AMD EPYC processor, focusing on workloads for high-performance computing, multi-cloud implementations, virtualization and data at the edge.
The vendor unveiled five Dell EMC PowerEdge servers using AMD's second-generation EPYC processor, code-named "Rome." The Rome processors support 64 cores and 128 threads, twice the amount of the first-generation "Naples" EPYC servers.
The Dell EPYC servers come a month after AMD released its second-generation EPYC processors that compete with Intel Xeon servers in the enterprise.
The new Dell EMC PowerEdge servers include one-socket 1u R6515 and 2u R7515 models, and two-socket 1u R6525, 2u R7525 and C6525 models. All are rack units except the C6525, which is a compute-dense server sled designed for high-performance computing (HPC) applications.
The one-socket Dell EPYC severs are available now, with the R6525 and C6525 set for release next month and the R7525 in early 2020.
Dell EMC is also using EPYC processors in Ready Solutions for HPC Digital Manufacturing, HPC Research and HPC Life Sciences. The Ready Solutions for HPC are tuned for performance-hungry workloads, such as computational fluid dynamics, climate and weather modeling.
A Dell spokesperson said the price for the single-socket servers (R6515 and R7515) is around $3,000.
Ravi Pendekanti, senior vice president of product management, servers and infrastructure systems at Dell EMC, said the new servers will also be available in vSAN Ready Node configurations for hyper-converged infrastructure deployments at time of release. Previously, Dell EMC servers were not available in Ready Nodes until up to six months after release.
Dell is also integrating management software from its own portfolio, as well as from partners. The new Dell EPYC servers include Dell EMC OpenManage systems management, with integrated Dell Remote Access Controller server management and monitoring software. They also include OpenManage Integration for VMware vCenter, and integration with Microsoft Windows Admin Center and ServiceNow service management.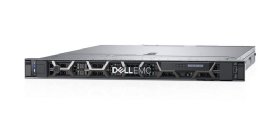 The Dell EPYC servers support Redfish APIs for managing server resources.
"Dell made some innovations to PowerEdge" for this launch, said Christian Perry, research manager covering IT infrastructure at 451 Research. "I imagine they will roll them out with Intel Xeon, too. They've added composability through Redfish. You can define storage to the compute nodes through the Redfish APIs. That gives Dell composability with PowerEdge that it didn't have before outside of its MX line."
Pendekanti said Dell redesigned PowerEdge to take advantage of Rome's features, as well as different types of workloads.
"We believe we cannot have a particular approach," he said. "We can't presume any server platform can meet the needs of every single workload. Some servers are fine-tuned to a specific workload."
Dell EMC sells servers based on Naples EPYC processors but did not take part in AMD's Rome launch last month, unlike its server rivals Lenovo and Hewlett Packard Enterprise (HPE). Lenovo rolled out two new single-socket platforms -- a 1u and a 2u configuration -- while HPE said it would add Rome processors into its ProLiant DL385 and DL325 servers.
Analysts said Dell waited until it had all of its management pieces ready before launching is Rome servers.
"Dell's design and optimizing of its AMD based portfolio hits on all of the areas where EPYC should shine," said Matthew Kimball, senior analyst of data center technologies at Moor Insights and Strategy. "And it's the integration with software from companies such as VMware and Microsoft that is key."
AMD hopes Rome leads to the enterprise
Many IT organizations seem to believe that having that second socket adds some level of resiliency or redundancy. And that's simply not the case.

Matthew KimballSenior analyst of data center technologies, Moor Insights and Strategy
AMD is trying to appeal to enterprise users with its EPYC family after years of ceding the enterprise server market to Intel-based servers. Naples EPYC servers first appeared in 2017. Since then, AMD has ticked up in enterprise server market share from less than 1% at the end of 2017 to 3.4% in the second quarter of 2019, according to Mercury Research. While it has made progress, AMD still has a long way to go to make a dent in Intel's x86 server dominance.
"The Naples CPU did quite well in the public cloud domain, as well as HPC. Its uptake in enterprise was a little slower -- but this was expected, as it was AMD's first step back in the enterprise IT market and this group of consumers tends to be more conservative in its adoption of technology," Kimball said.
Perry said AMD shifted its focus from cost to performance with the EPYC platform. AMD has published benchmarks showing favorable performance compared with Intel's Xeon servers.
The performance advantage comes from having more cores, threads per socket, PCIe 4.0 (160 per processor) lanes and memory than Xeon servers.
"Before EPYC, AMD went for cost benefits in its data center servers," Perry said. "Its performance did not compare to Intel's. AMD's footprint was small, and its cost-performance ratio wasn't enough. But that all changed with EPYC. Now, AMD's not just outpacing Intel's chips, but demolishing them."
Is Rome game-changing for single-socket servers?
Kimball and Perry agree that EPYC processor's high core counts can drive single-socket servers into the enterprise.
Kimball said he expects single-socket servers will become "the new norm" soon.
"I see significant potential for single-socket servers," Kimball said. "A single-socket EPYC server from Dell EMC can outperform dual-socket servers from just a couple of years ago. What prevents enterprise IT from deploying single socket goes back to its collective conservative nature. Many IT folks buy that second socket for future proofing -- adding more compute as needed, even though studies show that server, once racked, is very rarely upgraded.
"Also, many IT organizations seem to believe that having that second socket adds some level of resiliency or redundancy. And that's simply not the case," Kimball continued.
He said mapping a single-socket EPYC server with so much PCIe capability should be a boon for software-defined storage and virtualization workloads.
Perry said, "AMD has changed the game with 1u servers and single-socket servers. With 5G, there's going to be a lot of data generated at the edge. If Intel isn't investing there, it will have to soon."
Dig Deeper on Data center ops, monitoring and management