Sergey Nivens - Fotolia
TigerGraph delivers no-code tools, free use for COVID-19 analysis
No-code tools that enable users to migrate to graph databases and model data for queries highlight TigerGraph 3.0. The vendor also extended free access to tools to track COVID-19.
No-code tools that enable users to migrate their data and conduct queries inspired the latest update from TigerGraph, which was released in limited availability on Monday and will be generally available in May.
Beyond the updates, the company will also provide free access to its cloud platform to organizations working to track, analyze and research COVID-19.
TigerGraph, founded in 2012 and based in Redwood City, Calif., is an analytics and database vendor that uses graph theory to store and connect data rather than traditional relational databases. Graph databases -- which unlike relational databases don't necessitate the use of SQL to access and organize data -- aim to both simplify the connection of data points within a database and allow data points to connect with more than one other data point at a time.
The end result is increased speed between query and insight.
TigerGraph aims to do just that with the release of TigerGraph 3.0, which features two no-code tools -- so-called 'easy buttons' -- focused on ease of use to democratize data across organizations.
The 'easy buttons' are designed to help users get answers to complex questions of their data whether the data is structured or unstructured, regardless of whether it comes from multiple sources, business units within an organization or even external sources.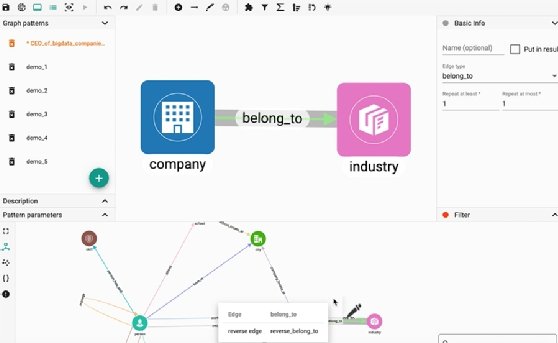 "The idea of an 'easy button' is constantly asked for by organizations," said Mike Leone, senior analyst at Enterprise Strategy Group, an IT consulting firm in Milford, Mass. "It's in line with the trends we're seeing in the market today -- empower more people to use more data to positively impact their job and the business."
TigerGraph 3.0 no-code updates
The 'easy buttons' in TigerGraph 3.0 help users in two ways.
The first -- No Code Migration from Relational DB -- simplifies the process of migrating data from a relational database to a graph database. Normally a labor-intensive process carried out by a team of IT professionals who are required to write copious amounts of code, a database migration can be done with three clicks in TigerGraph 3.0, according to the company.
The second -- No Code Graph Analytics with Visual Query Builder -- is a no-code data modeling tool designed to allow citizen data scientists to develop and run graph queries. Rather than having to file a ticket and then wait for a data scientist to extract, transform and load data, business users can create a graph pattern by dragging and dropping data sets and can then query the data.
"Business users should not have to struggle," said Gaurav Deshpande, TigerGraph's vice president of marketing. "That's our inspiration. We want it to be as easy as using an iPhone, or using PowerPoint."
Meanwhile, Leone noted that TigerGraph's update represents the realization of low-code/no-code capabilities.
"While no-code is incredibly hyped in the market right now, when implemented properly it's really the only way to democratize advanced analytics," he said. "Visual query building with drag and drop functionality will become a standard feature across the industry, so it's great to see TigerGraph implementing it now."
Additionally, Leone said the no-code migration and faster deployment capabilities are interesting.
Organizations want faster time to value, and these capabilities enable organizations to significantly ramp up deployments and get users interacting with complex, interconnected datasets faster than ever before.

Mike LeoneAnalyst, Enterprise Strategy Group
"Organizations want faster time to value, and these capabilities enable organizations to significantly ramp up deployments and get users interacting with complex, interconnected datasets faster than ever before," he said.
Beyond the 'easy buttons', TigerGraph 3.0 features User-Defined Indexing -- a tool to help customers find the data they want much like an index at the end of a book -- and the capability to deploy it across distributed computing environments in "minutes" according to the company.
In addition to TigerGraph 3.0, the company updated TigerGraph Cloud, which the vendor first introduced in September 2019.
The chief enhancement is the addition of seven new starter kits -- prebuilt schema, queries and data sets -- bringing TigerGraph Cloud's total number of starter kits to 20. Among the new starter kits are ones for cybersecurity threat detection, data lineage -- critical in order to meet General Data Protection Regulation and California Consumer Privacy Act stipulations -- and In-database Machine Learning for Real-time Recommendations.
Any organization -- including local, state and federal agencies -- can access the free tier on TigerGraph Cloud. But TigerGraph said organizations can submit a free trial request to access the TigerGraph Enterprise Edition and it will extend the free trial for as long as necessary while those organizations work to eliminate the new coronavirus.
In addition, TigerGraph will add a COVID-19 starter kit.
"We have algorithms for community detection that can be used to understand the sprawl," Deshpande said. "We're making them available at the local, state and federal level."