Getty Images/iStockphoto
TigerGraph enhances fundamentals in latest platform update
Following recent updates that centered on query languages and machine learning, the graph database vendor's newest update includes new data ingestion and DevOps capabilities.
The latest TigerGraph Cloud update features a spate of foundational capabilities, including a simplified setup for streaming data ingestion and improved support for development operations.
Based in Redwood City, Calif., TigerGraph is a database vendor whose tools are based on graph technology.
Unlike traditional relational databases that only allow data points to connect to one other data point at a time, graph technology enables data points to simultaneously connect with multiple other data points. The result is a neural network that can often enable users to more quickly and easily discover relationships between data points, leading to faster query times and reduced speed-to-insight.
New capabilities
TigerGraph first launched a cloud version of its platform in 2019. Subsequent updates focused on machine learning and connectivity to enable the development of a data ecosystem. Meanwhile, the vendor has been working with other graph database specialists to develop a common query language and has been working toward a goal of making graph technology more mainstream.
Version 3.9 of TigerGraph Cloud, unveiled on March 1, represents a return to basics for the vendor, according to Doug Henschen, an analyst at Constellation Research.
In addition to simplified streaming data ingestion and improved support for DevOps that adds access to detailed operational information and the ability to monitor individual queries, the update includes the following:
Support for the open-source Parquet data format.
Expanded Kubernetes functionality.
Improved self-service visualization capabilities that includes collaborative editing on shared dashboards.
Support for multiple edges of the same type to simplify time-series forecasting and other types of analyses.
An enhanced data science suite to enable more scalable embedding of prepackaged algorithms.
"I'm seeing lots of [fundamentals] for database developers, database administrators and DevOps types," Henschen said. "[The update is] a hot list of feature requests and plugging of technical gaps."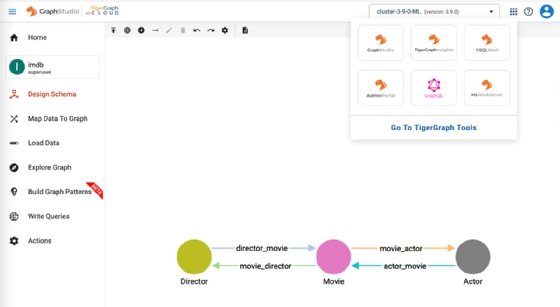 In 2022, TigerGraph's roadmap included adding starter kits for different vertical applications, including fraud detection and customer experience, he continued.
But TigerGraph Cloud 3.9 represents a bit of a pivot to more basic capabilities.
"The shift suggests that customer and buyer feedback prioritized more maturation of the core database platform," Henschen said. "Perhaps with all the hype about a recession and buyer caution, TigerGraph felt it was a good time to get back to basics and make sure it's keeping existing customers happy with feature and function requests."
Customer feedback was the primary impetus for developing the features included in the latest TigerGraph Cloud update, according to Jay Yu, the vendor's vice president of product and innovation.
"New features are a direct result of customer requests and feedback," he said. "For example, Parquet support is getting popular because it's becoming the de facto standard for data lakes, where our customers want to ingest large amount of data from their data lake into TigerGraph to take advantage of the [massively parallel processing] architecture and graph machine learning."
Yu added that multi-edge support enables users to capture the evolution of graphs. Data ingestion is becoming a priority as customers deploy increasingly large data sets on TigerGraph. Self-service analysis continues to be a critical means of enabling more than just data experts to work with data.
What's ahead
With TigerGraph Cloud 3.9 now generally available, Yu said future updates will focus on four main areas: enterprise readiness, performance and scalability, ease of use and innovation.
I'm seeing lots of [fundamentals] for database developers, database administrators and DevOps types. [The update is] a hot list of feature requests and plugging of technical gaps.

Doug HenschenAnalyst, Constellation Research
Enterprise readiness will include efforts to better optimize cloud capabilities, adding graph application and vertical solution software development kits, improved data observability tools and enhanced data security features.
Performance and scalability enhancements will focus on making TigerGraph even faster.
Ease of use will address continuing to work toward a standard graph query language, continuing to enhance data integration tools and adding more no-code/low-code visualization capabilities.
And innovation will center around augmented intelligence and ML capabilities, including natural language query.
Henschen noted that cost is a concern across data management and analytics, especially with so many companies laying off staff to cut expenses. Therefore, he said he'd like to see TigerGraph -- and other vendors -- add more tools that enable users to analyze spending and do more to help customers keep their cloud computing costs under control.
"In keeping with the times, I'm seeing a lot of demand for cost analytics, cost controls, visibility into cloud expenditures and new cost-optimization schemes," Henschen said. "I'm seeing many cloud and database vendors deliver new capabilities in this vein."
Eric Avidon is a senior news writer for TechTarget Editorial and is a journalist with more than 25 years of experience. He covers analytics and data management.