Getty Images/iStockphoto
Qlik unveils roadmap for analytics, data integration tools
The vendor plans to increase its connectivity to SaaS applications so users can integrate data from more sources and to add new APIs for embedded BI and automation.
Qlik unveiled the 2023 roadmap for its analytics and data integration platforms, including added support for SaaS applications as the vendor expands the capabilities of its new enterprise integration platform as a service.
Founded in 1993 and based in King of Prussia, Pa., Qlik has historically focused on analytics. Starting in 2018, however, the vendor began adding data integration capabilities with the acquisitions of Podium Data and Attunity.
On Jan. 5, Qlik revealed that it reached an agreement to acquire Talend in a move that would add still more data integration tools to Qlik's suite. That includes capabilities addressing a data fabric approach to architecture and governance.
On Jan. 9, Qlik chief product officer James Fisher published a blog post outlining the vendor's plans for the year ahead.
The roadmap
Fisher divided Qlik's roadmap into three parts: data integration, analytics and foundational services.
In November 2022, Qlik launched Cloud Data Integration, a new enterprise integration platform as a service (eiPaaS) aimed at the data engineers who cultivate and prepare their organization's data. In the year ahead, Qlik will make its eiPaaS platform a priority with enhanced extract, transform and load capabilities as well as expanded cloud connectivity, according to Fisher.
That expanded cloud connectivity will be of particular benefit to users, according to Doug Henschen, an analyst at Constellation Research.
Qlik, which has historically enabled customers to replicate data from on-premises sources with change data capture tools, plans to increase support for SaaS applications and cloud-based data sources such as Salesforce and Google Analyticsso users can connect to a broader array of data sources.
"I particularly took note of Fisher's promise to 'significantly expand support for SaaS applications,'" Henschen said. "That's a promise to develop more application integration capabilities."
He noted that Qlik offered some application integration capabilities through its 2020 acquisition of Blendr.io. But its primary data integration capabilities -- added through the acquisition of Attunity -- address movement of data from on premises to the cloud.
"It's a sign that Qlik is really serious about all forms of integration," Henschen said, noting that competitors Boomi and MuleSoft already focus on application integration.
Similarly, David Menninger, an analyst at Ventana Research, noted that increased connectivity to cloud-based applications would be significant for Qlik customers.
"Accessing and preparing data for analysis is still the place where people spend the most time in their analytics processes," he said. "So expanded cloud connectivity will certainly be important."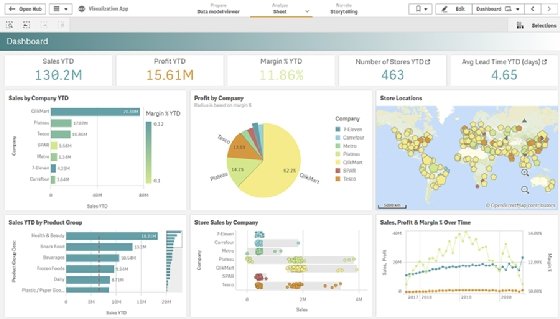 Regarding Qlik's analytics platform, one area of focus in 2023 will be automated machine learning (autoML) and other augmented analytics capabilities, according to Fisher.
He noted that the vendor has now integrated Qlik AutoML into Qlik Cloud. One of the enhancements planned for this year will be to improve Insight Advisor, a natural language processing tool that enables users to ask questions of their data without code.
In addition, Qlik plans to add new visualization, add advanced authoring and enterprise reporting capabilities, and address large enterprises' increasing needs for greater scale as the number of data sources they collect data from and the amount of data they manage increase, according to Fisher.
But the most significant planned additions to Qlik's analytics platform are providing new APIs and automation capabilities for administrators. These let them easily embed data products into the workflows of business users, according to Menninger.
"While not necessarily very exciting, additional APIs and automation capabilities will help make embedded analytics more of a reality and extend access [to data] to a larger portion of the workforce," he said.
Henschen likewise said more APIs will likely be the most significant upgrade for Qlik's analytics customers. He noted, however, that the vendor's plans for its data integration platform will be more useful for users than its plans for its analytics platform.
"Most of the real new news for Qlik is in the integration space," Henschen said. "Several of the analytics upgrades struck me as incremental and expected. Although the promise of more APIs, integration points and automation capabilities would support embedding and decision intelligence strategies nicely."
Beyond data integration and analytics are features that Fisher termed "foundational services," which are designed to benefit consumers of both data integration and analytics.
Among them are data catalog and data lineage capabilities, application automation and orchestration tools, and Qlik's cloud hub.
The vendor will soon release a new business glossary to augment Qlik's data catalog and lineage tools, according to Fisher. In addition, the vendor plans new governance capabilities for its application automation and orchestration tools. The vendor will also add administration features to Qlik's cloud hub so each organization can customize its own user experience.
Direction
While Qlik has invested in product development in recent years and unveiled its product development roadmap for the next 12 months in Fisher's blog post, the vendor's acquisitions are what have essentially remade Qlik over the past five years and helped differentiate it from other analytics vendors.
Tableau and Microsoft Power BI remain Qlik's biggest competitors among self-service analytics vendors. But neither offers the data integration capabilities Qlik first added with the acquisitions of Attunity and Podium Data and is continuing to add through its pending acquisition of Talend.
I particularly took note of Fisher's promise to 'significantly expand support for SaaS applications.' That's a promise to develop more application integration capabilities.

Doug HenschenAnalyst, Constellation Research
Meanwhile, smaller acquisitions -- the purchases of Blendr.io to add action-oriented automation, Big Squid to target AutoML, NodeGraph to enhance data lineage, and Knarr Analytics to address collaboration and alerting -- have helped Qlik add to its already popular suite of analytics tools.
"I've liked Qlik's acquisition strategy very much," Henschen said. "The smaller deals have added a lot of value without being too expensive. And they've supported Qlik's strategy to become a broader, end-to-end data management vendor and not just a BI/analytics company."
Similarly, Menninger said that Qlik's acquisitions have been strategic. He noted that Blendr.io was particularly important because it enabled Qlik to move beyond just read-only analytics.
"Qlik has developed and acquired capabilities to round out its portfolio nicely," he said. "My favorite acquisition was Blendr.io because it represents a shift in focus … from read-only analytics to action-oriented analytics."
Despite all Qlik has on its 2023 roadmap and the capabilities it has added in recent years through both product development and acquisitions, there are more areas the vendor could target for improvement and expansion.
In particular, Qlik -- like many other analytics vendors -- could stand to add scenario planning capabilities that would help customers predict potential outcomes based on different scenarios, according to Menninger.
"Driver-based planning and [the ability to ask] 'what if' is a key capability to evaluate the decisions one might make from the insights derived from a BI tool," he said. "Only a handful of vendors are combining BI and planning. I would like to see Qlik and other vendors address this issue so organizations don't have to rely on … third-party planning tools to complete the decision-making process."