Getty Images
Qlik acquisition of Talend adds data fabric capabilities
Through its latest purchase, the longtime analytics vendor adds data fabric and self-service data pipeline development capabilities to its existing suite of data integration tools.
Qlik continued its aggressive acquisition strategy last week, reaching an agreement to acquire Talend.
Both are backed by Thoma Bravo, a private equity firm with assets totaling more than $114 billion.
Financial terms of the acquisition, which was revealed Jan. 5, were not disclosed. Following due diligence and regulatory approval, the deal is expected to close before the midpoint of 2023.
Founded in 1993 and based in King of Prussia, Pa., Qlik is an analytics and data integration vendor. The company's platform is built around what it terms active intelligence and defines as the delivery of insights to users in real time on any device so they can take immediate action.
Talend specializes in data integration, with a platform designed to enable customers to combine information from various data sources into unified data sets that can be used to inform decisions. The company was founded in 2004 and is based in Redwood City, Calif.
Complementary capabilities
Although Qlik already offers data integration capabilities, its acquisition of Talend nevertheless adds features that complement its existing tools, according to analysts.
Qlik was primarily a business intelligence vendor until 2018, when it began adding data integration tools through the acquisitions of Podium Data and Attunity. It has continued to prioritize data integration, with the acquisition of Talend furthering its capabilities by adding data fabric tools.
Data fabric is an approach to architecture and governance. It seeks to create a unified view of data, regardless of its location, in an attempt to help organizations more easily find pertinent information and speed the process of analysis.
In addition, the acquisition furthers Qlik's strategy of developing a full-featured data platform rather than just a suite for BI, noted Donald Farmer, founder and principal of TreeHive Strategy.
Talend describes their product as a unified data fabric, and I think that's very attractive to Qlik as they increasingly position themselves not as a BI company with some data preparation but as a data platform company with an excellent front-end tool.

Donald FarmerFounder and principal, TreeHive Strategy
"Talend describes their product as a unified data fabric, and I think that's very attractive to Qlik as they increasingly position themselves not as a BI company with some data preparation but as a data platform company with an excellent front-end tool," he said.
Beyond adding data fabric capabilities, the acquisition of Talend also adds no-code tools that enable business users to develop their own data pipelines, Farmer said.
Talend acquired Stitch, which specializes in self-service data integration, for $60 million in 2018.
"Stitch is … very effective at enabling business users to build their own data processes," he said, noting that specific use cases include CRM, sales and marketing data integration.
Like Farmer, Mike Leone, an analyst at TechTarget's Enterprise Strategy Group, noted the importance of the data architecture and governance Qlik is inheriting through its acquisition of Talend.
He added that Qlik's acquisition of Attunity enabled Qlik to advance from just the insight part of the analytics process to integration and insight, marking the beginning of its attempt to develop a full-featured data platform.
The addition of Talend and its data fabric tools will better enable customers to control the data integration and data management processes.
"Now that they have an integration and analytics story that has resonated very well with customers … I see this acquisition as a doubling down of sorts on data integration," Leone said. "And a big component of data integration as it stands today is governance. Talend will enable Qlik to bring in a far more robust integration and governance story to its holistic message."
While both Qlik and Talend are backed by Thoma Bravo and technically owned by the private equity firm, Qlik is in the process of regaining its independence. The vendor filed initial paperwork for an initial public stock offering in January 2022 but has had to put its IPO on hold due to unfavorable market conditions.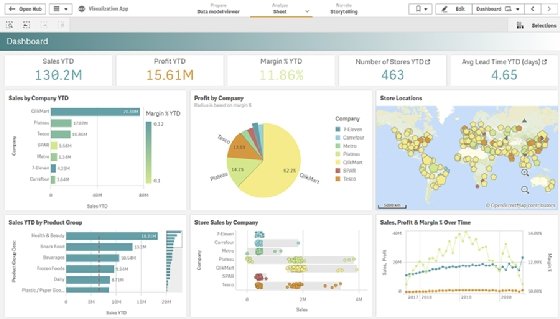 Acquisition strategy
Qlik's acquisition of Talend, meanwhile, continues Qlik's strategy of adding capabilities -- and talent -- by acquiring other vendors.
In addition to Attunity and Podium Data, Qlik acquisitions over the past few years include Knarr Analytics and RoxAI in early 2020 to add alerting features, Blendr.io in late 2020 to add more to its data integration capabilities, and Big Squid in 2021 to add automated machine learning.
With Talend now set to become part of Qlik, Leone said he'd like to see Qlik target augmented analytics capabilities in its next acquisition.
Augmented intelligence and machine learning are at the crux of decision intelligence, which is a rising trend in analytics. It is defined as the use of AI and ML to assist human analysis.
Qlik already offers both AI and machine learning capabilities, but could augment what it already has, according to Leone.
"Qlik has done a good job of recognizing gaps in its portfolio and acquiring to fill those gaps," he said. "In the Talend case, it was a matter of making what they already had in Attunity far more robust. One area where they already have a solution but could do more is on the augmented analytics front."
Farmer, meanwhile, noted that he distinguishes between Qlik's major acquisitions like Attunity and now Talend and the purchases of small startups like Big Squid and Blendr.io that he called "tuck-ins." Its acquisition of Talend, however, demonstrates that it was able to integrate Attunity's capabilities and personnel over the past few years.
"The proposed acquisition of Talend tells us very clearly [that] Qlik did good work with the Attunity acquisition, and the investors at Thoma Bravo have confidence that the company can execute another big integration," he said. "That's a big endorsement of the team and the strategy."
With that in mind, Farmer added that natural language processing and streaming data integration are areas Qlik might target for improvement through acquisition.
"Qlik is still lacking in … streaming data integration, natural language and big data," he said. "There's not much they can do about the last one -- they have tried -- but streaming and natural language are possibilities."