Fotolia
Qlik acquisition of Blendr.io adds integration capabilities
Qlik acquired Blendr.io for an undisclosed amount in a move that will expand the BI vendor's ability to integrate with cloud data storage and SaaS platforms.
Qlik reached an agreement to acquire Blendr.io, an acquisition that will expand the vendor's ability to integrate with SaaS and cloud data storage platforms.
Financial terms of the agreement were not disclosed, nor was an estimated date when the acquisition would close. The acquisition, revealed on Oct. 22, came on the same day Tibco acquired IBI -- formerly known as Information Builders -- in a development that marked a renewal of the consolidation trend in the BI industry.
Founded in Sweden in 1993 and now based in King of Prussia, Pa., Qlik, along with Tableau, is regarded as one of the generation of vendors that moved analytics out of static reports and into data visualizations.
In recent years, however, as the industry has moved beyond data visualizations into a new generation of analytics characterized by embedded BI and the rise of augmented intelligence features such as natural language processing, the vendor has reacted and expanded its platform.
Largely through acquisitions, Qlik has added capabilities that make it more of an end-to-end platform that includes data integration, data management, data visualization and the analytic insight that leads to action.
Two years ago, Qlik's acquisitions of Podium Data and Attunity boosted Qlik's data management and data integration capabilities.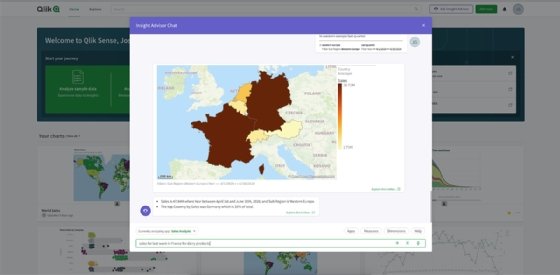 Now, its acquisition of Blendr.io, an integration and automation platform provider based in Ghent, Belgium, gives Qlik further data integration capabilities, specifically related to the public clouds as well as many private clouds.
In addition, with Blendr's tools, users can embed integrations, a capability that fits with Qlik's methodology of Active Intelligence, which the vendor defines as the ability to deliver insights quickly and embed them wherever users need them throughout their workflows.
It adds to the breadth of what we can do, and makes what we already do better.

Josh GoodVice president of product marketing, Qlik
Specifically, according to Josh Good, vice president of product marketing at Qlik, the acquisition will open access to the more than 500 cloud platforms Blendr.io connects with and add about 1,500 new customers to Qlik's base.
"This not only extends what we can do and who we can work with, but also we see this as an enabling technology for our data integration as well as our data analytics capabilities," Good said. "It adds to the breadth of what we can do, and makes what we already do better."
Meanwhile, Doug Henschen, principal analyst at Constellation Research, said Qlik's acquisition is noteworthy because it expands what the vendor is able to do in the cloud. Like its rival Tableau, Qlik has a significant percentage of on-premises users, but as they migrate to the cloud the vendor will need to enable them in their new environment.
Qlik's earlier acquisition of Attunity gave it more traditional data integration, data transformation and data movement capabilities, Henschen noted.
Now, "Blendr.io is focused on API-style integration, which is particularly important in the cloud and will enable customers to tap into, orchestrate and automate interactions and workflows among and between SaaS applications and other cloud sources," he said.
Henschen added that this latest acquisition is further evidence that Qlik is moving well beyond its traditional focus on data visualizations and working toward becoming an end-to-end vendor.
"Many people still think of Qlik purely as an analytics vendor, but over the last two years through its acquisitions and integrations … it's elevating its mission and extending its reach from just being a source of analytics to facilitating the delivery of contextually relevant, actionable insights within business processes and at key decision points," Henschen said.
While Qlik didn't disclose financial terms of the acquisition of Blendr.io, and Good declined to say whether it was a bigger or smaller acquisition than either Attunity or Podium, he said it was of comparable significance to Qlik.
Just as those acquisitions added to the capabilities of the Qlik platform, so does the acquisition of Blendr.io.
"This acquisition is significant because it extends what we can do along the data analytics pipeline," Good said. "Historically, we've been known as an analytics company, and this is the first acquisition where people have understood how it fits with [new things] we've been doing the last several years."
While the acquisition awaits closing, Qlik and Blendr.io will continue to operate as separate companies. Once the deal closes, Good said Blendr.io's capabilities won't be an add-on to Qlik's existing tools but instead will be integrated within them to enhance Qlik's tools and enable customers to get actionable insights throughout the analytics process rather than just at the end.
"This is all about that vision of active intelligence," Good said. "That's why it fits in so well with Qlik."
He added that Qlik is continuing to look to enhance its platform through more acquisitions, and priorities including expanding its capabilities in the cloud and enhancing data integration with AI.