blobbotronic - stock.adobe.com
Concept of 'active intelligence' fuels Qlik's product roadmap
Qlik said augmented intelligence features and embedded BI will feature prominently in future updates, which are expected to include capabilities such as data integration.
Active intelligence, the ability to deliver insights quickly and embed them wherever users need them throughout their workflows, is at the heart of Qlik's plans for its analytics platform.
Qlik, founded in 1993 and based in King of Prussia, Pa., made a series of acquisitions in recent years, including the purchases of Podium Data, Attunity and RoxAI.
Each of the moves added capabilities Qlik previously didn't possess, with Podium and Attunity giving Qlik data integration capabilities and RoxAI adding augmented intelligence and machine learning prowess. And the capabilities Qlik added now all play roles in the end-to-end analytics platform the vendor has developed around active intelligence.
The goal, Qlik said, is speeding the process of getting from query to actionable insights and delivering those insights not only to dashboards but also embedding them throughout the analytics process, and each of the capabilities will play a role in its product roadmap going forward.
On June 24 during QlikWorld, the vendor's virtual user conference, Qlik provided glimpses of just how all the pieces are now fitting together to address the concept of active intelligence and how it will fuel its roadmap.
"We're in the early days of what we see as a major paradigm shift in data and analytics," Mike Capone, Qlik's CEO, said during the keynote address of QlikWorld. "This paradigm shift is the move away from passive analytics to active analytics. We want to take away the burden and time lag of forcing humans to constantly go back to the dashboard [so that] companies can benefit from action when it has the greatest potential impact."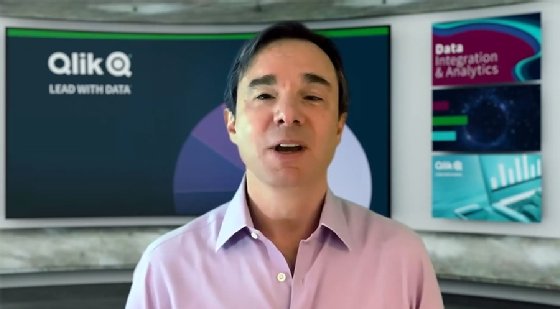 Meanwhile, the impact of Qlik's acquisition strategy and how it will advance the capabilities of Qlik's analytics platform are now visible to outside observers as well.
"Qlik's acquisitions in recent years are helping it move beyond analytics," said Doug Henschen, principal analyst at Constellation Research. "The acquisition of Attunity's data integration capabilities, for example, helped it focus more broadly on 'data and analytics' at last year's event. With this year's QlikWorld they took it a step further to talk about going beyond the dashboard and create an active intelligence system."
With active intelligence in mind, James Fisher, Qlik's chief product officer, said that Qlik's roadmap will focus on six general areas. These areas are: helping self-service users find data and use it; increasing speed to insight; adding more natural language processing (NLP) capabilities so users can ask more complex questions of data; adding data management capabilities; automating the file-extraction process; and automatically combining data at rest with data in motion.
We want to take away the burden and time lag of forcing humans to constantly go back to the dashboard [so that] companies can benefit from action when it has the greatest potential impact.

Mike CaponeCEO, Qlik
"All of this ultimately is designed to shorten the time from data to action," Fisher said during QlikWorld. "This, simply put, helps you free data from the silos where it exists today so that business users can easily find it and action it, and ultimately so they can actually start to understand it and find true insights. Free it, find it, understand it and action it."
Qlik's recent updates have been focused on the cloud, adding SaaS capabilities and tools to help customers migrate from on premises to the cloud. This week, Qlik highlighted advancements in its hub -- the centralized location in Qlik that houses a customer's apps -- and its data pipeline.
One upcoming feature the hub will soon possess is a cross-application and data-model indexing capability for Qlik Cognitive Engine -- the vendor's AI framework -- so that users don't have to search for a data model to address their query. A user will be able to ask a question, and fueled by NLP and cross-application and data-model indexing, the system will suggest data models.
In addition, users will be able to click on the suggested data models and get an explanation of why each was suggested. Beyond that, by clicking on the data model icon, insights will immediately be delivered to answer the query.
Meanwhile, Qlik said it is turning its data pipeline into an intelligent system that can deliver insights throughout the data management process by building in the ability to capture changes in data as it moves through the pipeline along with the AI capabilities in Qlik's Cognitive Engine.
That ability, in particular, is key to Qlik's vision of the future of analytics, Henschen said.
"The most forward-looking vision of an active intelligence system was … the augmented analytics capabilities now in development that promise to harness system-based knowledge of data lineage via the data-integration platform," he said. "That's carried through and beyond the analytics platform to drive automated suggestions and actions."
Other features and capabilities now in the development process include adding more languages to Qlik's NLP capabilities, new visualizations, data integration as a service, a SaaS version of Qlik's mobile app and a host of other SaaS-based capabilities.
It's a development pipeline and overall roadmap that Dave Menninger, research director of data and analytics research at Ventana Research, said has Qlik headed in the right direction.
"Overall, I was impressed," he said. "Qlik had done a good job expanding their portfolio with their acquisitions and they appear to be investing in delivering the data and analytics requirements that... the market needs."