Sergey Nivens - Fotolia
MicroStrategy 2019 platform touts 'zero-click' analytics
MicroStrategy's latest BI platform supports a 'zero-click' analytics future with help from new voice and vision capabilities. The aim: quicker decisions and the democratization of data.
With the launch of the MicroStrategy 2019 platform, BI vendor MicroStrategy Inc. has released a product it hopes will be transformative in the analytics industry: an embedded "zero-click" analytics experience for users that takes advantage of capabilities such as voice and vision.
The 29-year-old analytics software vendor "has made a significant investment in modernizing [its] software and platform, said Ray Wang, principal analyst and chairman at Constellation Research. "I think this is important for the MicroStrategy customer base."
Those customers are primarily large enterprises, and MicroStrategy 2019 is targeted at prospects at those companies that "need to go to the next level of next best action" in analytics-based decision-making, Wang said.
Phong Le, COO and CFO at MicroStrategy, explained, "We're really creating this consumer-like experience, democratizing the data that most companies believe will create competitive differentiation and pushing it out to the entire organization in a quick and secure way."
MicroStrategy 2019 -- generally available now -- is a substantial revamp of the company's MicroStrategy 11.0 suite of BI, analytics, mobile and security products. The 11.0 version was an initial update released last fall; MicroStrategy 2019, originally pegged as 11.1, is a more comprehensive "platform release" that replaces its predecessor, MicroStrategy 10, which was released in 2017.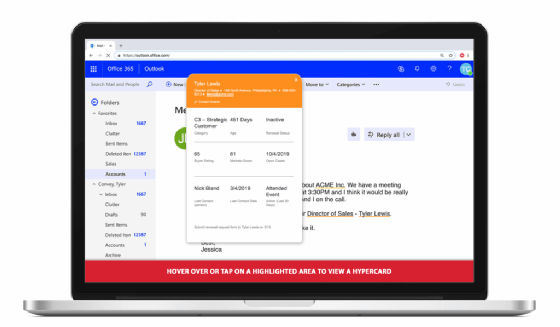 Analytics at work
The vendor's thinking behind the zero-click capability, dubbed HyperIntelligence, is that employees no longer want or have the time to go to other applications to get insights into their data. So, the MicroStrategy 2019 platform brings the analytics to employees by injecting information directly into a user's web-based workflows.
This includes the two places people in the enterprise frequent the most, according to Le: Microsoft Outlook and their web browsers. MicroStrategy-driven analytics can also be infused into a variety of other applications, such as Salesforce, Marketo and self-service BI tools like Power BI, Tableau and Qlik.
If you can empower your teams to make better and faster decisions, you can improve revenue generation, reduce wait times, improve throughput and drive customer satisfaction.

Ray Wangprincipal analyst and chairman, Constellation Research
With the MicroStrategy 2019 platform, users create HyperCards for particular keywords that are filled with contextual, real-time data pulled from disparate sources and applications. A keyword can be a name, account, contact, vendor or product, among other things. An enterprise user can surface these information-laden HyperCards by hovering a mouse over the highlighted keywords.
Le said this allows users to make decisions in a matter of minutes -- as long as they know the type of information that they want at their fingertips and design their HyperCards well.
Wang said this real-time decision-making is the strongest draw of the MicroStrategy 2019 platform's zero-click function.
"There's the old adage 'time is money,'" Wang said. "If you can empower your teams to make better and faster decisions, you can improve revenue generation, reduce wait times, improve throughput and drive customer satisfaction."
Data on command
One of the main goals of the MicroStrategy 2019 platform launch, Le emphasized, is the idea of democratizing data.
"There's a belief by most organizations that to be successful in digital transformation, they need to get the information out to all their employees and to all of their potential constituents -- customers and partners," Le said. "No longer is it OK to keep data within finance or IT -- they have to give access to it broadly so that people can observe it, make decisions and find ways to monetize it."
Wang said this kind of data democratization is a key for any digital enterprise.
"The right information to the right person at the right time on the right device with the right security protocols is democratization of access," Wang said. "You need this in order for everyone to make better decisions and for the systems to learn from those decisions as the digital feedback loops identify trends and patterns so they can keep making precision decisions."
Voice and vision
The MicroStrategy 2019 platform's zero-click HyperIntelligence features two other concepts as well: HyperVoice and HyperVision.
HyperVoice enables enterprise users to manage and navigate their dashboards through voice commands by integrating with Amazon Alexa and other voice-controlled applications. For example, a user can call up a dashboard and say, "Alexa, please tell me product license revenue in the Northeast region in New York state for Q4."
With HyperVision, a TV or computer screen outfitted with MicroStrategy 2019 can "see" users who walk up to it, recognize them and pull up an alert, their default dossier or report, or a default filter based on their security rights.
Another facet of HyperVision enables users to, for example, hover over a product on a store shelf with a tablet or mobile device and see all the details related to that particular product.
Wang said features like these, with the help of AI, are the future of business intelligence.
At Constellation Research, "we see AI as the new UX," Wang said. "Voice is one component today, but in the future mixed reality -- AR and VR -- will drive that experience."
While Wang said he sees these features of the MicroStrategy 2019 platform as a step forward, he added that over time, deeper machine learning and AI capabilities will arise that will be even more effective than augmented analytics.