pio3 - Fotolia
Data literacy training offerings key to BI vendors
Tableau announced a basic certification training exam, adding to its roster of online data literacy courses. Self-service BI rival Qlik also has a big focus on data literacy.
Data, of course, is probably the most important piece of analytics and BI. Data literacy, or the know-how to actually...
Continue Reading This Article
Enjoy this article as well as all of our content, including E-Guides, news, tips and more.
understand and make use of the data, is a close second.
With that in mind, Tableau Software introduced at its Tableau Conference 2018 a new certification exam for data beginners looking to jump into the BI world.
"We want to build skills," Francois Ajenstat, chief product officer at Tableau, based in Seattle, said in an interview at the conference. "The more skills that are out there, the more people become attractive to employers, because this is a skill that employers are demanding."
Data trainings, exams
Indeed, as AI and machine learning are becoming more and more relevant to many industries, the ability to use and understand data is one of the hottest, most sought-after skills right now. From higher education to online resources and community sharing, data literacy training programs are becoming ubiquitous and easier than ever to access.
Tableau's new offering, a "desktop specialist exam," then, isn't necessarily anything new in the BI community. But, for Tableau, it's an expansion of its already-established online data literacy training portal, as well as another way to get more people using their products.
The desktop specialist exam, which is normally priced at $100 -- Tableau is offering 50% off until the end of 2018 -- is meant to measure basic Tableau product and basic analytics skills, and it offers a certificate of completion if it is passed. The test joins a roster of several other more advanced -- and pricier -- exams. Tableau also offers several free data literacy training videos, as well as regular live online sessions for people who are relatively new to Tableau and analytics.
The videos are short, and the live sessions are about an hour long, although their availability seems limited, and scheduling appears limited at first. Recorded sessions and workbooks also are available. There are more in-depth eLearning offerings, as well, although Tableau charges for these.
According to Tableau user and conference attendee Roman Martyn, senior manager of SAS Center of Excellence (CoE) and Tableau CoE at TD Bank Group, based in Toronto, these available resources make Tableau relatively easy to learn and use.
"If you are a self-trainer, if you enjoy training on your own pace, my God, you're probably an expert by now, because the amount of information available to you is just ridiculous," Martyn said during a conference keynote presentation on the role of the bank group's Tableau CoE.
In another recent move around training, the BI vendor unveiled a partnership with training organization AVADO Learning that aims to bring analytics and data literacy training to U.K. businesses through a "data analytics apprenticeship." The program aims to train some 3,000 new data analysts by 2020.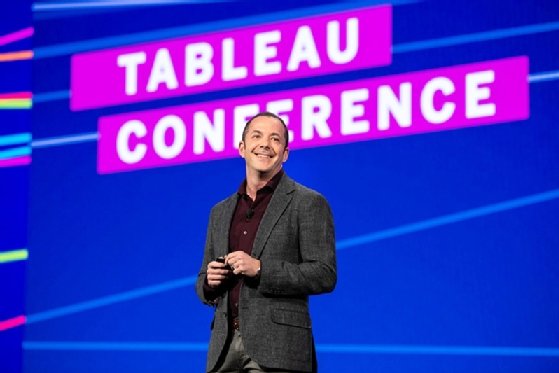 Vendor-centric or not
If you enjoy training on your own pace, my God, you're probably an expert by now [in Tableau].

Roman Martynsenior manager of SAS Center of Excellence and Tableau CoE, TD Bank Group
Tableau's data literacy training options are mostly Tableau-centric. While the vendor offers courses on more generic applications, calculations and mapping, the courses are framed in the context of Tableau, rather than a more general BI context, which rival self-service BI vendor Qlik claims it can deliver on.
Qlik provides online training materials, as well as online and in-person courses for those starting out in BI.
Like with Tableau, courses mainly are focused on Qlik-specific trainings, and some of the live trainings range from several hundred to several thousand dollars.
However, Qlik offers a number of free and self-taught online courses for Qlik beginners. The vendor, which competes directly with Tableau, also offers data literacy training courses that are not Qlik-centric, but instead offer broader data literacy education.
Qlik puts value on data training
"Data literacy could be worth hundreds of millions of dollars to an organization," said Jordan Morrow, global head of data literacy at Qlik, based in Radnor, Pa. "All organizations, all industries, private or public, can benefit from data literacy."
Morrow said his mission since coming to Qlik about two and a half years ago has been to improve data literacy outside and inside of the company. Since then, Qlik has done surveys and studies of the industry to identify needs for data literacy.
"We just had this idea that this is what the industry wants," Morrow said. "There's this absolute appetite for data."
Qlik online data literacy training courses and certification exams also go over basic data and analytics skills, like decision tree analysis, and concepts, such as signal and noise.
Importance of data literacy
Data literacy, Morrow maintained, will eventually "be synonymous with the state of literacy in general".
"We know that data is taking over; we know technology is taking over. We need a population who can better consume it," he added.
Tableau appears to be taking a similar approach.
"We all see the same thing, no matter which vendor you are," Ajenstat said. "To get your software used, you need people who can be recipients of that software that understand the value of the skill that's there."
Both Qlik and Tableau offer free editions of their self-service BI platforms -- Tableau Public and QlikView Personal Edition.
"Data shouldn't be a scary thing. It shouldn't be for the few; it should be for the many," Ajenstat said.
For his part, Martyn said Tableau's training materials, as well as live sessions and instructor-led courses offered by TD's Enterprise Tableau CoE via partnerships with the BI vendor and local businesses, have helped create a culture of data literacy at TD.
Created at TD in 2016 with the purpose of encouraging the deployment and adoption of Tableau among employees, the Enterprise Tableau CoE has done its job, Martyn said.
Today, thousands of TD employees use Tableau daily and are able to understand and ingest the data they are visualizing, he said.
The Tableau conference was Oct. 22 to 25 in New Orleans.