Sergey Nivens - Fotolia
Lack of data literacy still a problem for many organizations
Organizations' lack of confidence in their ability to understand and use data to make decisions blocks their efforts to become data-driven.
Data-driven decision-making has perhaps never been more important than it is now in the midst of the COVID-19 pandemic, but lack of data literacy remains a significant barrier between organizations merely accumulating data and using it to make informed decisions.
Analytics and business intelligence vendor Qlik last year launched a data literacy certification program to teach business users how to become literate in the language of data and educate them about how to use data to inform decisions.
At this year's QlikWorld conference, held virtually June 24-25, executives from Qlik and two of its partners discussed, among other things, the barriers that prevent many organizations from becoming more data literate, and the steps both employees and organizations can take to become more data literate.
According to a study from Qlik and Accenture, 92% of business executives think it's important for their employees to be data literate, yet just 17% actually encourage employees to become confident with data. As a result, just 32% said they are able to create measurable value from data and only 27% said they can produce actionable insights from their data.
In addition, Qlik and Accenture found that only about one in five people are confident in their data literacy skills, and 74% of employees actually feel overwhelmed when working with data.
"This has led employees to doubt or ignore data," Jordan Morrow, global head of data literacy at Qlik, said during a recorded panel session. "How often is a company saying to us that they've invested in new software, new technology to get data into our hands, but how many of us actually have a background to then take that data and do something with it? How many people went to school to study mathematics and statistics?"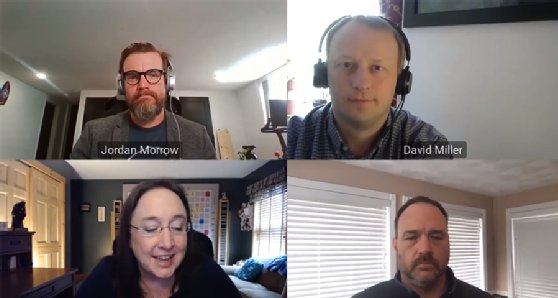 As a result of feeling overwhelmed by data, 36% of employees find a way around using analytics software to make their decisions and another 14% will avoid data-related tasks entirely, Qlik and Accenture found.
"If you're overloaded with data or have ambiguous data, your brain gets overloaded and you can't process it and you shut down," said Kevin Hanegan, chief learning officer at Qlik. "You take the quick answer out, or you take no answer out or you run away."
The way to combat that feeling of being overwhelmed is by improving the skills needed to use data as a support tool rather than an obstacle to be overcome.
"We're doing a disservice to people with learning around a new tool, but if we can empower them with skills in data literacy -- confidence in using data to find insight and make a decision -- maybe they're not going to feel overwhelmed," Morrow said. "Maybe they're going to feel like the data is there to support them as a tool, that it's a tool to enable them."
Meanwhile, data is critical to the decision-making process, not only in the workplace but also in everyday life.
Perhaps that never has that been more clear than during the COVID-19 pandemic, when organizations have had to make quick decisions just to survive, decisions about perhaps cutting staff size, changing supply chains and even altering their business models to focus on something other than their original industry.
Data literacy is foundational. We're all living the pandemic right now, and if data literacy has not been important previously as a life skill, all we have to do is look around at our friends and family and our colleagues.

Valerie LoganFounder and CEO, The Data Lodge
In addition, data has been behind the decisions governments and health care organizations have had to make throughout the pandemic. Some have made data-driven decisions that have helped contain the spread of the virus, while others have had less success.
"Data literacy is foundational," Valerie Logan, founder and CEO of The Data Lodge, a consulting firm specializing in data literacy, said during the panel session. "We're all living the pandemic right now, and if data literacy has not been important previously as a life skill, all we have to do is look around at our friends and family and our colleagues. We're having to make incredibly challenging and difficult decisions with uncertain data."
Similarly, Morrow noted that data-driven decision-making has been essential during the pandemic.
"If COVID-19 is not teaching us anything about data literacy, we are missing the boat," he said. "I don't know if there has ever been a bigger need for data literacy."
In response to the pandemic, with data-driven decisions so critical to not only stopping the spread of the virus but also to helping businesses survive and keeping people employed, the panelists said they're seeing more demand for data literacy.
Organizations are struggling to understand the meaning behind certain metrics and trying hard to figure out how to do things differently in order to be able to react quickly to change.
"We're definitely seeing an increase," said David Miller, senior manager at Accenture. "In a time of change, you're trying to get to the leading edge of what something means, how to seize an opportunity.
"The horizon for which knowledge is valid is changing in a pretty fundamental way," Miller added. "People knew [analytics] was important, but there was a lag. The pandemic has really changed everyone."
The imperative, then, is to get workforces the data literacy skills they need to make healthcare and government decisions that could save lives and business decisions that could keep organizations solvent.
According to Logan, an individual can improve their data literacy by improving skills around thinking about data, engaging with data and applying data. Organizations, meanwhile, can boost data literacy by teaching employees what it is and why it matters, creating a blueprint to improve data literacy and launching that plan.
Morrow, meanwhile, said Qlik has discovered five steps for improving data literacy: set the right expectations; create a roadmap toward achieving data goals; arm employees correctly for data-driven decision-making -- including demystifying data and improving confidence with it; close the data literacy skills gap between the executive level and the majority of employees; and create a culture of co-evolution.
"It's no longer [just] nice to have data and analytics," Morrow said. "Organizations knew it was important, wanted it, but might just be waiting in the water, and what we're realizing is you can't wait in the water anymore. It's time to dive in. We have to immerse ourselves and do this, and not solely with tools, but we have to remember the human element."