Sergey Nivens - Fotolia
Data literacy skills key to cost savings, revenue growth
As organizations develop data-driven cultures, they need to implement programs to teach employees how to work with and make decisions based on high-quality data.
Data literacy skills lead to increased profits.
That was the message Jennifer Belissent, principal analyst at technology consulting firm Forrester Research, delivered during Forrester's Data Strategy & Insights virtual conference.
Using the example of Sodexo, a French food services company, Belissent showed how the lack of data literacy skills can prove costly, and that to prevent such losses -- and spur growth -- organizations need to implement educational programs that enable their employees to recognize and work with data.
Sodexo, Belissent said during the Oct. 15 session, started to notice a surge in the sale of breakfast sausage at one of its food service sites -- or what appeared to be a surge -- and eventually it appeared that people were buying nothing else each morning.
The company could have responded by buying more breakfast sausage to meet this increase in demand. Instead, however, it investigated, and what it found was that due to new cash registers that had been installed at that particular site the cashiers were hitting the "breakfast sausage" button rather than "total" at the end of each sale.
The placement of the "breakfast sausage" button was more convenient on the new registers, and the registers still totaled the amount of the sale after they hit that button rather than "total." Customers, in fact, were not buying more breakfast sausage.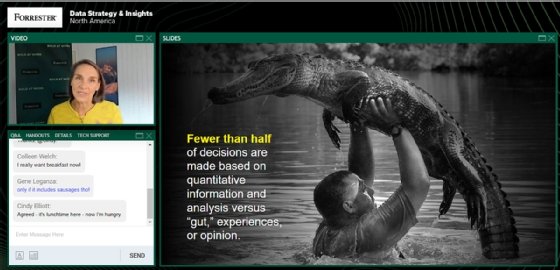 The point of her story was that those employees were collecting and inputting data but weren't equipped with the necessary data literacy skills for their job. They were collecting and inputting data without realizing it, so the data they were responsible for quickly turned into bad data that could have had significant financial consequences.
"These kinds of human error add up," Belissent said. "Data collection is really an important first step, and the cost of that bad data -- dirty data -- is significant."
In fact, Belissent quoted a 2016 article from the Harvard Business Review that estimated that the aggregated cost of bad data for U.S. companies is $3.1 trillion annually.
The bottom line is that bad data is costly, because decision-makers, managers, data scientists and others who have to work with data have to compensate for that bad data.

Jennifer BelissentPrincipal analyst, Forrester Research
"The bottom line is that bad data is costly, because decision-makers, managers, data scientists and others who have to work with data have to compensate for that bad data," she said. "That's time-consuming, but the real cost of that bad data is that it's an obstacle in their journey to become insights-driven."
To prevent those losses -- and to help people make data-driven decisions that have the potential to spur revenue growth -- organizations should enable employees with data literacy skills. Employees need an education in data.
Data-driven companies simply grow faster, Belissent said, noting that Forrester has studied hundreds of companies. And organizations do want to be data-driven, she continued, adding that 88% of those surveyed by Forrester want to improve the use of data insights in their decision-making.
But if their data is low quality, or if the data isn't there at all, it serves as a significant impediment to growth. And in fact, according to Forrester's research, fewer than half of all decisions are made based on quantitative analysis.
Organizations, therefore, need to implement training programs to give employees the data literacy skills -- the ability to evaluate, work with, communicate and apply data -- to do their jobs.
"You're not going to make a data scientist of everyone, but you need to give them the tools to do their job," Belissent said.
The first step, according to a framework developed by Forrester, is to establish a baseline for data competency. That varies for each organization but can include teaching employees how to recognize data, ask the right questions of their data, understand the underlying analytic logic of that data and communicate their insight based on data with data storytelling.
Next, organizations need to build role-based content and engagement tools to teach data literacy skills, which means presenting the training in ways employees will effectively digest it. Examples include blogs, webinars, in-person training sessions and providing office hours with data teams.
The third step is to offer incentives to get people excited about data literacy skills training and make it fun. It's important to not only train new employees when they first start with an organization, but also give existing employees reasons to engage in ongoing training.
Finally, organizations should capture and publish key performance indicators to demonstrate to employees the impact they have on cost savings and revenue growth by applying data literacy skills in their roles.
"Improving data literacy will improve your data quality, the insights you can derive from [your data] and the impact of those insights on your organization," Belissent said. "Data literacy can help reduce your dirty data. Data literacy is something you just can't get enough of."