your123 - stock.adobe.com
Qlik adds generative AI capabilities via OpenAI connectors
The vendor launched OpenAI Analytics Connector and OpenAI Connector for Application Automation so that users can import generative AI and LLM technology to their Qlik deployments.
Qlik is now among the growing number of data management and analytics vendors combining generative AI with their suites of capabilities.
The longtime BI specialist, which in recent years has also built up a full-featured data integration platform, launched two connectors between Qlik and OpenAI on June 21. The connectors are designed to enable the data vendor's customers to infuse their analytics and automation applications with generative AI.
OpenAI is the developer of ChatGPT, which with its November 2022 release represented a significant advance in generative AI and large language model (LLM) technology.
Since then, more than a dozen data management and analytics vendors have formed partnerships with OpenAI and other generative AI developers that will enable them to infuse generative AI throughout their platforms. Among them, Qlik competitors Tableau and Microsoft Power BI each have generative AI-infused analytics capabilities on their roadmap, while fellow data management vendors Informatica and Alteryx also are planning to develop tools incorporating generative AI.
Now, Qlik is joining the fray with Qlik OpenAI Analytics Connector and Qlik OpenAI Connector for Application Automation. And according to the vendor, the connectors are just the beginning of its plans for generative AI.
Qlik and generative AI
The great potential of generative AI when applied to analytics is that it will enable more than just trained experts within organizations to work with data.
In part due to the complexity of analytics platforms -- which remain complex despite efforts to add no-code tools and augmented intelligence capabilities such as natural language processing (NLP) -- the percentage of BI users within organizations has been stuck around 25% for decades.
Generative AI, however, could change that, given the breadth of the vocabularies of its LLMs.
The NLP capabilities developed by analytics vendors are limited, and thus still require a measure of data literacy to be used. LLMs enable free-form natural language that could make BI tools usable by just about anyone.
In addition, generative AI has the potential to improve the efficiency of data engineers and other experts by eliminating the need to write copious amounts of code and automating certain repeatable tasks.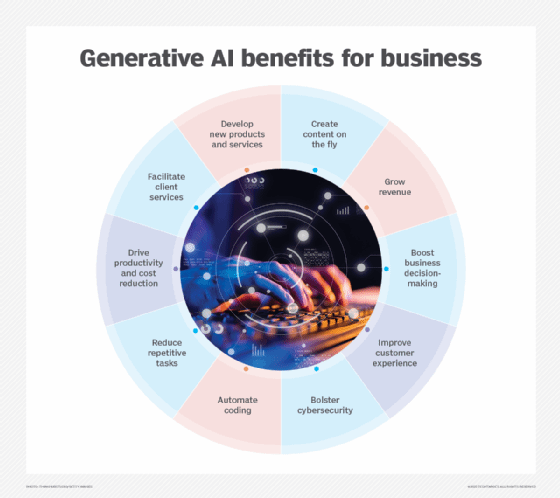 Toward those ends, Qlik OpenAI Analytics Connector is designed to enable customers to securely integrate OpenAI's NLP prowess into their Qlik Sense applications, combine third-party data from OpenAI with their existing data models and use natural language to ask questions of ChatGPT augmented with their own data from Qlik.
Qlik OpenAI Connector for Application Automation, meanwhile, enables developers to add generative AI and LLM-generated content to workflows when creating expressions, commands and scripts for applications related to sentiment analysis for customer service and summarizing text, among other use cases.
Both are now generally available, which is different from most of the generative AI capabilities unveiled so far by Qlik's competitors that are scheduled for launch later this year or even early next year.
However, many of the generative AI tools in the works from other data management and analytics vendors -- such as Sage from ThoughtSpot -- are tools those vendors are developing themselves and plan to provide as finished products for their customers. Qlik simply launched connectors that will enable customers to combine Qlik's capabilities with generative AI.
I don't think the connectors stand out from what other BI vendors are doing. But if you are a committed Qlik user, then these are cool features to have.

Donald FarmerFounder and principal, TreeHive Strategy
Nevertheless, Qlik's move is good for the vendor's customers, according to Donald Farmer, founder and principal of TreeHive Strategy.
"I don't think the connectors stand out from what other BI vendors are doing. But if you are a committed Qlik user, then these are cool features to have," he said.
Farmer added that Qlik had NLP capabilities before it launched the connectors to enable customers to import OpenAI's capabilities. But the connectors improve on what customers could do with Qlik's NLP tools.
"Qlik has had natural language generation for some time through partners, but now with this connector, natural language can be integrated any point in the user workflow," Farmer said. "That's different, but not a breakthrough."
Beyond the capabilities the connectors enable, they help Qlik maintain a strong position relative to its competition, according to Mike Leone, an analyst at TechTarget's Enterprise Strategy Group.
In addition, he noted that the connectors show that after demonstrating the potential of analytics and generative AI together during its user conference in April, Qlik is starting to deliver on its promise.
"For the most part, the entire competitive landscape has made official announcements, integrated capabilities or taken definitive stances on the topic of generative AI," Leone said. "While Qlik showed a demo at their event, customers were left asking for more definitive timelines and future plans. This satisfies those questions."
Meanwhile, from a functionality standpoint, the connectors have the potential to enhance the AI capabilities Qlik already offers, Leone continued.
"Qlik's preexisting AI capabilities, such as those that fall into the augmented analytics space, will only be enhanced with generative AI capabilities," he said. "If executed properly, these capabilities together will only prove to enhance the way organizations collect, analyze and visualize data."
Although Qlik introduced the two connectors about seven months after the launch of ChatGPT, it began working on integrations with OpenAI earlier this year, according to Brendan Grady, general manager of Qlik's analytics business unit.
The vendor saw the widespread positive response to ChatGPT and developed a plan to combine OpenAI's technology with Qlik's existing tools, including AI capabilities Qlik first began delivering about five years ago. At the same time, Grady noted that Qlik heard from customers requesting that Qlik develop ways to incorporate generative AI.
More to come
Qlik OpenAI Analytics Connector and Qlik OpenAI Connector for Application Automation are just the start of Qlik's efforts to incorporate generative AI, the vendor said.
As a result, they're relatively straightforward, like the initial generally available tools from other data management and analytics vendors, such as text-to-SQL translators from Monte Carlo and Dremio. The more complex tools that truly infuse generative AI into a BI or data management platform are still under development.
Grady declined to mention specific capabilities in the works, but confirmed that Qlik has a roadmap for adding more generative AI to its platform.
"These are the early days of generative AI," he said. "So while we see our OpenAI integrations enabling great immediate use cases ... we're excited to see what new use cases customers can dream up with us."
Farmer, meanwhile, noted that Qlik's emphasis in recent years on developing a data integration platform in addition to its analytics suite provides rich opportunities for the vendor to add generative AI capabilities.
"There's a lot that Qlik can do now that they own a whole data stack," he said. "For example, I would love to see them applying AI in the fields of data quality, governance and resource management."
Eric Avidon is a senior news writer for TechTarget Editorial and a journalist with more than 25 years of experience. He covers analytics and data management.