Fotolia
New NLP capabilities highlight Qlik Sense update
Enhancements to Insight Advisor, an AI-powered chatbot that helps users make decisions based on their data, are at the core of the latest update from Qlik.
New augmented intelligence features are the focus of the latest Qlik Sense update, including enhanced natural language processing capabilities.
Qlik revealed the update to Qlik Sense -- QlikView is the vendor's other main product -- on Sept. 9. Each of the new features are now generally available.
Key to the release are additions to Insight Advisor, an AI assistant built directly into Qlik Sense that helps customers go beyond their initial queries to further understand data and gain the insight needed to make data-driven decisions.
Among them are Insight Advisor Chat, a new conversational tool native to Qlik Sense SaaS that's available in multiple languages. Insight Advisor Chat uses NLP and natural language generation capabilities to understand the intent of user searches and generate both narrative and visual responses. In addition, the tool searches across other Qlik Sense applications for answers and enables users to switch between applications for deeper analysis.
The addition of Insight Advisor Chat comes a little less than two years after Qlik's January 2019 acquisition of Crunch Data -- including CrunchBot, an AI chatbot -- furthered Qlik's foray into conversational analytics and eight months after it acquired RoxAI to boost its AI and machine learning capabilities.
It's an important addition to the Qlik suite of tools, according to analysts.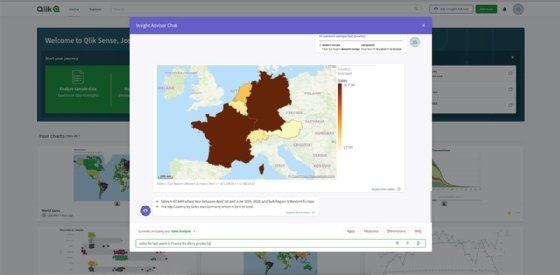 "I love Qlik's continued focus on natural language, including search and explainability," said Mike Leone, senior analyst at Enterprise Strategy Group. "I believe it's the route to enabling wider adoption of analytics and visualization within organizations."
I love Qlik's continued focus on natural language, including search and explainability. I believe it's the route to enabling wider adoption of analytics and visualization within organizations.

Mike LeoneSenior analyst, Enterprise Strategy Group
Doug Henschen, principal analyst at Constellation Research, likewise said Insight Advisor Chat will enable more of Qlik's customers to use analytics. Qlik previously offered the Qlik Insight Bot, he noted, but that was an optional add-on feature that required a separate deployment.
"Insight Advisor Chat brings this natural language capability natively into the SaaS-based version of Qlik Sense as a built-in, no-extra-cost feature, which is a win for customers," Henschen said.
In addition to Insight Advisor Chat, new Insight Advisor features include:
Business Logic, a tool that enables users to create rules and customize the behavior of Insight Advisor when engaging in natural language queries and generating insights. It can help users logically group similar fields together, create data classifications, define preferred relationships and customize the NLP vocabulary for their organization's needs;
K-Means Clustering, an advanced analytics calculation function that allows data points to be grouped together based on similarity and helps automatically generate cluster and correlation charts in Insight Advisor for visual analysis; and
search-based visual analysis on Qlik's mobile app.
Each of the new Insight Advisor features takes advantage of machine learning to learn the habits of users with each interaction, and as Insight Advisor learns it becomes better at advising customers.
And among the new features in the latest Qlik Sense update, Henschen said Business Logic is actually the most important given its data governance capabilities.
"This brings an administrative layer of control, predictability and consistency to all Insight Advisor functionality, including Chat, Visual Insights search-based analytics and Associative Insights driver-based analysis," he said.
Leone similarly highlighted Business Logic as one of the highlights of the release.
"Business Logic will enable deeper access to data with granular controls," he said. "Combined, both generalists and experts get their desired level of accessibility and analysis capabilities."
Beyond Insight Advisor, the Qlik Sense Update features a data migration tool called Qlik DataTransfer designed to ease the move from on premises to the cloud.
Qlik DataTransfer is built directly into Qlik Sense and helps users combine and transform data so it's cloud-ready and kept up to date during the migration process.
"It's a solid update with mix of innovations," Henschen said.