Getty Images/iStockphoto
QlikWorld 2023 recap: The future is bright for Qlik
Qlik celebrated analytics advancements at QlikWorld 2023, highlighting its acquisition of Talend, the evolution of Qlik Cloud, efforts to build data trust and more.
QlikWorld 2023 was a huge success. Qlik and Talend customers came to Las Vegas for a great show, highlighting the power that these two companies can bring to market. The host was fantastic, keynotes were on point, and the conference ended with a guest keynote from rescue diver John Volanthen that was riveting and had the audience on their feet.
The most eye-opening moment happened within the first few moments of the main keynote. This event served as a 30th birthday of sorts for the Qlik company. Qlik CEO Mike Capone shared a slide showing all that has been accomplished over those 30 years. You can find the slide in this article, but I'll walk through a few key points and provide some of my thoughts.
Doubling down on data integration
Throughout the event, a lot of focus was paid to the upcoming finalization of the Talend acquisition. This is important for several reasons. The 2019 Attunity acquisition put Qlik on the map for data integration purposes by bringing several hundred customers to the Qlik world. Talend enables Qlik to double down on data integration, bringing a robust feature set with less Attunity overlap than many think. A robust governance story will enable Qlik to ensure more trust throughout the data and analytics pipeline, and minimal customer overlap creates more bidirectional customer opportunities and greater exposure in the European Union. Additionally, this acquisition should accelerate adoption and growth of the Qlik Cloud business.
The continued growth of Qlik Cloud
The name of the analytics game right now is the acceleration of cloud adoption. This is where most organizations are in their digital transformation journeys. How do I move more of my analytics infrastructure into the cloud for improved scalability, reliability and performance, plus faster on-ramping and so on? This is true for the whole data analytics market. Research from TechTarget's Enterprise Strategy Group has shown that 88% of organizations believe the cloud to be a big part of, if not the basis for, ongoing data analytics strategies.
What does a broader set of data integration capabilities provide? Faster, more reliable movement of data to the cloud from a variety of disparate data sources. We're seeing that in action based on Qlik's SaaS cloud business, Qlik Cloud. Customer adoption of Qlik Cloud has doubled in year-over-year growth, with all signs pointing to an acceleration of that growth over the next year. For the most part, the migrations to Qlik Cloud are fast. We're talking 75% of customers up and running in just four days. In a world where minimizing disruption is critical, a four-day on-ramp for organizations making the transition to the cloud sounds good.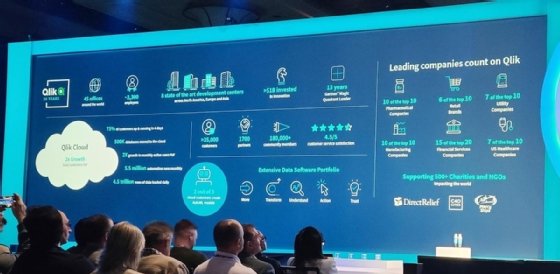 Building trust with a focus on lineage, governance
Another area of focus Qlik emphasizes is the core tenets of building trust through the data and analytics pipeline. This is where data lineage, data quality and data governance come into play. Qlik and Talend have taken different approaches as it relates to a data catalog.
Qlik Catalog is an enterprise data management solution that simplifies and speeds up how organizations manage, prepare and deliver trustworthy, actionable data to business users across the enterprise. This catalog approach serves that analytics use case for the business.
On the Talend side, you have Data Inventory, which serves as Talend's data catalog by delivering simple tools for tasks, such as metadata management. Data consumers should easily find and improve the data they need in a shared, collaborative workspace. Talend's approach is more holistic to the data lifecycle. This is one area where the companies will have their hands full figuring out how the tools should be combined -- if they should at all -- due to their underlying architecture differences, but it's clear that connecting the two are a priority. Once completed, they'll have a stronger data quality story.
New capacity-based pricing model promotes wider data usage
The event saw an announcement of a capacity-based pricing model. This is a bigger deal than people realize. Today, a lot of BI and analytics packaging is consumption-based with metered billing, no annual pricing plans and difficult cost forecasts. This also restricts access to data by capping data sources or end users.
Qlik's stance is pretty clear -- everyone should use data and analytics to better inform actions. Qlik is aligning its pricing and packaging to that conviction: If data drives value, everyone should have access to it. With a capacity-based pricing model, customers get fixed-cost plans that offer pricing predictability, the ability to adopt more/newer capabilities faster and no end-user limits.
I love all of this. End-user licensing models work almost as a deterrent to data usage and therefore hinder innovation by preventing data access to a wider audience. An organization should never have to say, "No, you can't have access to that data or that feature because we don't have enough end-user licenses to give it to you."
Empowering business analysts to use machine learning
Saving the best for last, in my opinion, is a data point that really stuck out from the keynote and speaks to the growing trends I'm tracking in the market when it comes to adoption of AI and machine learning. I mentioned the growth of the Qlik Cloud business. Would it surprise you that two out of three cloud customers create automated machine learning (AutoML) models? That blew me away. We've seen a convergence happening in the BI and data science space, and this puts more fuel on that fire.
The traditional BI companies are trying to empower business users to utilize machine learning. The traditional data science companies are working to enable the non-data scientists to do more with machine learning. AutoML is enabling that, and Qlik Cloud's customer base is going wild for it. These aren't customers just getting their feet wet; these are production use cases, such as predictive maintenance and fraud identification, where Qlik AutoML customers are bridging the gap and skill set from the data scientist to an analytics person and seeing significant value from it.
This is an opportunistic area for Qlik. First, it highlights the success of the 2021 Big Squid acquisition -- which continues empowering organizations to utilize augmented capabilities within Qlik Sense – but it also speaks to the acceleration of AI initiatives with no-code AutoML. I would expect a lot more here from Qlik in the coming year, especially as it relates to the operationalizing of AI, model management and model monitoring.
I would be remiss to not mention one aspect of the product keynote that had the audience excited: a very early version of a ChatGPT-like experience integrated into the product. Again, this is early, but it showed incredible promise. The crowd's response highlighted the importance of such integrations and Qlik took notice. I could see some Qlik roadmap adjustments off that reaction alone.
I couldn't hit everything in this blog, so check out event replays for more details on all the announcements. Stay tuned for more event recaps throughout the year.