NAN - Fotolia
Sisense acquisition of Periscope yields versatile BI platform
The Sisense merger with Periscope Data is expected to create a new, combined BI product that will cater to casual business users and advanced data scientists alike.
Sisense Inc. has acquired Periscope Data in a deal that will see the business analytics vendors merge under the Sisense name.
Revealed May 14, the deal is priced at well over $100 million, according to Amir Orad, CEO of New York-based Sisense.
Coming together
"Merging with Periscope Data just made sense," Orad said.
"It's a strong combination of analytic apps and powerful business insights. The products match, the cultures match and both companies have a strong customer focus," he continued.
The Sisense acquisition of Periscope Data, a 2012 BI startup based in San Francisco that had been seen as a close rival to BI vendor Looker, is set to produce a combined business intelligence platform by the end of the year.
Sisense and Periscope Data have typically catered to separate users, so the platform merger makes sense, Forrester analyst Boris Evelson said.
More versatile platform
Sisense has mainly targeted business professionals, with its drag-and-drop user interface that keeps its machine learning algorithms easy to use; it is housed in a black box and isolates users from having to know languages like SQL, R or Python. Its products, such as the Sisense Hunch tool, are fairly easy to use for casual users.
Periscope Data, meanwhile, has a more detailed interface that requires real coding knowledge and is designed for data scientists.
"The acquisition of Periscope Data gives Sisense an opportunity to address a gap that exists between these two market segments," Evelson said.
With the Sisense acquisition of Periscope, Sisense will now be able to address a broader market that includes data scientists and data engineers, Evelson said.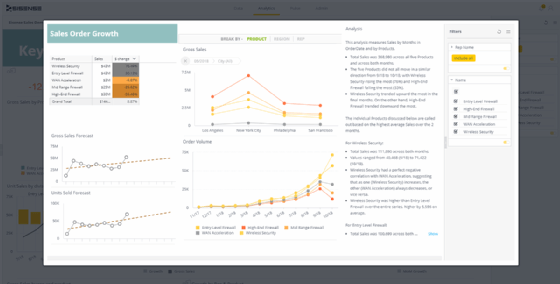 According to Harry Glaser, CEO and co-founder of Periscope Data, that appears to be the plan.
The combined platform will let users do the advanced analyses they could do with Periscope Data while operationalizing them through Sisense, he said.
"It's a very powerful combination," Glaser said.
Periscope users will see sustained service
Periscope customers will not see a lapse in service, Glaser said. Instead, the vendor will accelerate its existing roadmap as new and upcoming features integrate into a combined Sisense platform.
"We are merging the companies to create something that is larger than the sum of its parts," Glaser said. "We are adopting elements of each other's culture, merging the products and merging the teams in a way that is really exciting for us and our customers.
"Our customers will have access to more tools, more quickly as a benefit of us being a combined company. This will be all good news for them," he added.
Most Sisense and Periscope employees will remain unaffected by the merger -- of the 700 combined employees, fewer than a dozen overlap.
Sisense maintains offices around the world, with headquarters in New York and principal offices in San Francisco and Tel Aviv, Israel.