Fotolia
Power BI update firms up Microsoft analytics market
With its latest update to Power BI, Microsoft showed its commitment to its business intelligence platform and maintained its position as an industry leader.
The latest Microsoft Power BI update, revolving around a major refresh of the analytics platforms' user interface, is evidence of steady progress by one of the top BI and analytics software vendors and the software giant's commitment to enterprise analytics.
The Power BI upgrades, in addition to a modernized user interface with colors, spacing and icons, include features and capabilities for the analytics engine and data preparation tools and expanded capabilities to share data with other Microsoft systems, as well as third-party applications.
Microsoft showcased the features and capabilities at the vendor's Business Applications Summit in Atlanta on June 10.
In some ways, Microsoft's practice of generating frequent Power BI updates in response to users' requests and needs highlights how much the platform has evolved from its origins as an obscure homegrown toolkit in Microsoft's vast software ecosystem.
"Microsoft invested in a lot of other things [in the past], but in the last two to three years Power BI is getting a lot of attention," said Boris Evelson, vice president and principal analyst at Forrester. "They are leapfrogging competitors."
Some of the key new Power BI updates include new features for:
Reporting. Updated pane design, visual level filter for slicers and sorting for the performance analyzing pane
Analytics. Key influencers visual updates and support for cloud RLS for Azure SQL Data Warehouse
Virtualization. Personalized visualization pane
Data connectivity. Common Data Service connector now generally available, connect to shared and certified data sets and enhancements to the Cosmos DB connector
AI. General availability of Azure Cognitive Services and Azure ML in Power BI Premium
Arun Ulagaratchagan, Microsoft's general manager of Power BI product development, said Microsoft focused the Power BI update on improving users' experience.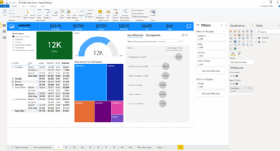 "We build user experiences so they can do amazing things that they couldn't do before," he said.
Power BI users receive new features automatically via the cloud every month. Many new features and capabilities are in response to users from whom Microsoft solicits suggestions as part of its monthly rollout updates, Microsoft said.
According to Ulagaratchagan, Microsoft has received tens of thousands of suggestions over the last few years representing some 20,000 different ideas.
"It gets users excited about Power BI," he said.
Yet what makes the most recent Power BI update notable are not the actual specific features, which are mostly incremental, analysts said.
It's that Microsoft is prioritizing analytics.
Microsoft invested in a lot of other things [in the past], but in the last two to three years Power BI is getting a lot of attention. They are leapfrogging competitors.

Boris EvelsonVice president and principal analyst, Forrester
While Power BI isn't the most popular BI platform in terms of the number of users, some see it as the industry leader now in terms of ease of use and insight generation, outpacing in those areas competitors such as Tableau, Qlik and ThoughtSpot.
"When they came out with Power BI there wasn't much there, but they've been diligently working at it," said Rick Sherman, founder and managing partner at Athena IT Solutions. He noted that what ultimately became Power BI was originally a part of Excel.
"They got a decent product within a year -- it was a slow start, but you can say that about a lot of products," Sherman said. "Now you can use Power BI as an example of how you want to grow a product.
"They seem to be adding functions that people are asking for," he added.
The most comparable platform, according to Sherman, is Tableau's, using Coke and Pepsi as an analogy.
But how Tableau will progress after Salesforce acquired the formerly independent vendor in a $15.7 billion transaction on the same day Microsoft revealed its Power BI update is still to be seen.
"Microsoft has a unique position compared to some companies that have some of the pieces," Evelson said. "Microsoft has all the pieces [in the data stack]. That's a hidden story that large enterprises don't realize. Microsoft can be a one-stop shop for analytics needs."
So, too, could Salesforce once it closes on its acquisition of Tableau, Evelson noted, adding that the combination of the two companies could eventually produce the kind of data stack Microsoft possesses.
"Now [Salesforce's] analytics has grown up with the addition of Tableau," he said, "and Salesforce as a whole is now in a better position to compete with Microsoft as a whole."
Regardless of how the market will adjust once Salesforce's acquisition of Tableau matures, Microsoft is in a prime position in the competitive BI and self-service analytics market, the analysts said. The latest Power BI update will only enhance that. "If you use Power BI and you keep seeing these updates, it's impressive," Sherman said.