Guido Vrola - Fotolia
Flowhub provides cannabis industry with tailored BI platform
With marijuana now legal in some form in more than 30 states, Flowhub is selling business intelligence software to an industry still in its early stages.
When the legal cannabis industry was first starting up in Colorado a decade or so ago, the Sullivan family opened a medical marijuana dispensary in Glenwood Springs, a town on the western slope of the Rocky Mountains about 100 miles west of Denver.
A few years later, in 2012, they opened a second location in the nearby town of Rifle.
Colorado and Washington then legalized recreational marijuana in 2012, and the family-owned operation rebranded as The Green Joint and it opened two more locations, first in Parachute in 2015 and most recently in Aspen in 2018.
But as the cannabis industry grew and The Green Joint expanded with licenses for both medical and recreational marijuana sales, keeping track of everything happening at the stores became overwhelming.
There was little operational consistency across the four locations, and keeping up with the fast pace of everchanging state and federal regulations was arduous. Business had become difficult operationally and dangerous from a compliance perspective.
"As a single shop we could get by, but once we expanded we couldn't handle everything," said Brian Sullivan, vice president of retail operations at The Green Joint.
The company needed help. It was a growing business, and it needed business intelligence. It needed software, guidance, insights and direction.
It was also a small business, and one in an industry with extremely specific regulations.
It needed its business intelligence to come from a vendor that knows the cannabis industry and had tools -- beyond just data mining and analysis -- that wouldn't require the expertise of an IT specialist.
Sullivan said The Green Joint considered a few different software platforms, but in 2016 ultimately chose Flowhub, founded in 2015 and based in Denver.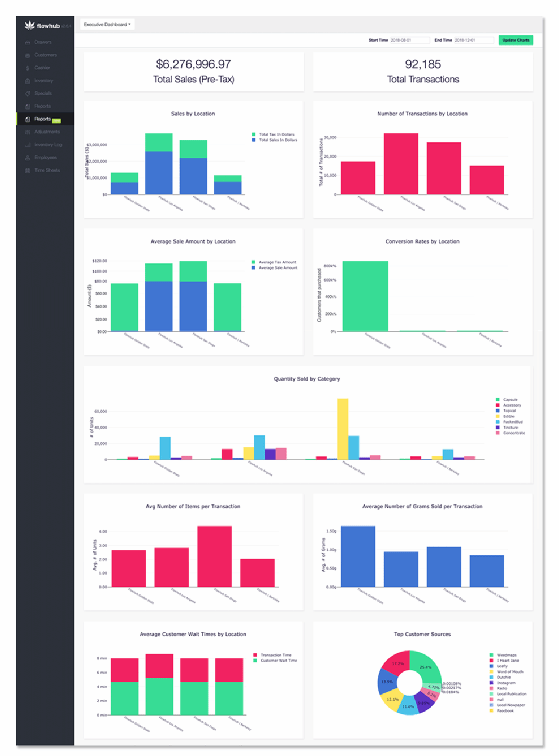 Business intelligence
Flowhub isn't strictly a BI platform. It also provides an ID verification tool, point-of-sale software and inventory management technology.
Just recently, the vendor debuted three new enhancements to its application programming interface. They include the Cashier app, which can be used on any point-of-sale terminal for faster transaction speeds; the Specials engine for creating and applying discounts across multiple locations and integrates with Cashier, and the Dutchie Order Ahead integration for online ordering.
BI, however, is a big part of Flowhub's portfolio.
Like Tableau, Qlik, Microsoft Power BI and other leading vendors, Flowhub provides dashboards to view data and warehousing capabilities to store data. But unlike Tableau, Qlik, Microsoft Power BI and other leading vendors, it's tailored to the cannabis industry.
"What's different about Flowhub is these dashboards are literally out of the box, so you don't have to go in and create these," said Kyle Sherman, CEO of Flowhub. "We've figured out the most actionable [key performance indicators] that are relevant to the dispensaries and retailers and we display that information really easily. It's set up in such a way that you don't have to be a rocket scientist to figure out how well certain categories are selling over other ones."
Sherman said, for example, that users with multiple locations are able to see which stores have lower or longer wait times, and whether visitors to those with longer wait times are buying more products. They can see which are their top-selling products and top-selling categories, which products are being discounted and what types of discounts are being used.
"Our team can help you understand the data and leverage it so you can make better decisions around which categories maybe you should stop purchasing," Sherman said. "These are actionable revenue-generating things -- we can help drive that through our dashboarding."
One example is edible forms of cannabis, which are not as appealing to some demographic groups, so a store can decide to sell fewer edible products, Sherman said.
Complexity
That ability to do data analysis isn't unique to the cannabis industry. But getting the data to analyze is.
Because the cannabis business is regulated differently than any other, accumulating the data is highly specific.
Take bar codes, for instance.
In just about any retail outlet, the bar codes on each version of a product -- say, a particular brand of jeans at a clothing store -- are the same, but that's not so in the cannabis industry. Different batches of cannabis require different bar codes so they can be traced back to their source, even if they're all the same kind of edible gummy or infused cookie.
Equivalency laws are another example. One gram of marijuana concentrate is not equal to one gram of marijuana flower. In Colorado, 3.5 grams of flower are equal to 1 gram of concentrate, and they are equal to 100 milligrams of edible.
There are a lot of problems to solve with cannabis that don't exist anywhere else.

Kyle ShermanCEO, Flowhub
"There are a lot of problems to solve with cannabis that don't exist anywhere else," Sherman said.
Meanwhile, within the cannabis industry there aren't many enterprises with the financial wherewithal to have data scientists on staff and deal with all the complexity. Most are small and midsize businesses that rely heavily on their BI vendor, as opposed to large enterprises able to employ a team of data scientists.
So using a BI tool such as Flowhub designed specifically for the cannabis industry is critical for the citizen data scientists who operate analytics-enabled dispensaries.
"What you put in is what you get out," The Green Joint's Sullivan said. "We uploaded the data for one store a week and it was a hectic month, but all the hard work paid off. We took off with [Flowhub] without a hitch."
He added that, among other actionable data, The Green Joint now is able to track customers' cart size, the average number of units purchased per transaction, stores' monthly sales by category, month-over-month sales, total units sold, percentage of products sold that are discounted, and, of course, total revenue.
Compliance
Laws change constantly in the cannabis industry.
Medical marijuana is now legal in 33 states and Washington, D.C., while recreational marijuana is legal in 11 states and Washington, D.C.
Regulations in each state differ, and often change frequently within states.
"Cannabis, in general, is unlike regular retail in that it's highly regulated," Sherman said. "When you walk into a dispensary there are rules that differ from traditional retail, and that requires specific software."
Built into the software are tools that are able to keep dispensaries compliant with their local laws and any changes on the federal level. Marijuana businesses can do labeling, for example, on platform, and can update the labels whenever there's regulatory change.
Beyond existing cannabis industry customers, Flowhub's roadmap includes preparing for potential customers in states where marijuana hasn't yet been decriminalized.
"We need to meet them at the regulatory demands in those markets, so there's going to be a lot of work over the coming years in making sure that we can bring these markets along in a compliant way," Sherman said. "It's not like every state is an exact replica of the previous state, so for us there's a lot of work that goes into moving into new markets -- that's number one. Number two is consistently innovating, actually getting into these new markets and then providing new tech that makes life easier."
For existing users like The Green Joint, though, compliance is key.
Being a family-owned business with just four locations -- being a small business -- just as there isn't enough revenue to fund a team of data scientists there isn't enough revenue to have a legal team. According to Sullivan, keeping track of all the changes in the law was a nightmare.
It's not anymore.
"I sleep well knowing we're uploading our sales in a proper fashion," he said.
Dig Deeper on Business intelligence technology