itestro - Fotolia
Tableau 2020.1 highlighted by Viz Animations, Dynamic Parameters
Dynamic Parameters and Viz Animations highlight Tableau's first 2020 platform update and comes nearly four months after Salesforce's acquisition of Tableau closed.
Analytics vendor Tableau on Wednesday unveiled its first product update of the year, Tableau 2020.1, featuring new tools Dynamic Parameters and Viz Animations as the platform's centerpieces.
Tableau 2020.1 comes just over three months after Salesforce's $15.7 billion acquisition of Tableau was granted final regulatory approval on Nov. 5. The deal, which closed on Aug. 1, was held up by the United Kingdom's Competition and Markets Authority, an antitrust regulatory agency that also delayed Google's purchase of Looker.
But while Tableau, founded in 2003 and based in Seattle, is now officially owned by Salesforce, analysts said it's still too early to see any significant collaboration between Tableau and Salesforce and that Tableau 2020.1 likely represents what Tableau would have done in this update whether or not the analytics and BI vendor had been acquired.
"I see no signs, yet, of Salesforce influence over product strategy," said Doug Henschen, analyst at Constellation Research. "And it's far too early for that to be showing up."
Similarly, Boris Evelson, analyst at Forrester Research, said, "I don't see any Salesforce influence there."
Where there perhaps has been some early blending of Salesforce and Tableau, according to Henschen, is in sales.
I see no signs, yet, of Salesforce influence over product strategy, and it's far too early for that to be showing up.

Doug HenschenAnalyst, Constellation Research
"I have heard there has been a bit of alignment going on at the sales level, but that is something you would want to do to ensure that there's coordination in sales efforts among key accounts," he said.
The release of Tableau 2020.1 was delayed one day so that Salesforce could announce its fiscal 2019 earnings on Tuesday before Tableau rolled out its update.
Salesforce reported a net loss of $126 million for the year ended Jan. 31, 2020, down from net income of $1.1 billion in fiscal 2018. Revenues, however, were up 29% year over year from $13.3 billion to $17.1 billion.
Subscription and support revenues, meanwhile, totaled $4.6 billion for the three months ended Jan. 31 and $16 billion for all of fiscal 2019. That includes $344 million in the fourth quarter and $652 million total resulting from the acquisition of Tableau.
Regarding the new features in Tableau 2020.1, Dynamic Parameters is designed to eliminate users' need to update workbooks as changes are made to underlying data.
parameters are used by dashboard authors to make dashboards more interactive and flexible and eliminate the need for multiple data visualizations. Previously on the Tableau platform, however, they were static and had to be updated manually.
Dynamic Parameters automates that process, updating parameters based on the latest data and saving users the time it takes to do manual updates.
"Many of our dashboards use filters in lieu of parameters, and not being able to auto-update them was one reason why," Tableau customers Matthew Pickus and Christopher Gardner, both senior business intelligence analysts at the University of Michigan, said in an email. "This will allow for not only greater flexibility in the use of parameters, but also allow us to remain hands-off when data is refreshed."
Viz Animations, meanwhile, aims to help customers put their data in context through motion.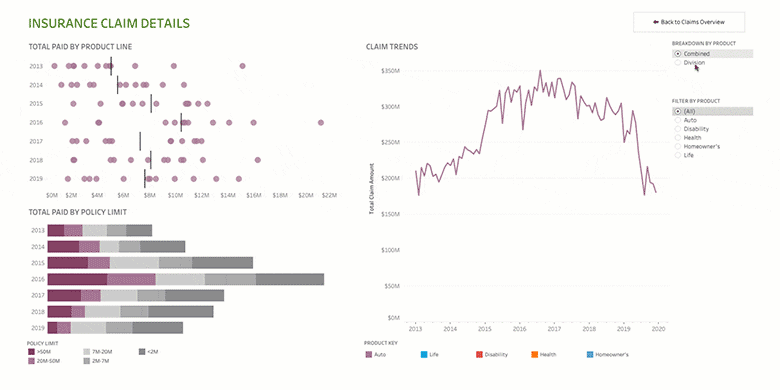 The movement is designed to show how data reacts to changes, and in particular can help discover when a data point becomes an outlier or when there's a sudden increase or decrease in a given value. As data is added in or filtered out, the visualization -- a bar chart, for example -- instantly moves to reflect the change.
"We can already envision the use of Viz Animations in a few of our executive dashboards to better provide management with year-over-year trend analysis," Pickus and Gardner said.
Taken together, the main features in Tableau 2020.1 both further customers' ability to gain insight from their data and demonstrate that Tableau remains an innovator, according to Henschen.
"The themes in these two upgrades are timely insight and deeper and more intuitive understanding," he said. "Some competitors would suggest that data visualization has been commoditized, but Tableau continues to set the standards on this front with distinguishing features that its most ardent fans ask for and appreciate."
Other analysts, however, view the main features in Tableau 2020.1 as simply modest improvements.
"These seem like fairly minor releases to me," said Wayne Eckerson, founder and principal consultant of Eckerson Group.
And Evelson called the release "incremental" in nature.
Beyond Dynamic Parameters and Viz Animations, Tableau 2020.1 includes new connectors with Google BigQuery, Google Sheets and CloudFile from Microsoft Azure; Login-Based License Management to give customers the ability to activate Tableau Desktop or Tableau Prep by logging in with their Tableau Server credentials; and new calculations to simplify data preparation and data analysis.