New Azure-VMware integration means more hybrid cloud options
Rivals Microsoft and VMware joined forces this week, signing a deal to allow VMware to run natively on Azure, further complicating the coopetition among the top cloud vendors.
Microsoft and Dell Technologies have teamed up to deliver VMware natively on Azure in a move that gives enterprises more options for hybrid deployments and underscores the broader competitive shifts in the cloud marketplace.
Azure VMware Solutions will provide a "native, supported and certified VMware experience," Microsoft EVP Scott Guthrie said in a blog post. Customers can run and manage VMware applications across on-premises environments and Azure with a common framework, using their VMware products such as vSphere and vSAN.
Likely uses include disaster recovery, data center consolidation and application modernization, Guthrie added. On the last front, customers will be able to integrate VMware applications with services such as Azure AI and Azure IoT.
The Azure-VMware integration, available now, is based on technology from a startup called CloudSimple, which sells private cloud infrastructure for VMware vSphere. Formed in 2016, the Santa Clara, Calif., company has 85 employees and has raised $35 million to date, according to its website. Microsoft is its initial partner, with plans to support more public clouds over time.
Virtustream, a subsidiary of Dell Technologies, will launch a similar service later this year, according to an FAQ document. The CloudSimple version may be generally available, but for now only in Azure's U.S. East and West regions. It will arrive in Azure's Western Europe region "in the near future," according to Microsoft.
In both cases, Microsoft will sell and support the Azure VMware services, which are also "fully verified and supported by VMware," according to the FAQ. VMware workloads on Azure run on single-tenant, dedicated and isolated hardware, and come with a 99.9% service-level agreement.
The Azure option for VMware comes about two years after the launch of VMware Cloud on AWS. That product has caught steam, with more than 1,000 customers signed up and about 60 partner companies developing services for it. It's also available in 13 regions around the world -- a logistical footprint Azure won't be able to match for a while.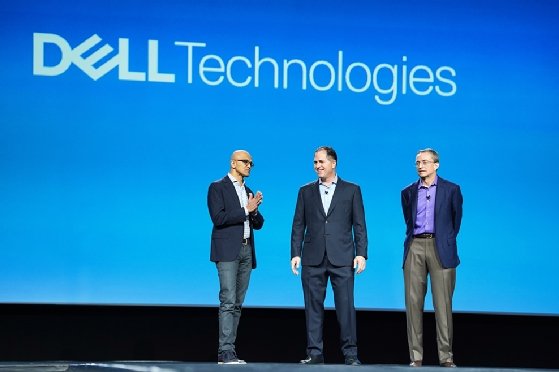 AWS dominance spurs Microsoft cloud deals
Microsoft's decision to work with multiple partners on Azure support for VMware is telling, said Deepak Mohan, an analyst at IDC.
While CloudSimple and Virtustream will offer basically the same capability to host VMware on Azure, "Dell comes with a lot of positives and a lot of baggage," he said.
Dell is primarily known as a hardware provider and some customers may be concerned that going with Virtustream for VMware on Azure will bring conversations about hardware purchases into the mix.
"CloudSimple has no incentive to do anything else but make your CloudSimple-based VMware on Azure a success," Mohan said.
I think Microsoft has realized it's important to work with VMware, and that a confrontational approach doesn't bode well.

Deepak MohanResearch director, IDC
The fact that Microsoft prominently touts the new Azure-VMware options as supported and certified by VMware, compared to the offer it made in 2017, is also telling, Mohan added.
"I think Microsoft has realized it's important to work with VMware, and that a confrontational approach doesn't bode well," he said.
Microsoft had announced plans for VMware on Azure in 2017, but apparently not with the full blessing of VMware. This has obviously changed, given the statement about support and certification.
"I think this is great for customers," said Gary Chen, an analyst at IDC. "It adds more choice and it shows VMware's commitment to multi-cloud."
He doesn't expect this new deal with Microsoft to change the VMware-AWS relationship at all.
"AWS remains VMware's primary cloud partner, and both parties came into it acknowledging that both would pursue similar partnerships with other vendors, such as VMware on other clouds and AWS hosting other platforms," Chen said.
One analyst believes the mounting competitive pressure being applied by mutual rival AWS is one factor that brought Microsoft and VMware closer together.
The [AWS] cloud factor is pushing companies like VMware and Microsoft together in areas where they traditionally had been fierce competitors.

Dana GardnerPrincipal analyst, Interarbor Solutions
"This is a true indicator of just how powerful and off-the-charts successful AWS has been," said Dana Gardner, principal analyst at Interarbor Solutions LLC. "The [AWS] cloud factor is pushing companies like VMware and Microsoft together in areas where they traditionally had been fierce competitors. But they are casting those days to the dust bin and focusing on AWS' presence in the cloud."
Despite the chummier relationship, Microsoft and VMware will continue to battle each other in other key cloud markets, Gardner noted, primarily with Azure Stack and VMware's latest offering this week, VMware Cloud on Dell EMC.
"This will not dull Microsoft's ambitions to be the premier public-private hybrid cloud platform," Gardner said. "They will do their best to undermine VMware's value there."
Others, however, think what drove the deal is that Microsoft simply needed to let its users know that additional support for VMware was on the way.
"It will be interesting to see if Microsoft is positioning to be an ally with VMware to compete against AWS, or is it just because they need to have a VMware solution for users who want to use Azure as a platform," said Marty Puranik, president and CEO of Atlantic.Net, a cloud provider. "At the end of the day everyone is just trying to figure out the right integrated [technology] users want to buy."
VMware's coopetition in the cloud
VMware has found itself in an interesting position over the past few years. It attempted to enter the public cloud market on its own, but ultimately sold off the vCloud Air business to cloud infrastructure provider OVH in 2017. VMware remains the gatekeeper to massive amounts of on-premises workloads -- ones providers such as AWS and Microsoft would love to provide a home for.
VMware customers are also increasingly eager to take advantage of cloud deployment options, whether for the scenarios Microsoft outlined this week or simply to avoid the high capital expenses involved with hardware refreshes. Moving VMware applications to Azure or AWS may not save customers money, but the cloud's purchasing model allows them to amortize their costs.