Compare VMware cloud offerings for AWS, Azure and Google
With VMware cloud offerings, enterprises can integrate on-premises and public cloud infrastructures into a common IT environment. Explore the offerings from AWS, Azure and Google.
Ever since VMware begrudgingly accepted the popularity of public cloud infrastructure and agreed to work with AWS, it has been building a service-agnostic hybrid cloud platform to span enterprise data centers, edge locations, managed service providers and public cloud infrastructure.
VMware's pan-cloud ambitions were made clear at VMworld 2018 when it introduced Project Dimension, which later evolved into the multi-cloud SDDC products that are now available from every major cloud provider and countless MSPs.
VMware was building a foundational infrastructure that could be deployed across an enterprise and potentially on other IaaS offerings, like Microsoft Azure and Google Cloud. This would make VMware the standard infrastructure abstraction layer that enables workload portability across different providers.
The first instantiation was VMware Cloud on AWS, later joined by startup CloudSimple, which built a management platform for vSphere workloads running on any cloud. Microsoft partnered with CloudSimple to deliver a VMware environment on Azure.
In November 2019, Google Cloud simultaneously entered the VMware market and disrupted Microsoft's strategy when it acquired CloudSimple, which it later relaunched as Google Cloud VMware Engine. Microsoft quickly responded with its internally developed, VMware-endorsed Azure VMware Solution.
Today, every major cloud provider offers a VMware-approved SDDC and a Cloud Foundation stack that overlays familiar VMware features, like vSphere, vSAN, NSX-T and vRealize, on native IaaS compute, storage and networking services. Let's look at how the different services compare, and evaluate some common use cases.
VMware implementations
The point of VMware's cloud strategy is to give enterprises a consistent set of infrastructure services and management tools that work across private data centers, edge locations and multiple cloud environments.
VMware's fundamental goal is to minimize the differences between implementations on AWS, Azure and Google Cloud, while enabling cloud providers to differentiate based on pricing, support models, and higher-level PaaS and SaaS tools. The base infrastructure is identical across the AWS, Azure and Google cloud implementations, namely the following:
vSphere VMs
vSAN storage
NSX-T virtual networking and network services
vCenter and vRealize management interface
on-demand provisioning and capacity scaling
The vRealize Cloud Management interface unifies administration across all environments, so IT teams can mix and match services. For example, an organization could keep some legacy systems on premises and use VMware Cloud on AWS to access databases it migrated to Amazon Aurora and Amazon Redshift. At the same time, it could use Azure VMware Solution for lift-and-shift migrations and Google Cloud VMware Engine for applications refactored into container-based microservices.
VMware cloud offerings comparison
The following table summarizes and compares the top features and capabilities of the VMware cloud offerings on AWS, Azure and Google Cloud: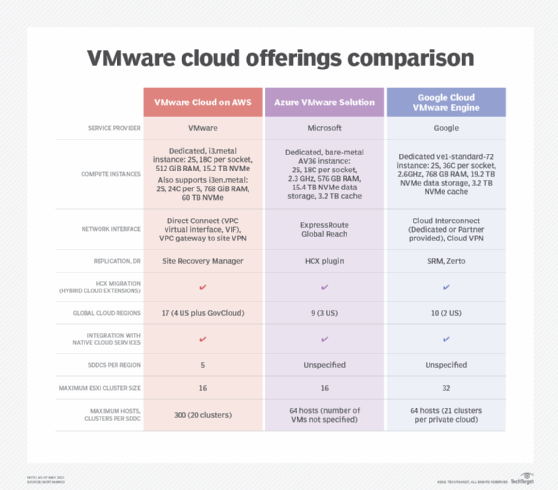 The service provider, which is responsible for billing and support, is the biggest difference between the three VMware cloud offerings since VMware Cloud on AWS is a VMware product, while the other two are delivered by Google and Microsoft, respectively.
Pricing
It is impossible to make a direct pricing comparison between services without running vSphere-specific benchmarks, since each uses slightly different machine types. Still, the AWS and Azure instances are quite similar. And, when compared, AWS is 9% cheaper for on-demand usage and 3% less over a three-year reservation.
However, Google Cloud appears to offer much more bang for the buck, with 72C instances for only 11% more than AWS -- with on-demand pricing -- and double the cores. However, we can't determine which processor Google uses for this instance since Advanced Micro Devices' (AMD) EPYC Rome models come in 32- or 64-core variants, not 36. The only Intel 36C part is an Ice Lake-SP that hasn't been publicly released but is undoubtedly available to the hyperscale cloud operators.
Given the propensity of cloud providers to procure custom SKUs from Intel, Google might have convinced AMD to release a 36-core variant, but it's unlikely given the way Rome parts are built from 8-core chiplets. Nevertheless, doubling the core count of AWS and Azure makes Google the price-performance leader.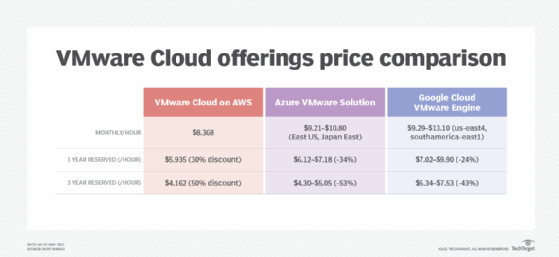 Use cases
Since the three services have similar features, the use cases are similar as well. Some of the most common are the following:
VMware-based hybrid cloud environments with seamless workload migration from on-premises facilities to public cloud infrastructure -- in this scenario, public cloud installations are often used for disaster recovery or on-demand capacity expansion, such as seasonally variable workloads;
virtual desktop infrastructure, particularly in the post-pandemic, work-from-home era, where public clouds are better positioned to provide high performance to remote users over broadband connections; and
next-generation, cloud-native applications that combine legacy applications that remain on vSphere with microservices designs using containers, serverless functions, and cloud PaaS and SaaS products.
Primarily, the choice is dictated by an organization's previous vendor relationships, the centrality of VMware to its broader IT strategy and development plans for future applications.
Dig Deeper on Cloud deployment and architecture