Melpomene - Fotolia
Google aims to bolster VMware cloud migration tools
CloudSimple enables organizations to migrate on-premises VMware workloads to Google Cloud, but Google must extend its product offerings to compete against AWS and Azure.
Google's CloudSimple provides a pathway in an organization's migration journey to the cloud, but Google must deliver additional cloud services and expand its current offerings if it wants to gain ground against AWS and Microsoft Azure.
Google announced its purchase of CloudSimple on Nov. 18, 2019. CloudSimple, founded three years prior, builds tools to help organizations move existing workloads, such as VMware applications, databases and systems, from on-premises data centers to the public cloud. CloudSimple creates a full VMware stack from on-premises data center server applications located in the Google Cloud Platform (GCP).
"Google focused more on building up their partner network and emphasizing services; steps that could help them gain more traction in the enterprise," said Torsten Volk, managing research director at Enterprise Management Associates.
CloudSimple offers a clean break from legacy systems
CloudSimple gears its products toward organizations ready to cleanly break from their legacy systems and move to the cloud. Google gained a way to compete against AWS and Azure with the purchase of CloudSimple.
The CloudSimple approach to take business workloads to the cloud has limitations. Organizations invest substantial time, money and resources to develop the tools and expertise required to run VMware workloads. In many cases, legacy infrastructure is critical to their operations. Organizations may look for products that enable them to gradually migrate and run workloads in hybrid configurations; CloudSimple wasn't designed for this purpose. Organizations are cautious to make major system changes.
"A clean break from their on-premises-based systems to cloud-native solutions is too jarring for many large organizations," Volk said.
As a result, there's limited interest in CloudSimple since Google's acquisition. Other cloud products are simply receiving more attention.
AWS and Azure alternatives remain relevant
VMware bet heavily on AWS and developed a close and deep relationship with the vendor. The two worked together since October 2016 to offer more than an abrupt migration service. Instead, organizations can deploy their VMware workloads in many ways.
Editor's note: VMware and AWS first partnered in 2016, with VMware Cloud on AWS debuting in 2017. That same year, VMware sold its own cloud business, vCloud Air, to OVHcloud. VMware Cloud on AWS enables organizations to run a VMware software-defined data center stack on Amazon EC2 bare-metal instances, and is the basis for diverse hybrid cloud projects. Managed service providers that partner with VMware and AWS have developed services for VMware Cloud on AWS.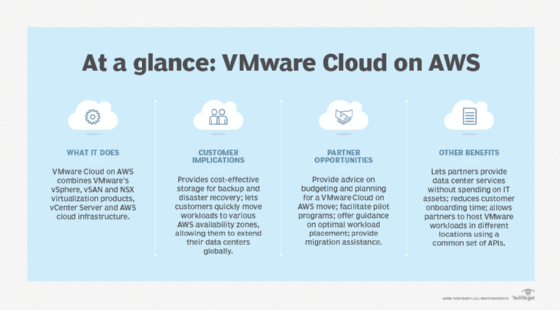 Another AWS offering, AWS Outposts, enables organizations to run VMware workloads on premises, but manage the environment similar to how they would in the cloud. Some VMware workloads must remain on premises because of low latency or local data processing requirements. AWS Outposts enables organizations to use services and APIs available in the cloud to develop and manage workloads on premises.
Still, AWS isn't the only competitor CloudSimple must contend with. CloudSimple has developed migration services for organizations to move VMware workloads to Microsoft Azure, also competing with native options there. Microsoft offers its Azure VMware Solution, which enables organizations to do a forklift migration that takes VMware stacks and runs them on Azure hardware.
Microsoft also has an arrangement with Dell Technologies' Virtustream division, which is building a VMware on Azure service. Microsoft expected this service to launch by the end of 2019 but has since delayed its release and removed a firm delivery date.
Google's attempt to create a higher profile in the VMware market requires more than just the acquisition of a single company. Google's CloudSimple addition is one piece in a large and complex puzzle. Still, the vendor must improve and extend its current offerings to entice organizations to move their mission-critical workloads from VMware to Google Cloud.