Sergey Nivens - Fotolia
AWS vs. Azure: Compare VMware-based hybrid clouds
Enterprises can extend their on-premises VMware environments to AWS or Azure, but they'll need to decide which one best meets their needs. See how the two managed services stack up.
Industry experts have long talked about hybrid cloud, but it's only been in the past couple years that enterprises have actually been able to integrate on-premises and public cloud infrastructures into a seamless IT environment.
VMware has been at the center of much of this shift. It dominates the market for enterprise virtualized software stacks, and its install base wants to extend vSphere environments to one or more public clouds. After an ill-received attempt at running its own proprietary cloud service, VMware changed course and got the ball rolling on hybrid integrations with major public cloud platforms.
Most notably, it partnered with AWS to co-develop a VMware service running on AWS infrastructure. VMware Cloud on AWS became available in 2017 and continues to mature with new locations and features, such as vSAN support and better workload migration tools.
Then, in April 2019, VMware struck a deal with Microsoft to accommodate organizations that wanted to run their workloads on Microsoft Azure. The suite of services, dubbed Azure VMware Solutions, included a managed VMware environment built by CloudSimple.
Now that enterprises can run VMware environments on the two largest public clouds, they have a choice to make -- AWS vs. Azure. In this article we'll examine the features and differences between both offerings, and provide advice on which managed VMware service is best suited for different scenarios.
AWS vs. Azure hybrid services comparison
Unsurprisingly, both offerings have a lot in common since they're based around the same software stack and are designed to provide seamless integration with existing VMware environments. Both implement private clouds -- as defined by VMware Cloud Foundation's software-defined data center (SDDC) -- on public cloud infrastructure and thus offer the same basic set of VMware services.
As the following table details, most of the differences center on service limits, regional availability, and the business and support model -- not core functionality.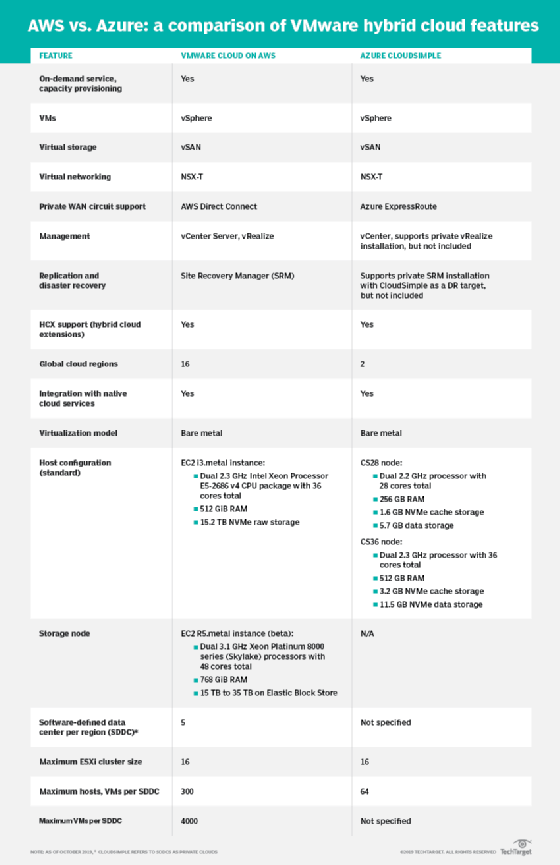 AWS vs. Azure service model and pricing
The two services differ significantly in how they're offered and supported. VMware Cloud on AWS uses AWS infrastructure, but the service is provided, supported and billed by VMware. In contrast, the Azure VMware Cloud Solution is an Azure service, billed and supported by Microsoft, which uses technology from CloudSimple. In sum, VMware owns the customer relationship when using AWS, while Microsoft owns it when using Azure.
VMware Cloud on AWS is priced by node capacity per hour of use as follows:

Azure CloudSimple is priced by node capacity per hour of use as follows:

The AWS i3.metal and Azure CS36 instances both provide 36 total cores with 512 GB RAM and a similar amount of storage. However, the Azure service is 10% more expensive across the board.
Use cases and recommendations
Both services are designed for organizations that have standardized their internal infrastructure on VMware's compute, storage and network virtualization products and management software.
Thus, both VMware Cloud on AWS and Azure VMware Solution by CloudSimple have the same typical use cases, namely:
Workload migration to cloud infrastructure.
Data center extension using cloud infrastructure for on-demand capacity expansion or workload localization to different global regions.
Virtual desktop infrastructure that either supplements or replaces on-premises systems yet is available via high-performance private network links using AWS Direct Connect or Azure ExpressRoute.
Disaster recovery using the cloud as a backup site for on-premises workloads.
Next-generation, cloud-native applications that can tap into native AWS or Azure services while also accessing legacy databases.
Given the similarities between the two offerings, the choice of AWS vs. Azure for VMware services comes down to the following considerations:
An organization's prior vendor relationships, as well as whether it already has production workloads running on AWS or Azure. For example, the CloudSimple service supports Azure Hybrid Benefit, which can reduce licensing costs for organizations running Windows Server.
An organization's preference for dealing directly with VMware, as is the case with VMware Cloud on AWS, or the cloud vendor, as is the case with CloudSimple, for billing and support.
The need for high capacity vSAN storage nodes -- only available on AWS -- versus primarily using VMware cloud infrastructure for application workloads that access external data sources.
Thus, the choice between the AWS and Azure is primarily driven by an organization's existing vendor relationships rather than significant technical advantages for either side.
Editor's note: Google acquired CloudSimple in November 2019 to support VMware migrations to its cloud. However, Google said it will continue to support CloudSimple services on Azure.