Melpomene - Fotolia
Overcome these VMware Cloud on AWS migration challenges
Plan ahead for a VMware-to-AWS cloud migration with this breakdown on common challenges organizations face during the move to VMware Cloud on AWS, and how to avoid them.
It is easy to be enticed by the features and flexibility of VMware Cloud on AWS, but it is also important to consider the migration challenges that come with a move from an on-premises data center to AWS.
VMware Cloud on AWS is a hybrid cloud service that can extend an enterprise's on-premises VMware environment to Amazon's public cloud. It was developed jointly by AWS and VMware, but VMware sells and operates the service. While a number of tools and scripts exist to help you move workloads to this service, a VMware-to-AWS migration is no simple task. Let's go through a few key VMware Cloud on AWS migration challenges and how you can work through them.
Manage costs
Before you start a VMware Cloud on AWS migration, understand that you won't accumulate cost savings overnight. Moving infrastructure and applications requires careful planning, so organizations should prepare for the costs and complexity accordingly. You'll also have to spend to keep dual environments running and staff working throughout the process.
To manage these costs, undertake traditional maintenance, such as cleaning up servers and handling OS and application patching, before a single workload moves offsite. Make a checklist and physically check off each server as it goes through the optimization process. This should also include rightsizing of both CPU and memory resources. While VMware Cloud on AWS resources can scale almost indefinitely, your budget cannot.
Address networking early
Network configurations are one of the first AWS migration challenges an enterprise will face, regardless of how deeply embedded a workload is in its existing architecture. IT teams should consider VMware Hybrid Cloud Extension (HCX) as a means to simplify this process.
HCX is a network migration toolset in VMware Cloud that starts with WAN optimization, compression and deduplication. Important for VM migration, HCX can stretch your Layer 2 networks for easier VM relocation. HCX also provides a few critical tools to save time and money. For example, HCX won't make you re-platform or change workload IP addresses -- a huge relief for application teams.
Bypassing the normal 250 Mbps bandwidth for live vMotion of a virtual machine -- to migration speeds closer to 100 Mbps -- helps users with slower internet connections. VMware HCX requires some additional network configuration steps to transition from one environment to another and accommodate the seamless transition, but the WAN optimization, Layer 2 stretching and other capabilities are huge advantages that can make up for those efforts.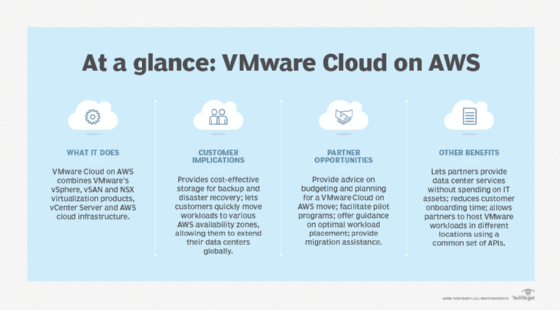 Choose a migration model
Once your network framework is set, you'll need decide whether to do a forklift migration or a rebuild in the cloud. Both migration approaches have advantages and challenges in terms of cost, complexity and turnaround time.
If you choose to rebuild, you can keep your existing applications up and running while you replicate them in the cloud. A rebuild likely produces a smaller footprint in your cloud because it's optimized for that environment. You can remove legacy installations, update patching and have a fresh start in usage for a more stable, better performing platform. However, rebuilding takes a lot of time and work to complete. So, while the end result might be cleaner, the effort and costs involved could be prohibitive.
This leaves you with a forklift -- or lift and shift -- migration. Now, it could be a live vMotion migration or it could be a cold migration with minimal outages. The key here is you're not making changes to the workloads themselves. But, moving them as is into VMware Cloud on AWS would be a huge mistake.
Even though you have bought a cloud environment with multiple hosts and have all these resources dedicated to it, you still need to clean up and optimize your workloads before moving them into VMware Cloud on AWS, as you would any cloud platform. This includes the cleanup of server C drives of temporary files and systems from patch installations, along with runaway server profiles and downloads folders. If workloads are not cleaned up, you can easily double a server's storage footprint when it moves to the cloud.
In addition, you will still have to get the workloads into your VMware Cloud on AWS environment. Even VMware's HCX WAN optimization technology can't fix bad storage habits such as keeping installation ISO files and downloads on server desktops.
Prevent future waste
Regardless of the migration model you choose, incorrect sizing issues and other bad habits won't get magically fixed when you move workloads to VMware Cloud on AWS. Misconfigurations and excess files will ultimately cost more money if you don't address them upfront. You need to have as clean an environment as possible if you want a successful VMware Cloud on AWS migration.