VMware on Azure gains early adherents
Microsoft's Azure VMware Solutions service will compete with the VMware Cloud on AWS offering, and reflects a move to the cloud for virtualized workloads.
The VMware on Azure service, released in late April, delivers the ubiquitous virtualization software natively on Redmond's cloud. It's not clear whether the service will experience the growth VMware found with a similar joint effort with AWS, but at least one early customer said the move should be fruitful.
Dot Foods has signed a three-year deal for the Azure VMware Solutions service to replace its disaster recovery setup, said Eric Ellerman, infrastructure architect at the $6.2 billion food service redistributor in Mount Sterling, Ill. "We don't want to maintain a second data center. We're trying to get out of all that," he said.
Dot Foods hopes to complete the work by the end of this year. The company runs "a little bit of everything" in terms of software, with many IT assets centered on warehousing and logistics, he said. A heavily trafficked e-commerce system is another key platform for Dot Foods, which serves as a middleman between food suppliers and large food service distributors like Sysco.
The VMware on Azure service is based on technology from a startup called CloudSimple. Microsoft sells and supports the service, which runs on dedicated single-tenant hardware in Azure, and has essentially white labeled CloudSimple's software. Customers can run and manage VMware applications with it across their own data centers and Azure, using VMware products such as vSphere and vSAN. VMware also certifies the integration, which is a drastic change from 2017, when it and Microsoft clashed over the latter's announced intention to create a VMware service without the company's involvement.
Ellerman had calculated it would cost two to three times as much to run VMware workloads on plain vanilla Azure IaaS versus its on-premises infrastructure. CloudSimple's price was much closer to the on-premises cost, he said.
"Our costs for at least three years should be locked in," he said. Dot Foods participated in CloudSimple's pilot program for the service launch, Ellerman added.
CloudSimple, created in 2016, has about 80 employees and raised $35 million in venture capital so far, according to its website. Microsoft also has a deal with Virtustream, a subsidiary of Dell Technologies, for a similar service set for release sometime this year. Microsoft will also sell and support the Virtustream service.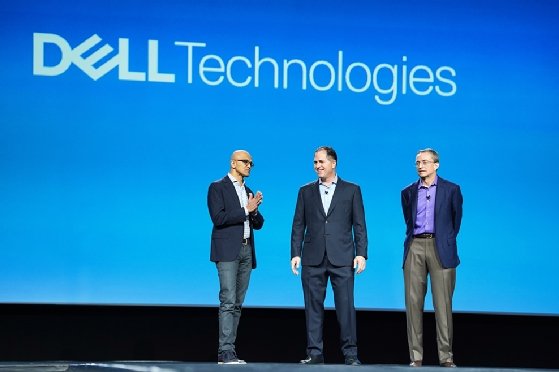 Microsoft in catch-up mode with VMware on Azure
VMware Cloud on AWS came to market about two years ago, and now has more than 1,000 customers and scores of partners with related services for it. Moreover, while VMware on Azure is currently available in the cloud's U.S. East and West regions, VMware Cloud on AWS is in 13 regions around the world, which gives it an edge for customers with far-flung operations or a need for geographic proximity.
Microsoft has long positioned its own virtualization technology, Hyper-V, against VMware, and that product isn't being mothballed by any means. However, the VMware on Azure service, complete with VMware's blessing, is an indication Microsoft has realized the competitive stakes have changed irrevocably.
We don't want to maintain a second data center. We're trying to get out of all that.

Eric EllermanInfrastructure architect, Dot Foods
There is a natural affinity for the companies, given that so many workloads on VMware run on Windows and SQL Server is one of the most common of those, said Manoj Sharma, VP of product management at CloudSimple.
It was no accident that Ellerman found VMware on Azure so relatively inexpensive, as Microsoft has created price incentives in order to make the service compelling to adopt, Sharma said.
CloudSimple plans to sell its platform to other cloud providers, but AWS will not be one of them, according to Sharma. "We don't compete with VMware," he said. He declined to say which other clouds the company will approach, but Google Cloud seems like the next logical step. Google and VMware recently released a plugin integration between Google Cloud and VMware vRealize, but CloudSimple's platform could provide broader capabilities.
Although CloudSimple will have no direct interaction with customers now that Microsoft has launched its service, it is fair to call the platform a joint development effort, Sharma said. CloudSimple has an advantage over Virtustream since it is already generally available, he added. "We are building out the service, adding more and more capabilities and differentiation." He declined to disclose the number of customers that have signed on to the VMware on Azure service, but he said demand has been high, including from partners.
"[They] want to move away from hosting and manage higher-level stuff," Sharma said. "They want to drop their hosting business and embrace Azure."