VMware pulls vSAN 6.7 deeper into vSphere
By giving the vSAN 6.7 release more of a vSphere look and common management, VMware hopes to lure more of its customers to use its hyper-converged storage software.
VMware took the wraps off its vSAN 6.7 hyper-converged software today, revealing tighter management integration with the rest of the vSphere virtualization suite.
VMware vSAN provides storage features and management to turn x86 hardware into hyper-converged nodes. VMware's parent company, Dell Technologies, packages vSAN on PowerEdge servers in Dell EMC VxRail hyper-converged appliances, and it sells vSAN ReadyNode hardware reference architectures with 12 other server partners. ReadyNode partners include Hewlett Packard Enterprise, Cisco and Lenovo.
As with past upgrades, vSAN 6.7 is tied to the same number scheme release for VMware vSphere -- in this case, the vSphere 6.7 release. VMware vSphere 6.7 and vSAN 6.7 are expected to be available by early May.
But while vSAN has always been part of vSphere, it often required customers to go to different screens and install separate tools for features such as monitoring.
"One of the things we heard back from customers -- whether they're buying a VxRail appliance or software matched with one of our other server partners -- is, 'We really want you to make your product look more integrated,'" said Lee Caswell, VMware's vice president of storage and availability products. "So, we took things like capacity and performance monitoring, and we integrated them into vSAN. They don't require separate installations."
While past releases of vSAN included significant storage features, such as data deduplication, encryption and real-time analytics, vSAN 6.7 focuses on integration with vSphere and cloud application support.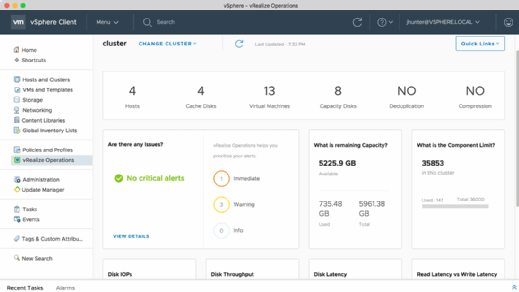 How vSAN's tighter vSphere integration works
VMware gave vSAN support for the vSphere HTML5 client to improve the look, feel and management of vSAN 6.7. VMware also added integrated dashboards, enabling vRealize Operations Manager 6.7 diagnostics to provide a unified view of vSAN systems through a vCenter plug-in. Previously, using vRealize Operations with VMware vSAN required two separate interfaces. The integration also allows administrators to monitor vSAN capacity, performance and alerts without a separate vRealize Operations license. However, only the top-level vRealize Operations view is free. Customers require a license to drill down into more detailed vSAN information.
VSAN 6.7 also supports host pinning and iSCSI failover for data protection for emerging data management applications, including Cassandra, Hadoop and MongoDB. By pinning a virtual machine to hosts in a cluster, vSAN 6.7 can help manage VMware's Distributed Resource Scheduler for high availability of applications tied to the host, Caswell said. Host pinning and iSCSI failover are also supported for Microsoft Windows Server in vSAN 6.7.
Torsten Volk, senior analyst at Enterprise Management Associates, based in Boulder, Colo., said the integration is part of VMware's strategy to bring all its features together into one package. That includes not only vSAN, but its NSX networking virtualization software. The plan is to make it so you don't require special storage expertise to manage vSAN, he said.
VMware is now filling out its usability features, so IT generalists can use vSAN and make it the platform of choice for cloud.

Torsten Volksenior analyst, Enterprise Management Associates
"VMware is now filling out its usability features, so IT generalists can use vSAN and make it the platform of choice for cloud," Volk said. "The vision is to have it all unified. They're putting NSX under the umbrella of the server administrator, and now they're putting vSAN under the umbrella. They don't want the storage guys to slow down the DevOps process."
VMware's Caswell agreed a big part of the appeal of hyper-convergence infrastructure (HCI) is that admins and developers don't have to wait for storage provisioning.
"In the traditional IT world, storage was this separate thing that had to be budgeted on five-year timetables," Caswell said. "That's just not anywhere close to what HCI offers, which is, 'Golly, if I'm out of performance or capacity, I buy another node and, bang, I'm off and running.' And I've basically gone and deployed it. Or, I do it logically without changing the physical infrastructure at all. That's the model these new developers are expecting if they're going to meet the pace of a digital business."
VMware is counting on vSAN 6.7 to continue the company's HCI momentum. IDC listed VMware as the market leader in software-driven HCI sales for the fourth quarter of 2017, with $405 million in revenue -- a 111% jump from the previous year. That put VMware ahead of HCI pioneer Nutanix, which is shifting its business model to more of a software-defined distribution. IDC credited Nutanix with $369 million in software-based HCI sales in the fourth quarter. VMware and Nutanix combined for more than 60% of the HCI market when measured by the software used.
In its earnings report released in March, VMware said vSAN licensed bookings for 2017 increased 130% over the previous year.
Dig Deeper on Converged infrastructure management