Technology insights for the data-driven enterprise

alphaspirit - Fotolia
AI strategy comes first, then AI tools second
If your organization plans to implement AI into its workflow, be sure to develop a sound strategy and provide the necessary training to get the most out of the software.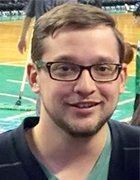 By
For all the talk and focus on technological innovations that have disrupted and changed business processes, what has really changed the most during the technology revolution of the last 20 years is the customer.
Customers enter the buying process equipped with more information and perspective than ever before. From a bygone era of personal experiences and finite wells of word-of-mouth reviews, customers are now engaged with millions of other customer experiences through social media and online reviews, as well as unlimited resources, when making product or service comparisons. This paradigm shift has left marketers, sellers and service teams playing catch-up to develop strategies combined with technology to better equip themselves and capitalize on the customer's experience.
Companies and brands hope that infusing a CRM AI strategy within their business will help balance the scales when interacting with customers. No business wants to enter a negotiation knowing less than its counterpart. And based on the marketing churn of most software companies, it's easy to assume that many businesses have already implemented AI into their marketing and sales processes, and those that haven't will be left in the dust.
"If the AI-driven environment can learn enough and be trained correctly, it can deliver better customers that are more relevant and timely and on the right device and right promotion," Forrester Research principal analyst Joe Stanhope said. But AI in customer experience comes with a caveat. "It will play out as a multiyear process, and it's not necessarily a technology problem," Stanhope warned. "It's more of a change of management and a cultural issue."
Delivering on customer expectations
The importance of implementing an AI strategy into the customer experience isn't lost on business executives. According to Bluewolf's latest "State of Salesforce" annual report, 63% of C-level executives are counting on AI to improve the customer experience. A 2017 IBM study also indicated that 26% of respondents expect AI to have a significant impact on customer experience today, while 47% expect the impact to be within the next two or three years.
Chief marketing officers set sights on CRM AI
In the next two to three years, one-third of organizations to implement AI technologies, according to a 2017 study conducted by the IBM Institute for Business Value. Yet some organizations surveyed have already implemented AI technologies and intend to license more.
IBM's "Cognitive Catalysts: Reinventing Enterprises and Experiences With Artificial Intelligence" divided chief marketing officers into three groups of respondents: Reinventors are AI-enabled with significant future investment, tacticians are AI-enabled with minimal future investment and aspirationals are their AI-enabled investment.
In the next two years, 63% of reinventors, 48% of tacticians and 70% of aspirationals to implement AI technologies to help reinvent the customer experience, demonstrating that an AI implementation needs to start at the executive level and work its way down to the user base.
By then, there should be a substantial increase in use cases for AI customer service -- not just in the product servicing sense, but also in the marketing and sales stages of the customer experience. "Buyers expect something different these days; they come in much more educated," said Dana Hamerschlag, chief product officer at sales consultancy Miller Heiman Group. "The trick and challenge around AI is how do you leverage this powerful machine to tell you that process, rather than just give you the outcome data."
It's important that the customer service team is there when customers need them.

Angel Brockbankdirector of customer experience, Chatbooks
The significance of gaining an edge on the customer extends to marketing, too, with a CRM AI strategy that can solve prospecting concerns. According to the Bluewolf's annual report, 33% of marketing organizations that are increasing AI capabilities within the next year expect the technology to have the greatest impact on the ability to qualify prospects.
"You need to enter a conversation with a customer understanding their context," Hamerschlag advised. "You need to be informed and, with AI, not only [of] who they are but what they have looked at, what they are reading on my site, what emails they have opened."
Technology based on strategy
The emphasis on customer experience has provided an outlet for AI's potential. Companies are beginning to explore ways that a CRM AI strategy and the subsequent technologies can help improve customer service and experience.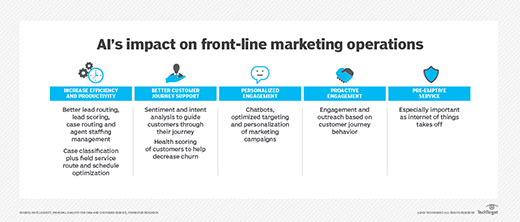 Personalized photo books company Chatbooks Inc. helps customers convert photos on their phone or tablet into physical photo albums. It uses customer service reps to help customers complete the process and started implementing chatbots to streamline the customer service process. "It's important that the customer service team is there when customers need them," said Angel Brockbank, director of customer experience at Chatbooks, based in Provo, Utah.
The initial chatbot established by Chatbooks, created using Helpshift, a San Francisco-based customer service platform, helps customers create an account and input basic information like name and email. Brockbank said the company has an AI strategy in place and will be implementing another chatbot to help direct customer inquiries to the correct chat agent. "We haven't done that yet," she acknowledged, "but it will be helpful and useful for our team."
This blending of product and experience has created an important need for AI technologies, according to Mika Yamamoto, chief digital marketing officer at SAP. "The technology is only as good as the strategy that goes with it," Yamamoto said. "Companies have to understand how they want to show up for their customers and what type of customer engagement or experience they're trying to enable."
One of the impediments to implementing AI is employee adoption, according to a recent Forrester survey. Among CRM professionals, 28% said that one of the largest challenges to improving CRM last year was gaining user acceptance of technologies, compared to 20% in 2015, a 40% increase. However, the CRM professionals thought it was easier working with IT to adopt technologies last year (19%) than it was in 2015 (31%), a near 40% drop.
Still, the increased importance of the customer experience and knowing the customer is the main objective driving an AI strategy and the departmental changes that requires. In the Forrester survey, 64% of CRM professionals said creating a single view of customer data and information is the largest challenge they face when improving CRM capabilities, up from 47% in 2015.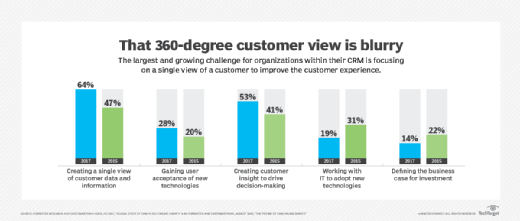 "There's an opportunity to drive customer experience with AI that allows for us to personalize that customer experience and create a more consistent experience," Yamamoto said. "I think the experience is now the product; those two are inextricably tied."
Merging art with science
No department is immune to the disruptions caused by the introduction of AI. Customer service and contact centers are already applying use cases; examples in sales and marketing of prospect and predictive lead scoring are becoming table stakes. But while these examples and applications may excite a company looking for that competitive edge, everything still revolves around that CRM AI strategy.
"Traditionally, the sales part of an organization is typically the part that is more art than science," Hamerschlag said, adding that the common struggle her consultancy faces is aligning her clients' sales reps with the technology so they can succeed. "Everyone comes at AI a little bit differently, and the technology is a means to an end. It's secondary," she explained. "You can pour millions of dollars into experimenting with [AI] technology, but unless you have a clear hypothesis around how this behavior drives change in a sales outcome, then all you're doing is experimenting in an expensive way."
The [AI] technology is only as good as the strategy that goes with it.

Mika Yamamotochief digital marketing officer, SAP
That's why a CRM strategy is so important when implementing AI technologies. Unlike other technologies that may have a roadmap to follow, AI has to serve a specific need or else it can become an expensive mistake.
"When used well, AI can help sales teams perform better at every stage of the sales and service cycle," Hamerschlag reasoned. "But forget technology for a minute. There's a strategy around how we engage a buying organization."