Technology insights for the data-driven enterprise

WavebreakmediaMicro - Fotolia
Selecting a CRM cloud to host sales, service and marketing
Azure, AWS and Google are popular public clouds. But not all CRM systems are interchangeable with each of them. Experts break down the decision-making process.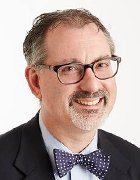 By
Many reasons motivate companies to migrate customer data and CRM applications to the cloud -- stemming costs of on-premises IT maintenance, the public cloud's near-infinite scalability and developers' increasing comfort using these environments. But perhaps the biggest attraction is the pooling of data in one place and deploying cutting-edge, cloud-based AI tools to gain new insights otherwise too labor-intensive for manual analysis.
Once an organization decides to put its CRM in the cloud, choosing a public or private cloud to host a CRM system from among Google Cloud Platform, Amazon Web Services, Oracle Cloud, Microsoft Azure or the vendor's private CRM cloud should be simple. It's a commodity by now, so pick the cheapest option and move to the next phase, right? Not so fast.
As growing businesses scale into first-time CRM users encompassing sales, service and support, marketing and e-commerce, the choice might look simple, but many other factors go into choosing the right cloud. That choice, according to experts, might actually be easier for growing startups than for larger companies, especially if they're in a regulated industry.
AWS, most agree, dominates the public cloud landscape. Microsoft Azure and the new kid on the block, Google Cloud -- at least in the CRM space -- appear to be used more often by SMBs of up to 1,000 employees. Microsoft might see occasional wins with larger companies, some say, but SMBs currently comprise Microsoft Dynamics 365's bread-and-butter customers -- the companies signing up for the Azure cloud for CRM.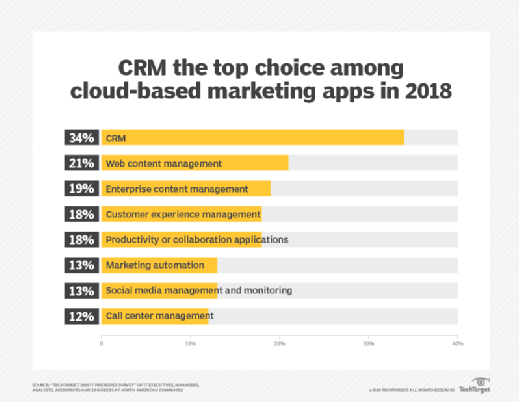 That may change as Microsoft creates more connections to email and LinkedIn data. A company's CRM data set by itself isn't enough for data-hungry AI tools to derive insights that drive new sales deals. Adding in Office 365 email and LinkedIn data brings more precision and supplemental information that help companies find revenue opportunities they couldn't previously.
That LinkedIn data connection as well as Office 365's ownership of inbox data could help Microsoft woo larger Salesforce customers who might not have considered Dynamics on Azure prior to Microsoft's mid-2016 LinkedIn acquisition.
Narrowing cloud choices
Choosing the right CRM cloud starts with examining your own enterprise IT ecosystem, said Brent Leary, co-founder of consultancy CRM Essentials. That means understanding what data sets can be pieced off into a public cloud. It's also important to consider your organization's current and future apps designed to sharpen CRM functions and improve CRM integration with data collected from outside applications -- all in the context of the environments in which they need to run.
[Sales] reps spend 18% of their day in CRM -- but 65% of their day in the inbox, LinkedIn and in tools like ours.

Dave Boycechief strategy officer, InsideSales.com
"A lot of things go into the equation," Leary said. "AWS can run in certain environments. Of course, it's mainly known as a public [cloud]. Oracle, you can have pretty much any environment you want and need, from public to private to hybrid."
But the more complicated the spread of data and applications, he cautioned, the more need there is for internal IT and developer expertise to manage a mix of hybrid on-premises, public cloud and private cloud hosts.
Home cooking for CRM cloud vendors
For many companies, the cloud comes with CRM, perhaps making the decision obvious: Microsoft Dynamics CRM should run on the Microsoft Azure cloud, Oracle applications should run on the Oracle Cloud, etc. And after reviewing the alternatives, that indeed may be the case.
But choices are widening for some vendors. For example, Salesforce has named both AWS and Google as preferred cloud partners, and Pegasystems offers a host of cloud choices based on customer needs, as does SAP, which not only pushes its own private cloud, but Azure, Google and AWS deployments as well.
Scale can also be a consideration. Companies with massive amounts of data might need performance optimization that only a premium cloud -- such as Oracle's -- can provide. Again, look at your organization's internal development and IT management resources, which may also figure into choosing an overall CRM system, Leary said.
If they're already running in that public environment, that would make the decision.

Frank Guerrerachief technical systems officer, Pegasystems
"Maybe you've got apps running on AWS," Leary conjectured, "so what's the best way to handle that from a CRM perspective? Or maybe you're a Microsoft shop, and you have a lot of Microsoft developers familiar with Azure; you run Office 365, and you want to get the most out of LinkedIn. You'll probably use Dynamics 365."
InsideSales.com sells an AI tool that offers next-best-action suggestions tailored for in-house salespeople based on its own large, anonymized data set as well as LinkedIn. It's offered as a browser extension, a software model the company transitioned to last year to be more CRM-agnostic -- as opposed to supporting apps for disparate CRM vendors. The company also gets a bird's-eye view of which clouds its customers are using.
A large majority of InsideSales.com's customers use Salesforce for CRM, acknowledged Dave Boyce, the company's chief strategy officer. An increasing number of customers, however, are coming from Microsoft Dynamics.
Microsoft is fighting a war on two fronts, but data is its secret weapon. While Dynamics competes with Salesforce for CRM market share and Azure competes with Amazon for cloud services, everyone needs the LinkedIn data to augment their own in-house CRM data. "They have a lot of data that lives outside the CRM ecosystem," Boyce said. "[Sales] reps spend 18% of their day in CRM -- but 65% of their day in the inbox, LinkedIn and in tools like ours."
Security, regulatory compliance key factors
Both Leary and Frank Guerrera, chief technical systems officer at Pegasystems, agree that overall security needs can be a deciding factor in cloud choice. That can be further complicated by geography; international companies are sometimes required to host data in particular countries or continents to do business with customers in those locales.
For some Pegasystems customers, Guerrera said, security needs dictate that some data stays on premises, while cloud operations, for example, may handle applications and data that are not subject to regulations. Other customers, however, might not be able to secure data on premises to meet regulatory on contractual compliance, so the cloud could become a necessity.
Microsoft is well-known for pursuing compliance certifications and offering its customers guidance on contractually mandated financial, healthcare and government data-protection standards and regulatory requirements.
But Gartner research director Jeffery Skowron advised that companies should not base cloud choices for applications like CRM on software vendor certifications. He pointed out that certifications can help with compliance but can only get an organization so far. "Azure can give you a platform to do that, but a lot of times, it comes down to what the application is doing as well -- how it's storing the data, where it's storing the data. Obviously, things should be encrypted as well," Skowron said.
According to Guerrera, developers mostly want scalability, reliability and availability in their services, whether on premises or in the cloud. It might make sense to gravitate toward a particular environment such as AWS or Azure for Pegasystems applications if a company is already deployed in that particular cloud and the cloud provider had previously delivered on those metrics.
[A] lot of times it comes down to what the application is doing.

Jeffery Skowronresearch director, Gartner
The Pega Cloud, which Pegasystems manages on AWS, comes into play when customers have not had good experiences in their own public cloud tests or full implementations, Guerrera said. The company supports any number of configurations beyond the Pega Cloud, including customer-managed Google, Azure or AWS instances of Pegasystems applications or those managed by Pega-approved partners.
Track record counts big
The biggest differentiator when customers choose a brand-name cloud is past experience, Guerrera said. A lot of customers choose AWS for its well-established development environment. Azure, however, is competing for the hearts, minds -- and IT budgets -- of more and more Pegasystems customers.
"There are conversations around cloud choice where a customer says, 'We do want to deploy on Azure, because we've already developed applications in Azure. We feel comfortable with the IT support and we have experience doing that,'" Guerrera explained. "If they're already running in that public environment, that would make the decision." The relatively brand-new Google Cloud, he surmised, will probably "grab a lot of startups" that don't have histories with Azure or AWS.
Google Cloud is new enough that it's hard to predict who will be using it a few years from now. But it may make the most sense for small businesses to deploy CRM in Google if they're already using the G Suite commercial email and office applications.
Overall, though, the main principle in choosing a CRM cloud is to do the necessary homework and not just choose the most popular -- or loudest -- vendor. "It's a tough decision," CRM Essentials' Leary noted. "You can't do the 'Well, everyone is buying this, so we'll just go buy that' thing, because that won't really work in [all] environments."
Dig Deeper on CRM tools and strategy