Technology insights for the data-driven enterprise

Sergey Nivens - Fotolia
Marketers face stiff challenges improving CRM capabilities
Amid the proliferation of AI and cloud-based apps, marketers acknowledge and take partial blame for problems encountered along the way to improving their CRM capabilities.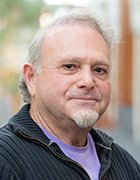 By
The potential for artificial intelligence applications in marketing, sales and customer service is believed to be unlimited over the next decade and beyond, so it seems counterintuitive that software applications for CRM and content management may have peaked last year and are on a downward slide. Even though a level of maturity has been reached in areas like social media management, the overall decline may have more to do with companies shifting their software focus from the premises to the cloud.
Overall, packaged business applications planned for implementations and upgrades show a significant drop-off this year compared to last year, with CRM the only packaged business app holding steady, according to TechTarget's "2018 IT Priorities Survey." Social media management and monitoring leads the slide downward with a 62% decline, followed by enterprise content management, down 56%, and marketing automation, down 40%. TechTarget speculates that these declines are due mostly to the adoption of cloud-based software.
"Only very large deployments of CRM remain on premises," said Kate Leggett, principal analyst for CRM and customer service at Forrester Research. "Virtually no sales and marketing technologies are purchased on premises today. Customer service technologies are primarily purchased as cloud solutions with the exception of very large deployments and those in regulated industries."
King of the hill, top of the list, a number one
Cloud-based applications, including CRM, are tops among 22 software initiatives with 29% of respondents in TechTarget's survey; more specifically, CRM is by far the leading choice among one-third of those planning implementations of SaaS CRM marketing apps in 2018. Web content management is a distant second, followed by management applications for the enterprise, customer experience, social media and call center. In a 2017 Magic Quadrant, Gartner predicted that by next year, more than 85% of new packaged customer service and support software will be delivered on a cloud-based model, with SaaS emerging as an essential selection factor for CRM engagement centers.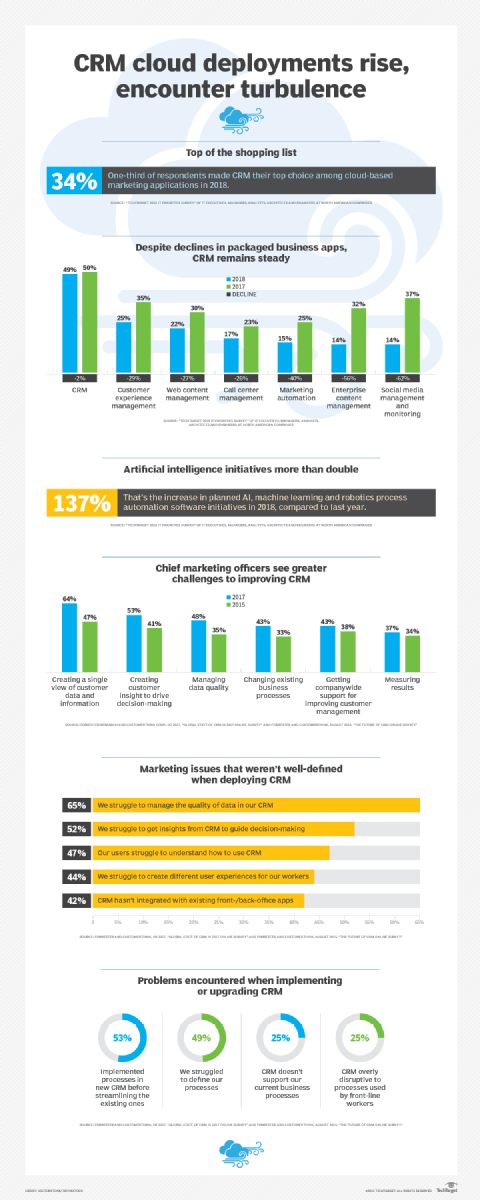 However, deploying, upgrading and improving CRM systems -- whether for the cloud or the premises -- are not without challenges. A large percentage of sales, marketing, customer service and IT professionals who have been involved in a CRM technology project said they faced several obstacles to improving CRM capabilities last year, according to Forrester's research. That percentage has increased significantly over the past couple of years.
Nearly two-thirds of survey respondents said their greatest obstacle is creating a single view of customer data and information, and more than half acknowledged they struggled with creating customer insight to drive decision-making. Both obstacles are interconnected, Leggett said, citing app specialization and the lack of communication within departments.
[F]ragmentation has made it harder to get holistic customer insights out of applications that support the customer journey.

Kate Leggettprincipal analyst, Forrester Research
"The line of business is increasingly purchasing applications to solve a singular business problem within their area of control," she explained. "For example, the sales exec is purchasing a new sales automation solution, without coordinating with the customer service organization. The move of CRM to the cloud has made these purchases easier as it limits IT involvement in the decision."
Another factor, Leggett said, is "vendors have deconstructed their CRM application portfolios into discrete applications. Microsoft Dynamics, for example, no longer offers CRM -- they offer a sales cloud, a customer service cloud, a field service cloud. The same can be said for Salesforce, Oracle, SAP. This fragmentation has made it harder to get holistic customer insights out of applications that support the customer journey, as insights are now stored in a sales automation application, a customer service application, etc., etc."
Looking in the mirror for answers
In addition, more than half of Forrester survey respondents took responsibility for failing to do a better job of defining their struggles in managing the quality of data and deriving insights from their CRM. So, not surprisingly, the biggest issues they encountered when implementing, upgrading and improving CRM capabilities resulted from not taking the time to initially define and streamline their existing processes before purchasing their products.
"It's the usual," Leggett noted, "lack of strategy, lack of executive buy-in, lack of business case development, lack of process and project management, lack of governance, stakeholder communication. ... We have to look beyond the efficiency and productivity gains that CRM delivers and implement CRM to better support the customer through their end-to-end journey."
A comprehensive strategy for improving CRM capabilities must continue to take "a balanced scorecard approach," she added. "[W]hat companies purchase in the future will change. For example, with the rise of e-commerce, field operations will get smaller. However, inside sales organizations are increasing in importance. This is the result of more processes becoming digitized, more processes being automated and the rise of customers preferring digital and even video interactions over face-to-face meetings as these modalities value their time."
Dig Deeper on CRM tools and strategy