kentoh - Fotolia
5 must-read CX trends uncovered at Adobe Summit
As CRM, customer service, marketing and e-commerce morph into customer experience, Adobe speakers, partners and users pinpoint five trends in CX to watch develop in the next two years.
If you're making CX trends predictions, you might as well be bold. That, in itself, was a trend at the Adobe Summit user conference, where cloud customer experience initiatives dominated the discussion.
Here are five of the most interesting CX trends to watch out for from the sessions, keynotes, one-on-one interviews and conversations on the exhibit hall floor.
1. CRM is dead, long live CRM
For two decades, customer relationship management (CRM) ruled the sales-service-marketing-e-commerce stack. Marketing automation now dominates, with e-commerce steadily moving up in importance as even B2B sales are going digital and as buyers do the research and self-service ordering sometimes without interacting with another human.
Chief marketing officers (CMOs) run many CX initiatives now, said Glen Hartman, senior managing director at Accenture Interactive. That's the case at least for the most progressive of his customers. About half are still playing defense, trying to hold on to current business with incremental website, mobile app and personalization improvements in partnership with their CIOs, he said.
Another sizable segment is trying to differentiate, aggressively personalizing and working with data in new ways. A small minority are disrupting their markets, with CMO-driven experience stimulating new business, such as Accenture customer Marriott's all-out assault on Airbnb and hotel aggregator sites.
Marriott guarantees the best price for a property and will match any competitor's rate and discount it 25% if a customer, within 24 hours, finds a better rate than on Marriott's newly redesigned, mobile-friendly site.
CRM still has a place in many companies. But as B2B company employees expect more B2C-like experiences, similar to what they get in their personal lives, CRM is getting pushed aside -- especially in companies that are fully committing to CX as a business initiative and not just an IT-owned tech project.
2. Getting harder to distinguish between B2B and B2C
Yes, clear divisions exist between B2B and B2C in some markets. Adobe customer Honeywell, which built an aerospace used parts aftermarket site with Magento, unquestionably is pure B2B. Polo Ralph Lauren is definitely B2C.
But many banks cater to both businesses and consumers; restaurants like Subway must engage with customers, franchisees and each restaurant's local businesses that might order catering. Adobe customer Nvidia sells its graphics hardware to consumer gamers but also its AI and "professional visualization" technologies to business professionals and educational markets.
Many companies have a mixed customer base. This drives them to make B2B experiences rise to the B2C standards of automation and ease of use in order to take advantage of inbound marketing opportunities and to promote customer self-service. Again, this CX trend makes CRM something of an afterthought as the tech stacks to support the experience grow more complicated.
"The difference between what's a B2B company and what's a B2C company is blurring," Adobe CEO Shantanu Narayen said in his opening keynote, echoing customer presentations and analyst perspectives at Adobe Summit. "[Providing] a more unified offering -- whether it's campaigns, analytics, content management -- has been a big area of investment for us."
3. Voice commerce on the rise
By 2021, "Alexa will be your co-worker," said former Marketo CEO Steve Lucas, recently named Adobe Marketo SVP in the wake of the companies' merger last year, in his keynote. That will require forward-thinking CX architects to make more straightforward processes of voice-activated B2B product research, ordering and reordering.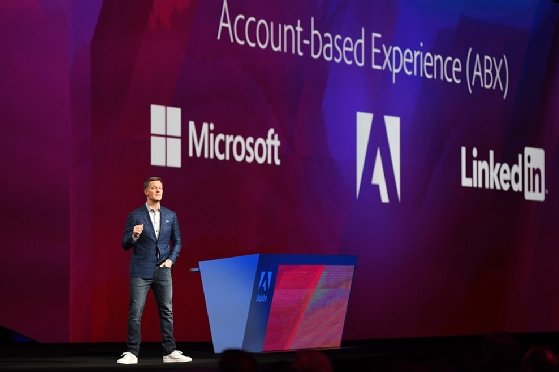 4. Conversational analytics will become a more significant sales driver
Conversational analytics covers voice commerce and also a much wider universe of text, web and social media direct messaging, as well as email threads, that are conversational marketing and sales tools. These next-generation chatbots will tap sharper AI than today's basic bots.
People don't want to be sold to. But we all want to be engaged with.

Steve LucasAdobe
The next wave of chat tools will better sense when a customer's buyer -- or buying team -- is getting further down the sales funnel. These systems will help drive sales because AI will gauge a customer's interest and not oversell too early in the buying process.
Companies like Drift, with which Marketo announced a partnership, and Invoca, whose combination of conversational and web analytics helps marketing departments determine segments to target in campaigns, make CX more personal and responsive.
"People don't want to be sold to," Lucas said. "Do you wake up in the morning and say, 'I can't wait to see if there's a mattress sale in Gmail?' No. No one does that, and if you do, that's just weird. But we all want to be engaged with."
5. CX on the rise because technology can finally support it
APIs are improving and getting more open, making mixed-vendor, multi-cloud platform interactions possible. Salesforce bought MuleSoft to better integrate data among its disparate systems. Adobe, SAP and Microsoft agreed on a common data model to connect its various ERP, CRM, marketing automation and analytics platforms.
That might be the most important CX trend: giving brands the ability to build the tech stacks they need, from the vendors they prefer.
Dig Deeper on Customer experience management