Voice commerce rides on the backs of little smart speakers
The use of voice assistants and smart speakers continues to rise, but now companies are looking for ways to apply voice commercially in B2B and B2C sales.
The proliferation of smart speakers and voice assistants is opening yet another avenue for businesses and consumers...
Continue Reading This Article
Enjoy this article as well as all of our content, including E-Guides, news, tips and more.
to interact with technology.
Similar to the way consumers reached a comfort zone handling information over smartphones, speakers and voice assistants can provide users with weather or traffic updates, read messages and complete other routine tasks with a simple audible request.
Beyond consumer applications, e-commerce is an emerging area for the application of voice assistants. Depending on the information, voice commerce could be the next multibillion-dollar industry trend that businesses need to plan for or -- pardon the pun -- just talk.
"We're in the really early days," said Brent Leary, owner of CRM Essentials and author of the blog Voices Carry, which tracks the voice-assistant industry. "But it's just a matter of time. It took a while for us to be comfortable buying online."
Voice assistants are relatively new, so it's no surprise that there's some trepidation among users when using the technology to make a purchase. Accuracy, security and accessibility challenges may turn off potential voice commerce consumers. But as use cases continue to expand and consumers get more comfortable interacting with technology using their voice, industry observers say voice commerce will follow the path of e-commerce and mobile commerce.
"We're really looking at what people are doing with voice devices and how that is changing and evolving," said Taylor Schreiner, director of Adobe Digital Insights. "We're looking at it with a special eye toward commerce and this sociological shift in being more comfortable talking to things."
Precursors to voice commerce
Using voice to command technology isn't that new, either. Like many technological advances, the iconic TV series Star Trek predicted the rise of voice-controlled devices, and consumers have adapted well to asking Siri and Cortana to set reminders or alarms on their smartphones.
The past several years have seen the rise of smart audio devices, with Amazon's Echo and Google's Home leading the market along with Apple's HomePod. Research firm RBC Capital Markets estimated that up to 60 million Alexa-enabled devices will be sold annually and nearly 130 million Alexa devices installed by 2020. The more consumers speak to voice assistants, the more likely they'll trust them when making sales transactions.
[S]imple things like updating orders, ordering additional parts, those can easily fit into a voice commerce world.

Taylor Schreinerdirector, Adobe Digital Insights
Yet, using voice for purchases thus far has been underwhelming, according to public reports; only 2% of Alexa-influenced devices have been used in voice commerce -- and usually just one time. Voice commerce "isn't anywhere near mainstream," Leary said. "Right now, the best use cases for voice shopping are repeat purchases -- things you know you want and need."
Along with repeat purchasing, voice assistance has found useful applications in the shopping experience. Even though smart audio speakers aren't widely used for direct purchases, they do help consumers buy later, according to research by software vendor Adobe; 47% of survey respondents said they use voice assistance for product research, while 43% use it to create shopping lists and 32% compare prices via voice command.
"People are deeply engaged in commerce behavior on voice devices," Schreiner said. "For a retailer, I'd advise them that you have to be in that space."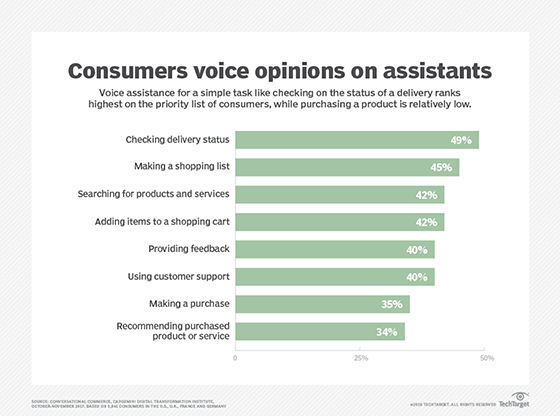 Moving voice commerce into B2B
As with most industry trends, once something becomes standard in the B2C space, B2B applications aren't far behind. Software companies are just starting to add voice and conversation into the business sales and buying processes. Chat is now standard as a channel for interaction, and sales, marketing and service reps are using voice to update their business operations.
Ahead of its annual user conference, Dreamforce, Salesforce unveiled Einstein Voice Assistant, which allows users to update Salesforce records by voice, receive personalized briefings and explore Salesforce dashboards. These features are employee-facing, but given Salesforce's investment in e-commerce and AI over the past two years, it's not hard to envision a future where the CRM software giant makes it possible for businesses to interact with their customers via voice assistants and eventually voice commerce.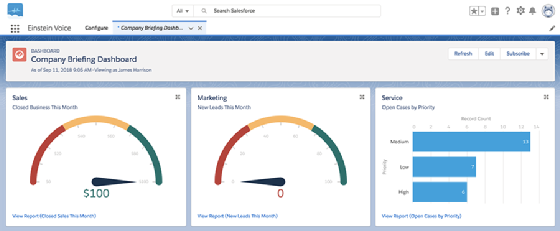 "If you're selling a complicated product within B2B, then voice will be a new marketing touchpoint," Schreiner said. "But simple things like updating orders, ordering additional parts, those can easily fit into a voice commerce world."
As voice commerce gains acceptance in everyday life, Leary added, it will grow in the B2B space as well. "Our personal lives blend into our professional lives," he explained. "We were able to convert businesses from offline to online. We should be able to convert businesses from online to voice, too."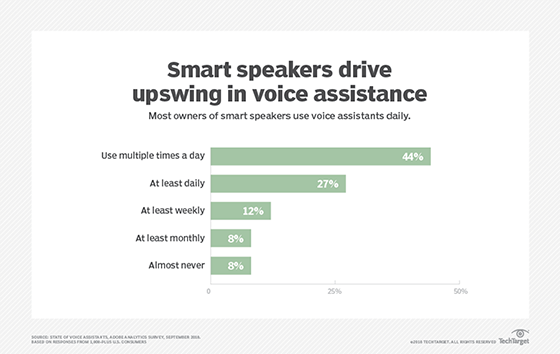 Adding screens to voice commerce
One of the significant impediments to adoption of voice commerce is the complexity surrounding some purchases. It may be easy to command a simple transaction -- "Hey Alexa, buy me more paper towels" -- but what about purchases that require comparison or specific features? "We're a visual culture, being able to see what those shoes look like or that bike you want to buy your kid or that TV," Schreiner said. "It's important to validate those purchases."
We were able to convert businesses from offline to online. We should be able to convert businesses from online to voice, too.

Brent Learyowner, CRM Essentials
One potential answer to any voice commerce dilemma is a second screen. But it's unclear whether consumers want to plug in another device that constantly monitors their likes and dislikes just for the sake of efficient buying.
"The counterargument to another screen is we have a phone that has that already," Schreiner reasoned. "We have devices that have screens already. What we see people wanting to do is engage with voice in the home and then think more through the phone."
Amazon, for example, has released several Echo devices with screens this year -- Echo Show and Echo Spot -- hoping that combining visual with voice gets more consumers ordering from its online megastore.
Security and AI improvements needed
While the hardware addition of a screen can spur adoption, security concerns can potentially thwart widespread application of voice. E-commerce and mobile commerce went through periods in which consumers were worried about putting their banking information online. And while there have been some notable problems with liberally giving out their debit or credit card information, most consumers believe the convenience outweighs the risk. Optimists see a similar kind of future for voice commerce -- once more security measures are in place.
"The industry needs to make sure that whoever is asking for something is the person who wants it," Leary said. "A useful tool would be technology that detects if a voice is organic or if it's technologically created. Having biometric technology aligned with voice commerce and being able to ensure that the person making the request is the actual person will go a long way."
Improved AI and natural language processing also will help bring voice commerce into B2B and B2C spaces, simply by improving the capabilities and easing the process. "It's not just about voice. It's about the whole shopping experience," Leary said. "When all of that is designed properly, you'll see more commerce coming through voice channels. Once AI, voice and screens have come together to give people enough comfort level, then people will buy."