blobbotronic - stock.adobe.com
Customer data to play important role in CX software in 2019
Analysts see customer data continuing to be the main objective for CX companies, and that integration between platforms and third-party applications will grow in importance.
Users of CX software or applications can expect another busy year in 2019, according to analysts, as both enterprise and midmarket software vendors try to build on momentum from 2018, with its slew of high-profile acquisitions and product launches.
Last year saw fierce competition among CRM and CX software vendors, including Adobe, Microsoft, Oracle, Salesforce and SAP. All either unveiled new applications focused on improving the customer experience or acquired companies to accomplish the same. In some cases -- namely, Adobe and Salesforce -- they did both.
Even smaller CRM vendors, like HubSpot, Zendesk and Zoho, improved their CX software capabilities, either by adding new functionality or expanding into other departments, like sales and marketing. Software vendors will continue to try and provide the best CX platforms for their users as customer data becomes more important.
Next year also may bring consumer backlash, according to analysts. As technologies like voice assistants and chatbots gain more mainstream use, users may grow frustrated with some of these technologies' ability to understand. In addition, some employees now who are using AI may also chafe at technology, according to Forrester, because some sales reps don't quite see the benefits touted for AI.
"Salespeople look at AI as a kind of unwanted inspection on steroids," said Tom Kaneshige, senior analyst at Forrester. "Sales reps aren't seeing the value in AI yet, and there may be a backlash if the sales climate is going to be under a lot more pressure."
The dream of CX
It was a big year for acquisitions within the CRM space, led by Salesforce, which acquired four companies, including spending nearly $6.5 billion on MuleSoft. The CRM leader wasn't alone. Adobe also made notable moves in the marketing automation space, acquiring Marketo to bolster its marketing capabilities. Adobe also acquired Magento, an e-commerce software vendor, adding e-commerce capabilities to its Experience Cloud.
And while 2018 was a big year for acquisitions, 2019 could see more of the same.
"I think we'll continue to see this shift back to platforms created by acquisition," said Brent Leary, CRM analyst and co-founder of CRM Essentials. "Companies are looking to capture more of the midmarket and enterprise, and a way to do that is through acquisition."
In CRM, looking at the notion of a customer lifecycle, the holy grail is to have a single data repository.

Daniel HongVP and research director, Forrester
All of these acquisitions and CX software are focused on one thing: bringing better customer data and insights to users. CX has become the main differentiator for most companies, as consumers today want personalized shopping experiences and expect the companies they buy from to know as much about them as they know about the company.
"In CRM, looking at the notion of a customer lifecycle, the holy grail is to have a single data repository," said Daniel Hong, VP and research director at Forrester. "There are all these stages of a customer lifecycle, and companies need to have hooks in there and bring the data in each together. Companies are still going to go down that road."
That's why in 2018 Salesforce, Oracle and SAP unveiled products aimed at making it easier for users to access customer data. In 2019, users will see whether vendors' customer data applications perform as advertised.
"There are a lot of opportunities out there, and vendors are making their play for it," Leary said. "I don't see any one company owning the whole stack."
'Vendors can't rest on their laurels'
One potential consequence of making it easier for users to connect disparate data sources and create clearer pictures of their customers is that companies may be less bound to legacy vendors.
"The ability to change from one vendor to another is easier now," Hong said, adding that the adoption of cloud technology has accelerated this ability. "The entire industry has matured, and software companies can't just retain customers because of an investment in the vendor. Vendors can't rest on their laurels."
CX vendors don't want to lose customers, but the benefits of being able to open up isolated data repositories may still outweigh losing users.
"It's a possibility that, by making it easy to move data around, you may lose potential customers," Leary said. "But it's designed to make it easy to integrate with other applications, which can make it more likely your platform will still be used."
The combination of having a platform that your company can work in and the ability to integrate third-party CX software vendors is what users have longed for, and analysts say 2019 will bring easier integrations. That could be both good and bad for software vendors.
AI as a disincentive for sales reps
While software vendors will continue to sell AI applications and capabilities, that trend could trigger some backlash, both with employees and consumers. AI brings the promise of better insights, but there still are few compelling use cases for people in sales, which could cause bitterness among some sales reps. Forrester said AI-embedded sales tech could even incentivize salespeople to falsify data to combat micromanaging from management fueled by AI reporting.
"There's a disincentive for sales reps to engage and input data into sales tech tools," Kaneshige said. "We see AI as a tool for sales managers to go deeper and faster into inspections of sales reps, while the value add of AI to sales reps hasn't been fully established."
Kaneshige added that, while AI-based capabilities, like data capture and next best actions, are freeing up time for sales reps, some of the insights are generic and sometimes don't outweigh the drawbacks.
"We're seeing a greater backlash, and next year, the sales climate is going to be under a lot of pressure," Kaneshige said, adding that a potential economic downturn could exacerbate that climate.
Chatbot backlash
Chatbots could also see similar recoiling from consumers. Forrester also predicted that 60% of chatbot deployments will provide poor pathways to live agents, leaving consumers frustrated.
"Understanding intent and complexity, that's difficult for a chatbot," Hong said. "There are a lot of things behind the scenes that need to happen to improve so that NLP [natural language processing] capabilities are able to understand the customer. If not, it can lead to a broken experience."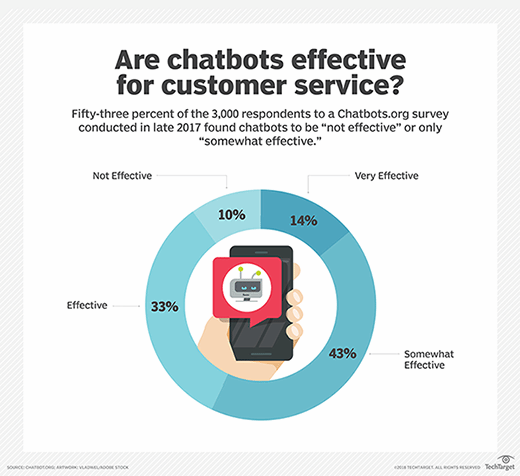 Hong and Kaneshige, authors of the Forrester prediction report, said customers will lead a revolt against corporate chatbots in 2019.
Leary is a little more positive about the future of chatbots but also sees more backlash as chatbots and voice-assisted technology continue to seep into the mainstream.
"There's the potential for some backlash as [voice-assisted technology] goes mainstream and expectations for how it's used grow," Leary said. "Sometimes, early adopters are so excited to use tech they'll overlook aspects, but once it gets to mainstream users, you have to make it as seamless as possible."
Although there may be some internal pushback toward AI technology in 2019, AI will remain important to the advancement of CX software.
"We've spent the last couple of years talking about what AI is and how it could help organizations," Leary said. "Then, we started to put AI into action, and I think [in 2019] we'll see it in more applications."